The right font can make or break a project, but that doesn't mean that it's easy to find the right one. And it's even trickier when you do find your dream font only to discover that downloading it will set you back more than you're being paid for the project. 
The good news is, there are a lot of free fonts available to download and use in your designs. The even better news is that we've trawled the web in search of the best free fonts the internet has to offer, and divided them into eight handy typographic categories:
Note that at the time of writing, the typeface collections listed here can be used in your projects for free, but please be sure to check the terms of use.
So what are you waiting for? Find your perfect free font to download and use right here.
Serif fonts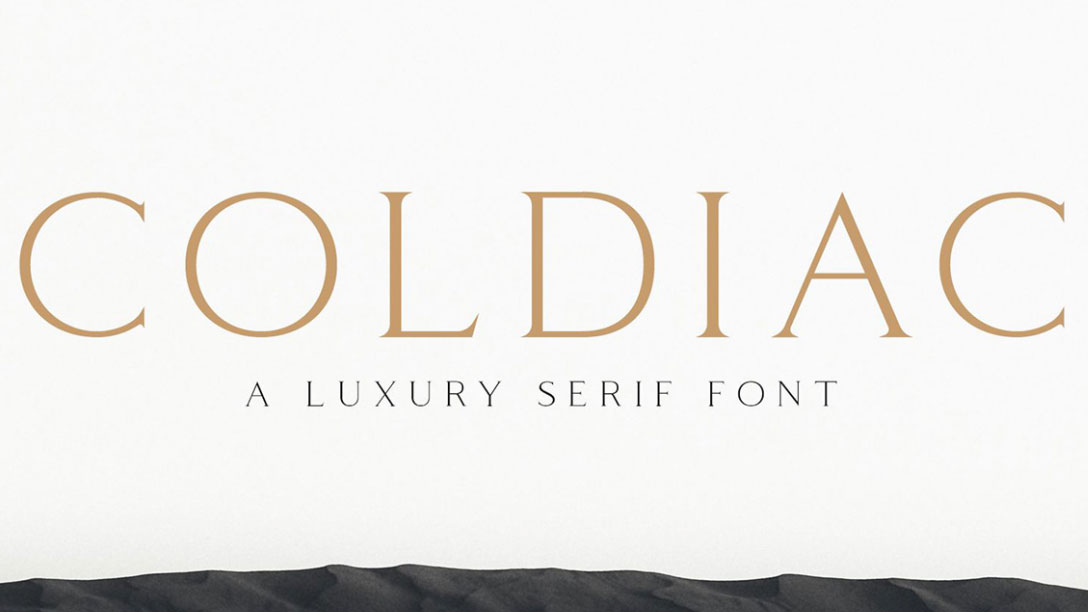 For a luxurious serif font, look no further than Coldiac. It works well for a small amount of body text, or for headlines, print ads and other marketing materials. What makes Coldiac stand out is "the relatively low contrast of strokes, the slightly squarish shapes of round characters and the emphasised businesslike nature", according to its creators. A commercial version of the font – which includes multilingual characters and illustrations is also available for $15.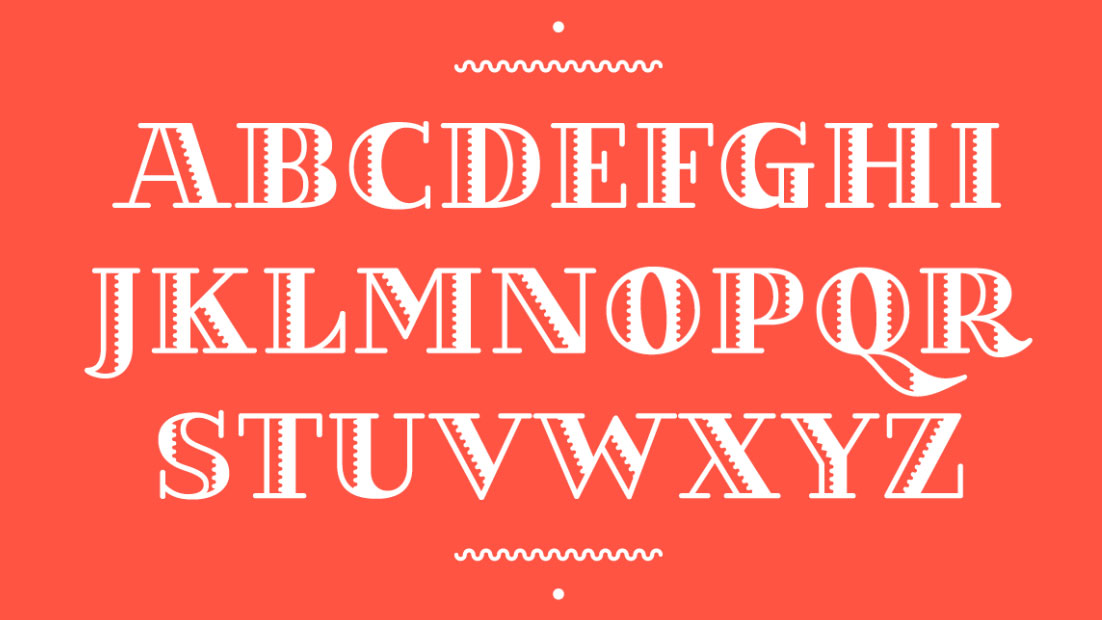 Free for personal projects (email the author if you have questions)
This free serif font is the work of Germán Di Ciccio. This all-caps font is best used for headlines and would work well on posters. We love the detail within the letters that gives the font an almost 3D effect.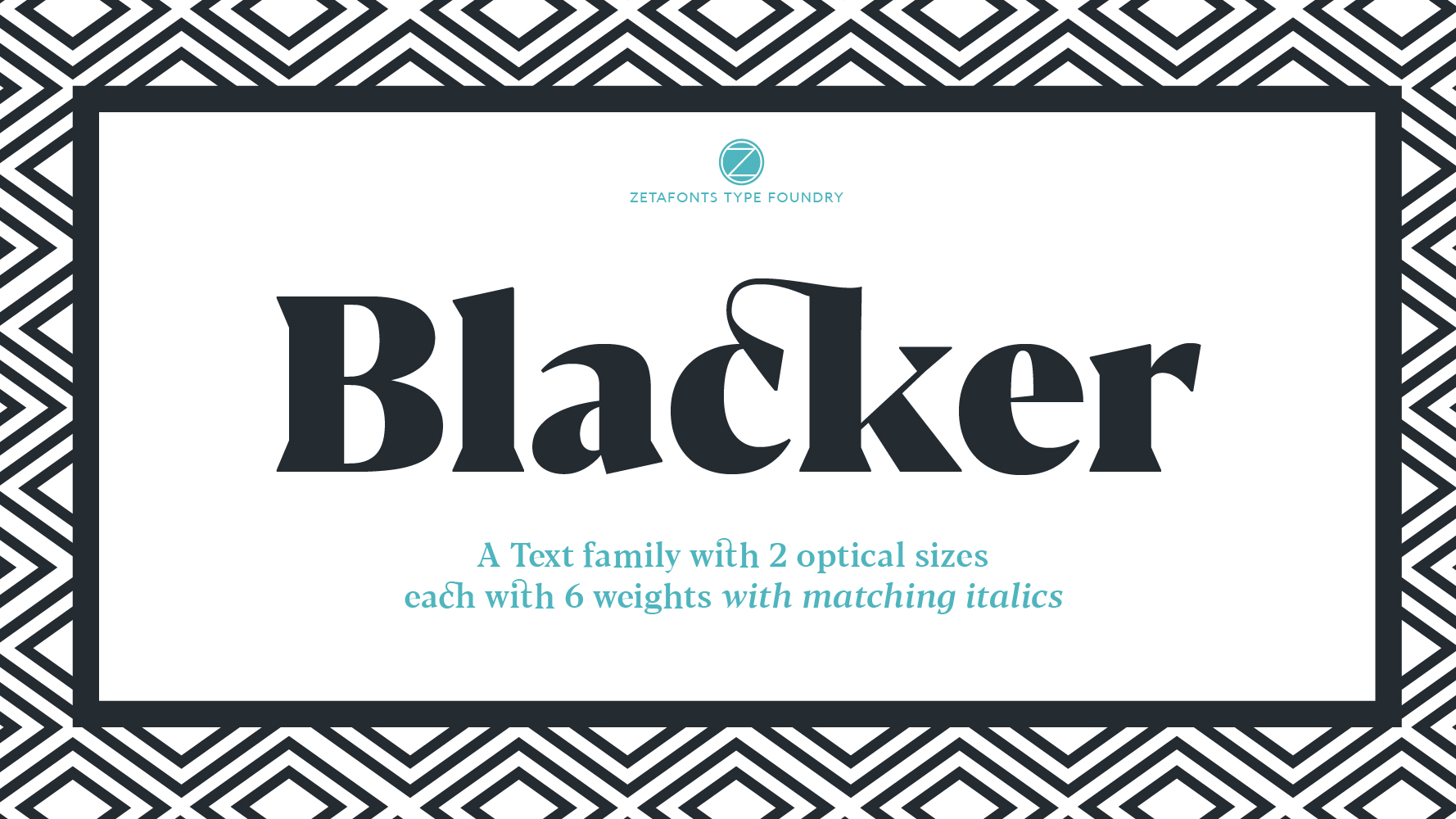 Free for personal use (two weights only)
Blacker is not your average serif font. And that's why we love it. A twist on a classic design, Blacker is a wedge serif font family, created by Cosimo Lorenzo Pancini and Andrea Tartarelli. The designers' Behance page states Blacker is a "take on the contemporary 'evil serif' genre: typefaces with high contrast, 1970s-evoking proportions and sharp wedge serifs".
Blacker is available in six weights, from light to heavy, with matching italics. Prices for Blacker start from $25, however you can currently get Blacker Text Light and Blacker Display Medium Italic completely free.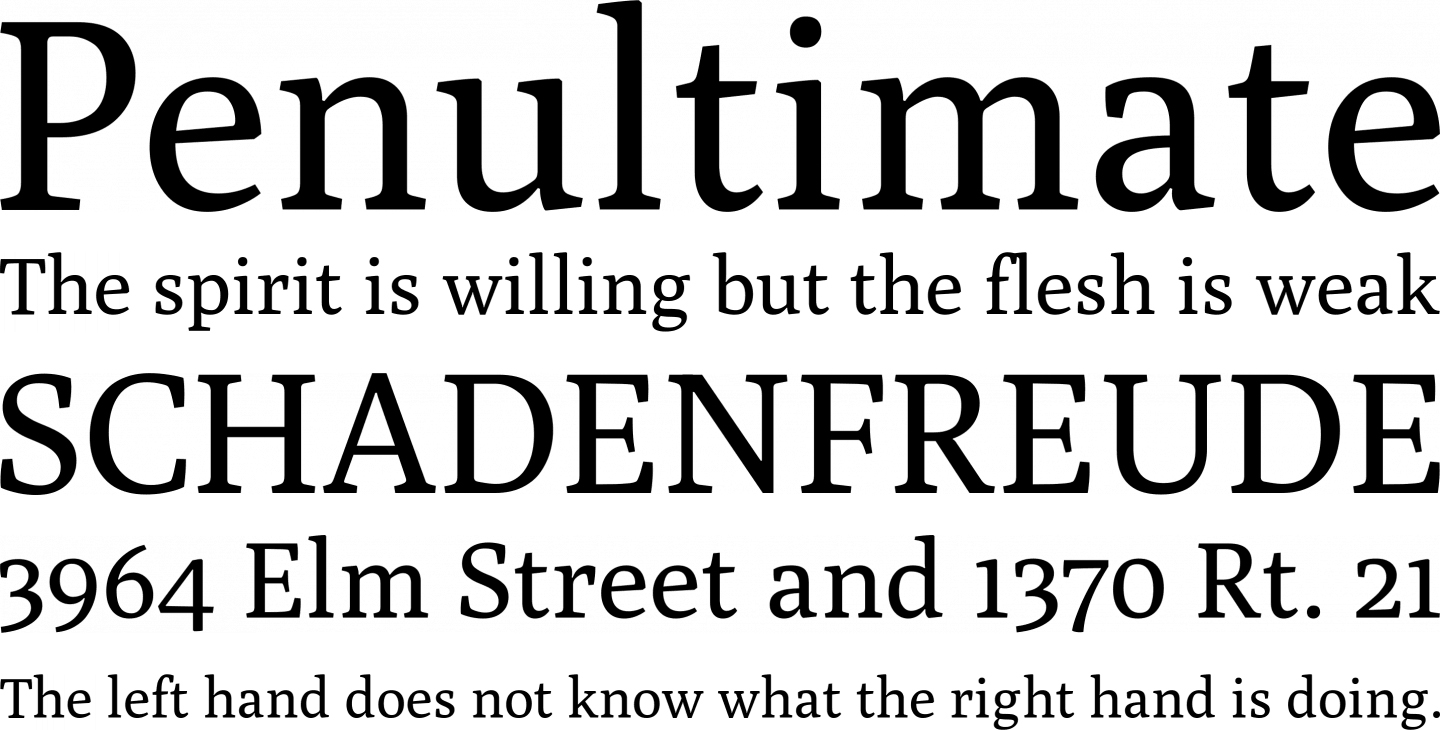 Free for personal and commercial use
Poly is a medium contrast serif font for web use. It was designed by Nicolás Silva to give increased legibility than other web serifs even at smaller point sizes. It achieves this with a vertical emphasis, utilising short ascenders and a very high x-height to ensure clarity.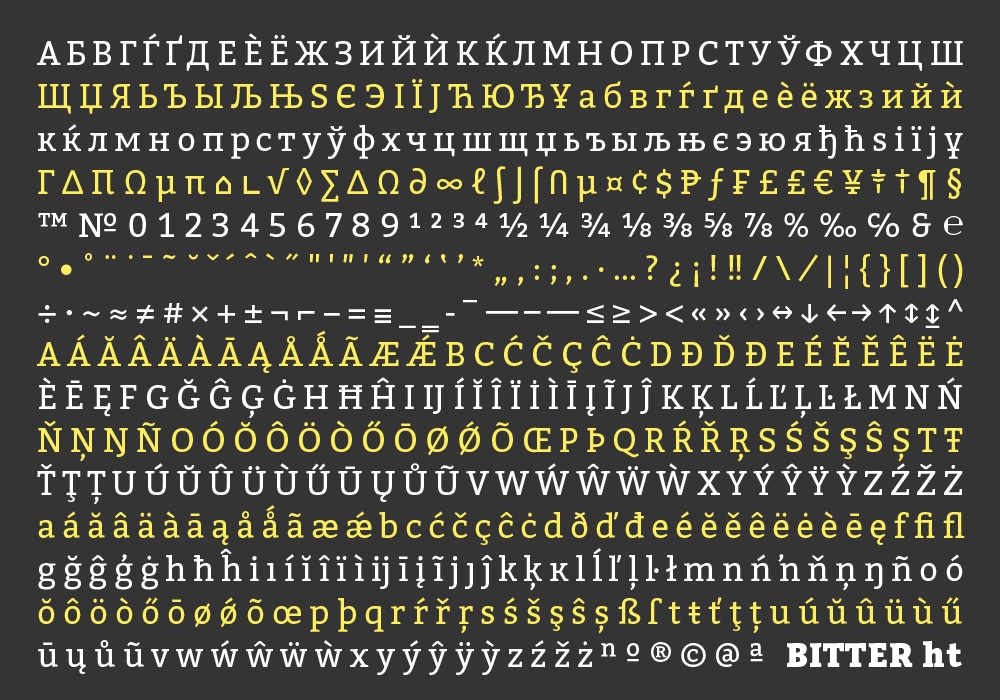 Free for personal and commercial use
Sans-serif fonts tend to work better for screen use, but this free slab serif typeface has been specially designed to provide a comfortable reading experience on screens. Bitter was designed by Sol Matas, and is available through Argentinian type collaborative Huerta Tipográfica. It combines generous x-heights with minimal variation in stroke weight.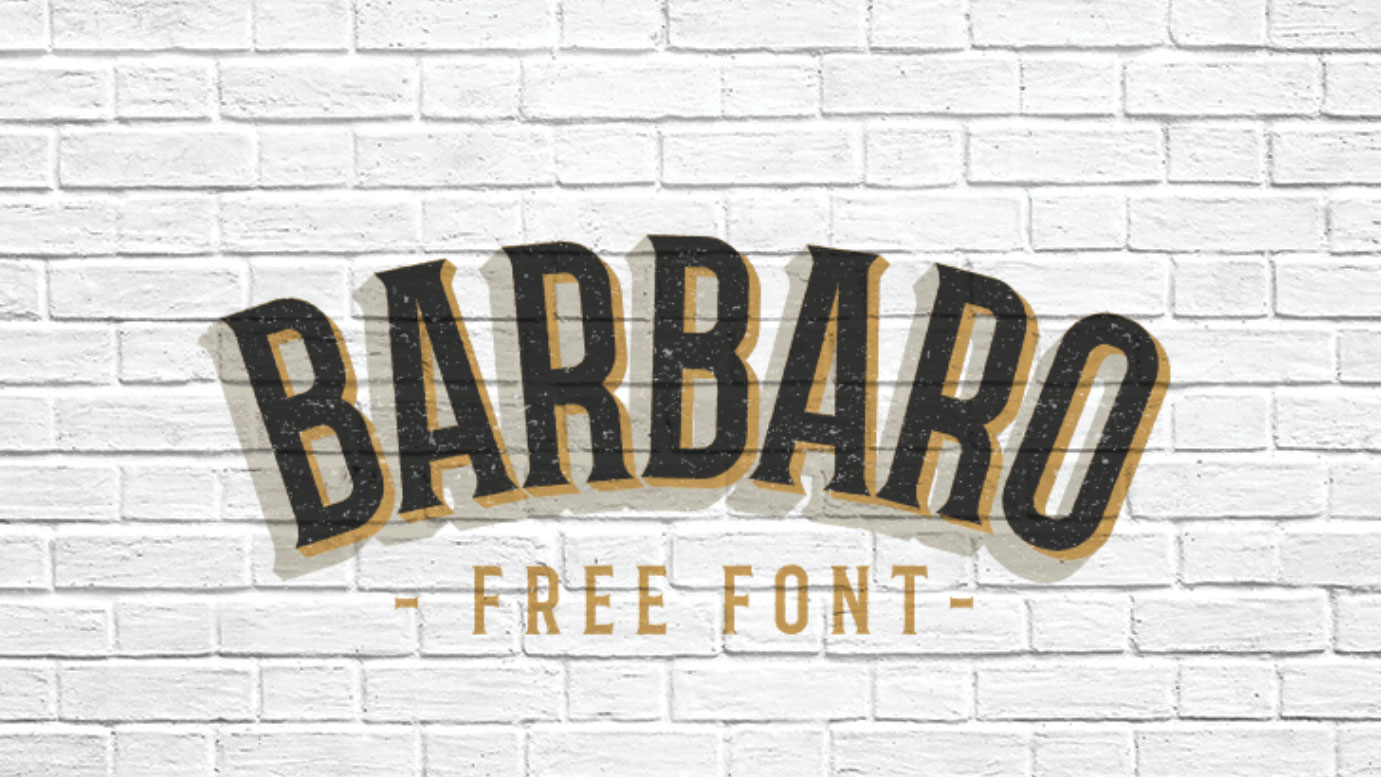 Barbaro is a free font created Iván Nuñez that comes in two styles: Barbaro Roman and Barbaro Western. Nuñez is from the Dominican Republic, where the word 'barbaro' has a range of meanings from 'super' or 'fantastic' to 'crazy' or 'imprudent' (we reckon this font is in line with the first two). Barbaro would look great on a poster or as part of a menu or signage and is available for use in your personal projects.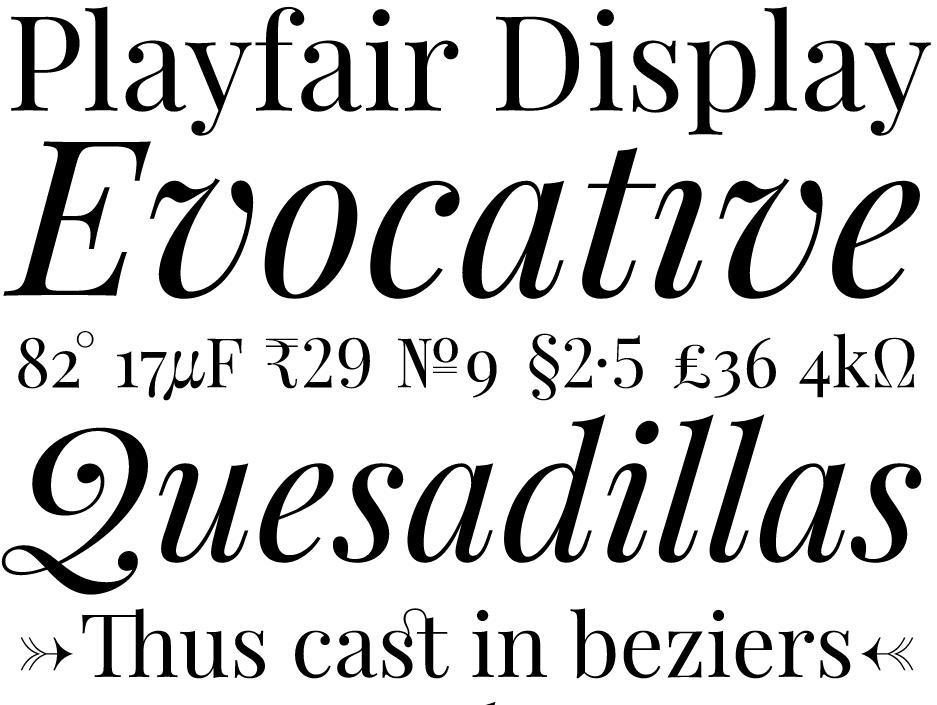 Free for personal and commercial use
This free serif display font takes inspiration from the late 18th century European Enlightenment and the work of type designer John Baskerville. The high-contract letterforms have delicate hairlines, relating to the rise in popularity of pointed steel pens, which took over from the previous broad nib quills during this period.
The typeface design is a project led designed by Dutch designer Claus Eggers Sørensen. It's development is open source, and can be found on GitHub here.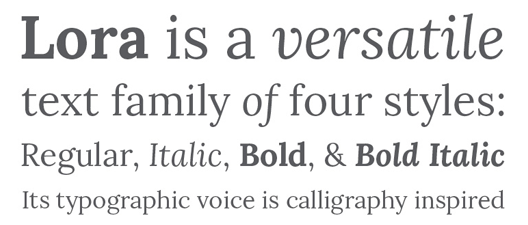 Free for personal and commercial use
Lora is a free font that has its roots in calligraphy. It was originally designed for type foundry Cyreal in 2011, with a Cyrillic extension added in 2013, and comes in four styles: regular, bold, italic, and bold italic. 
Brushed curves contrast with driving serifs to give this free font a well-balanced, contemporary feel. Although Lora is technically optimised for use on the web, it also works well in print projects.
Free for personal and commercial use
Inspired by both Dala Floda and the Bodoni family, Butler is a free font designed by Fabian De Smet. His aim was to bring a bit of modernism to serif fonts by working on the curves of classical serif fonts, and adding an extra stencil family.
The Butler family contains 334 characters, seven regular weights and seven stencil weights, and includes text figures, ligatures and fractions. It also suits many different languages with its added glyphs. De Smet suggests it would work well for "posters, very big titles, books and fancy stuff".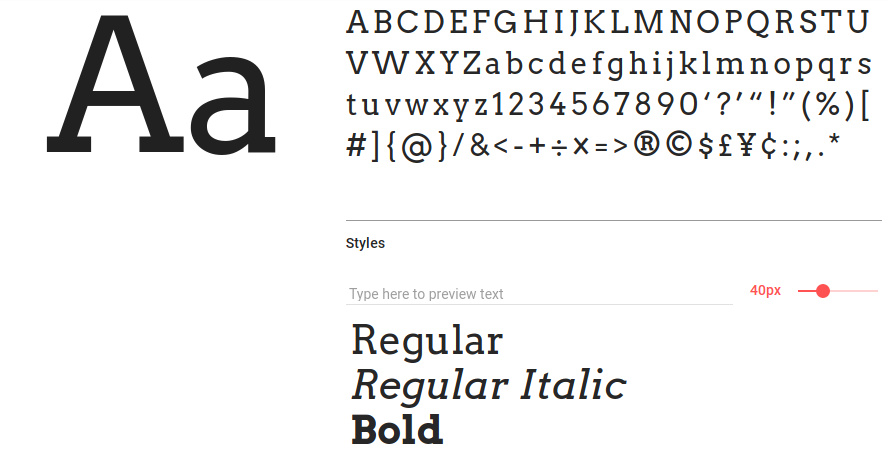 Free for personal and commercial use
Arvo is a geometric slab-serif font family that's suitable for both screen and print use. Designed for legibility, it was created by Anton Koovit and published in the Google Font directory as a free open font (OFL). Unlike many slab serifs on Google Fonts, Arvo contains normal, italic, bold and bold italic styles.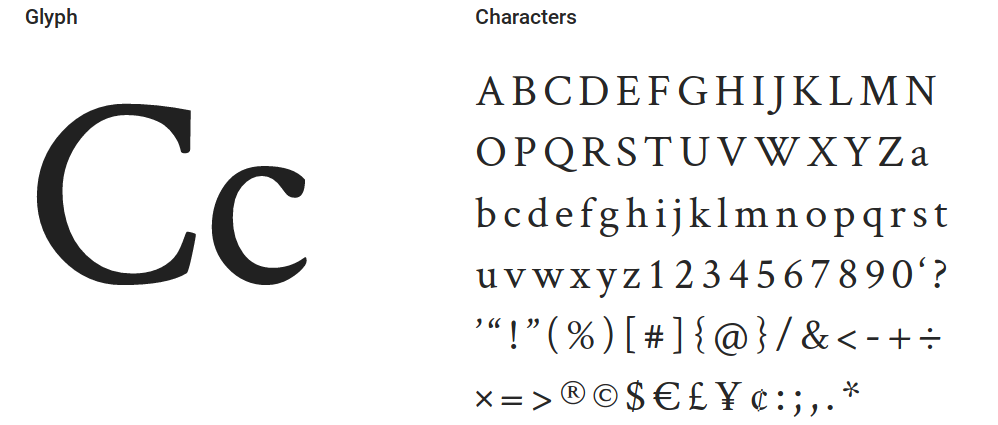 Free for personal and commercial use
Here's a free font family created specifically for book production, inspired by old-time, Garamond-esque book typefaces. Crimson Text is the work of German-born, Toronto-based designer Sebastian Kosch, who says he was influenced by the work of Jan Tschichold, Robert Slimbach and Jonathan Hoefler. 
It's also favourite free font of Taylor Palmer, a senior UX designer based in Utah, USA. "Crimson is a sophisticated serif that makes a nice alternative to traditional Garamond-esque typefaces," he says. "It also has a very expressive italic, which pairs nicely with strong, geometric sans-serifs like Futura or Avenir."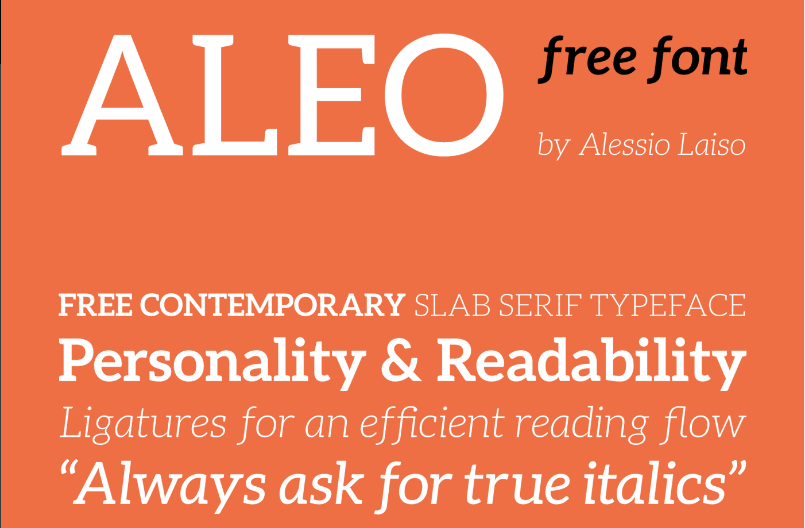 Free for personal and commercial use
Aleo has semi-rounded details and a sleek structure, giving a sense of personality while maintaining a good level of legibility. This free font family comprises six styles: three weights (light, regular and bold), with corresponding true italics. Released under the SIL Open Font License, it was designed by Alessio Laiso, a designer at IBM Dublin, as the slab serif companion to Lato.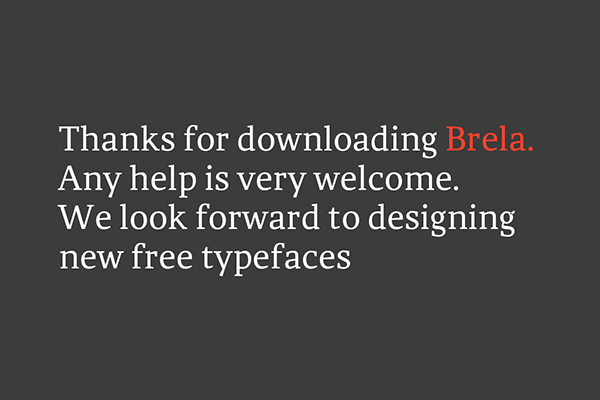 Free for personal and commercial use
Brela is a humanistic serif font designed exclusively for editorial design. With a generous x-height, it's very legible, even at tiny sizes, yet it works equally well in bold, large headlines. This free font was designed by Spanish creative agency Makarska Studio and comes in regular and bold weights.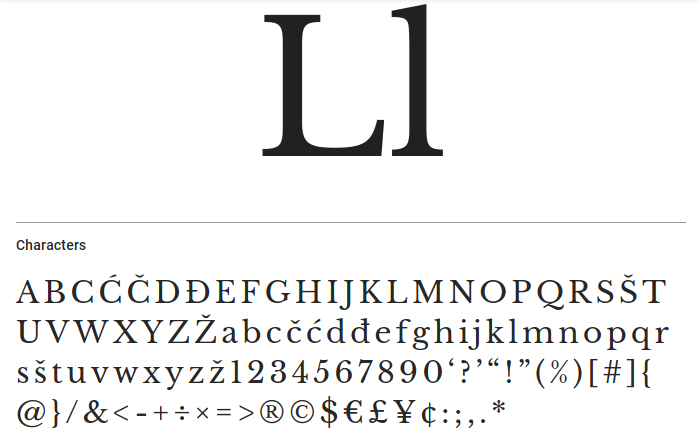 Free for personal and commercial use
Libre Baskerville is a web font optimised for body text (typically 16px). It's based on the American Type Founder's Baskerville from 1941, but it has a taller x-height, wider counters and a little less contrast, allowing it to work well for reading on screen. This open source project is led by Impallari Type, a type design foundry based in Rosario, Argentina. 
"I like to keep my eye on the Libre fonts, like Libre Baskerville," enthuses Taylor Palmer, a senior UX designer based in Utah, USA. He also recommends you check out its sister font, Libre Franklin, which is also free. "Libre Franklin hearkens back to strong, traditional typefaces, like Franklin Gothic, that have the declarative nature of something like a newspaper headline but are simple enough to set as paragraph text," he explains.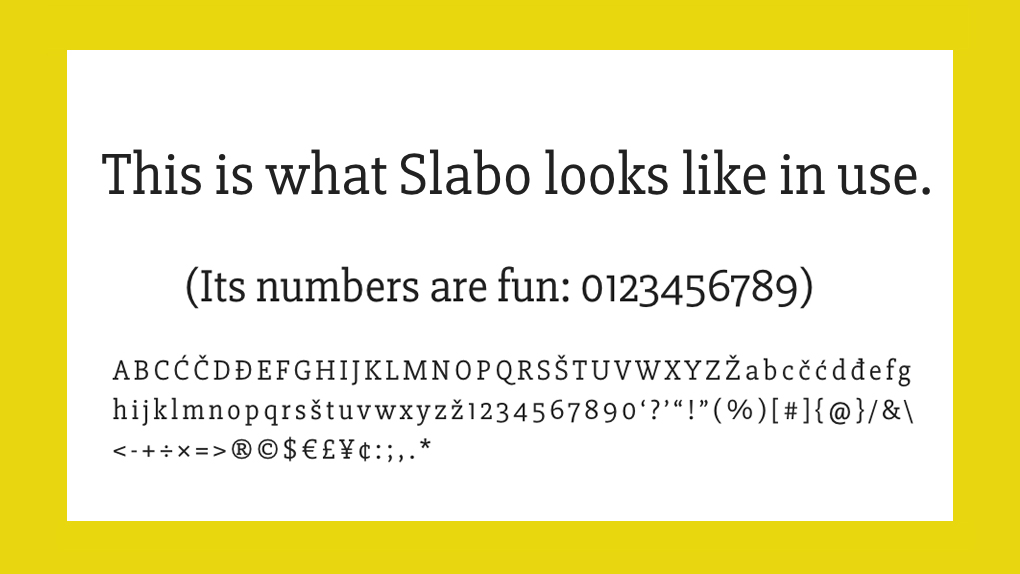 Free for personal and commercial use
Slabo was designed by John Hudson, co-founder of Tiro Typeworks foundry. Slabo is a growing collection of size-specific web fonts, with Slabo 27px and Slabo 13px  out so far, fine-tuned precisely for use at those specific pixel sizes. The blocky feel of its ligatures give a modern twist to the serif font, perfect for online designs.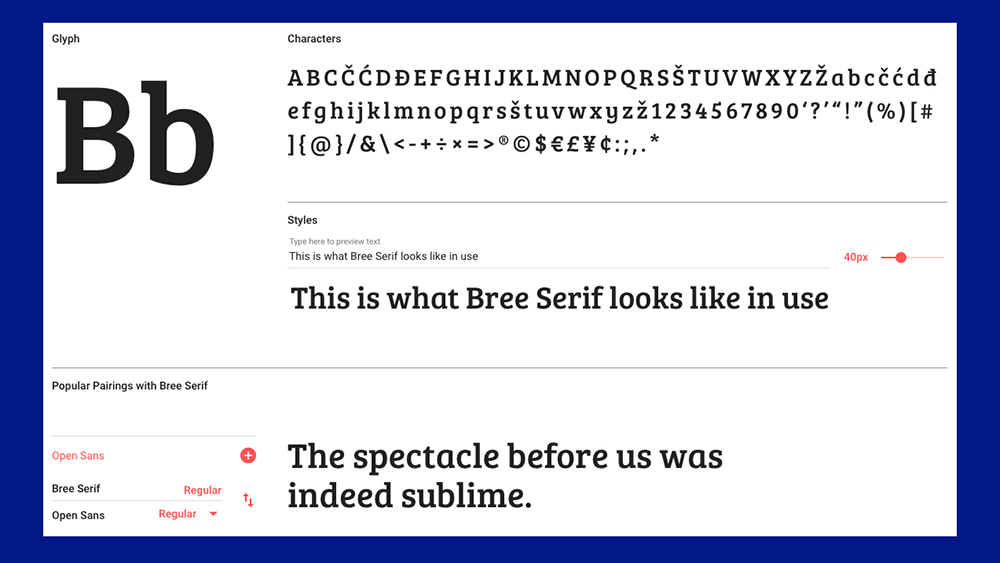 Free for personal and commercial use
Created by indie type foundry TypeTogether, Bree Serif is the free serif cousin of the paid-for font family, Bree. Described as a "friendly upright italic", Bree Serif is modern and has an easy-to-read face when used at larger point sizes. Its rounded 'a' with a single counter is a nice touch, too.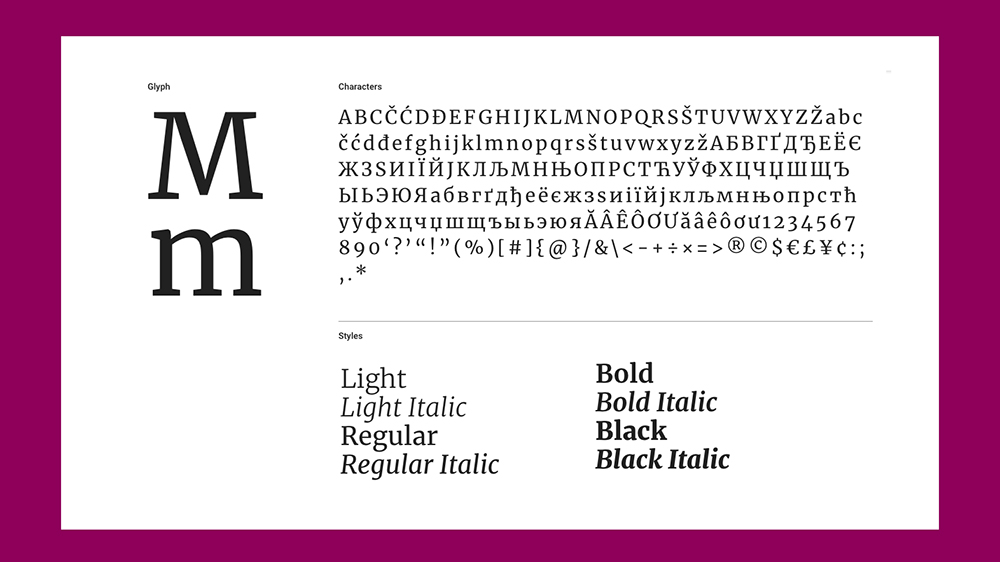 Free for personal and commercial use
A truly open source free serif font, Merriweather has its own project on GitHub. It was designed by Sorkin Type to be easy to read on screens, particularly. "It features a very large x-height, slightly condensed letterforms, a mild diagonal stress, sturdy serifs and open forms," it says.
Next page: Free sans-serif fonts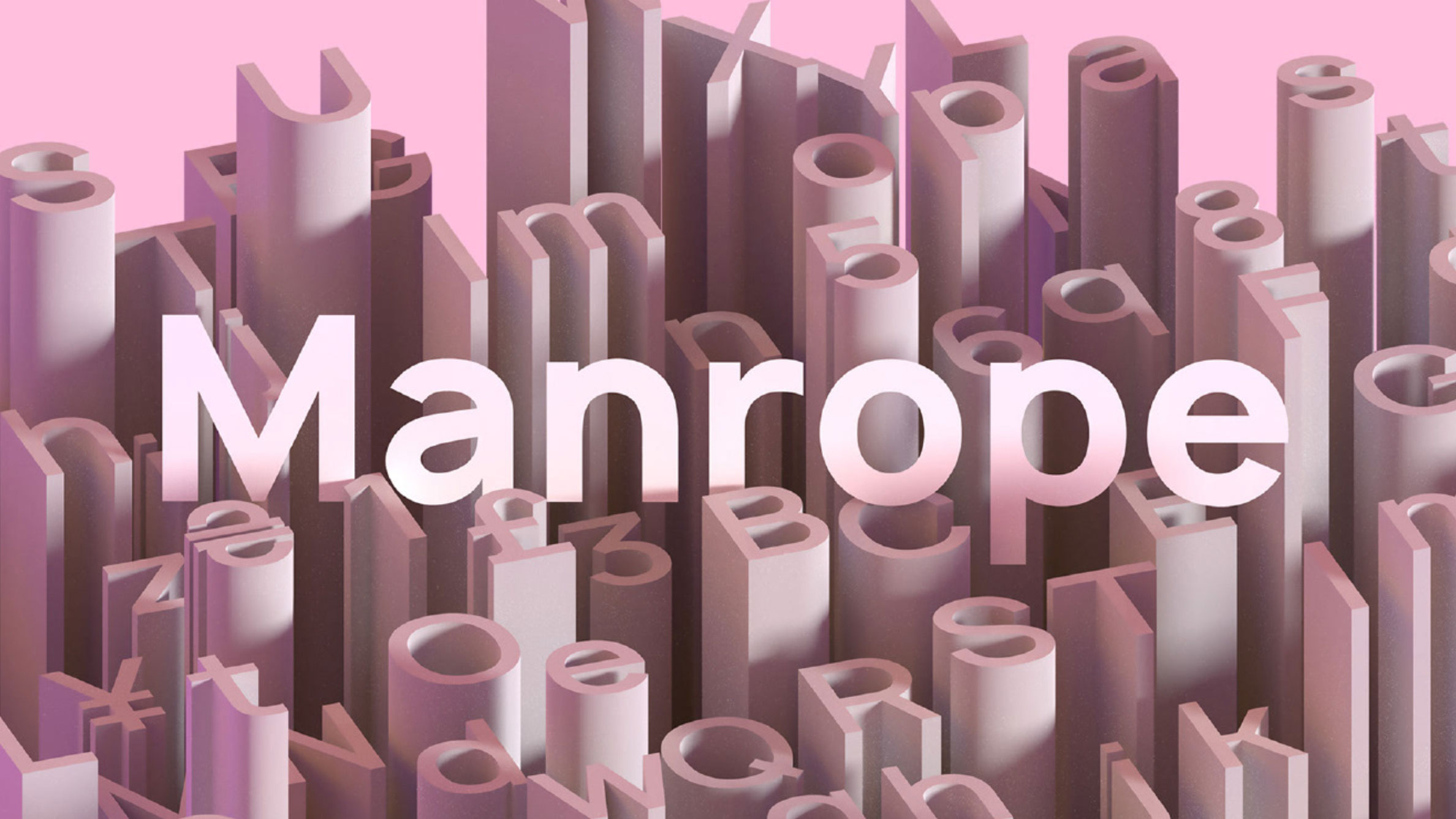 Free for personal and commercial use (see terms for commercial use)
Manrope was created by Michael Sharanda, and is an open-source font family that was designed for multiple, modern uses: it works in titles, paragraphs, print and on the web. This is the second version of the font, and comes in seven styles. There's no italics available (the creator believes italics isn't necessary in modern times), but the font covers most Latin and Cyrillic languages. It also has clever features such as the ability to automatically switch to straight or curly quotes.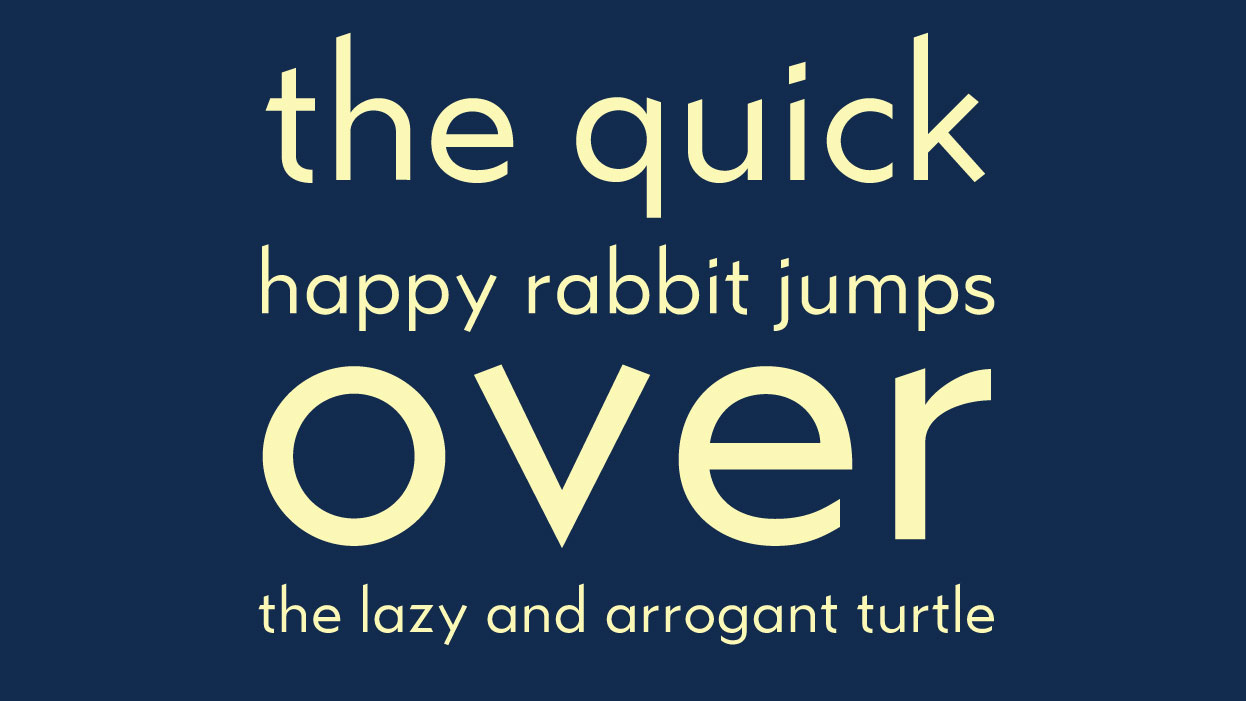 Free for personal and commercial use
Kano is a geometric typeface that looks funky in capital letters, but also works well in body copy. The font was designed by Frederick Lee, and we love its slanted edges and uniform design.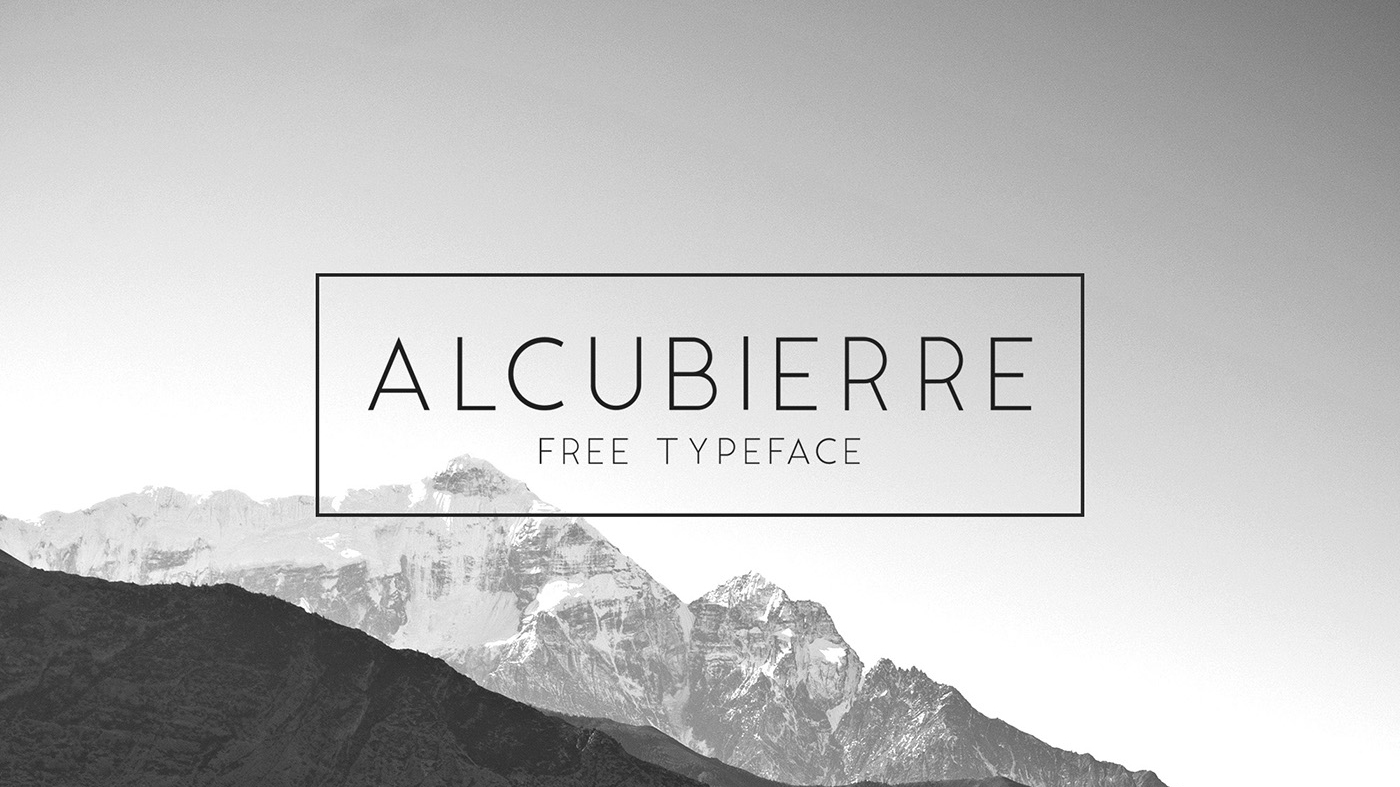 Free for personal and commercial use
Geometric sans serif typeface Alcubierre is the work of designer Matt Ellis. Following in the footsteps of his original free font Ikaros, this clean, minimal typeface works for a variety of uses. Ellis is super-generous too, offering both designs to all totally free for both personal and commercial use.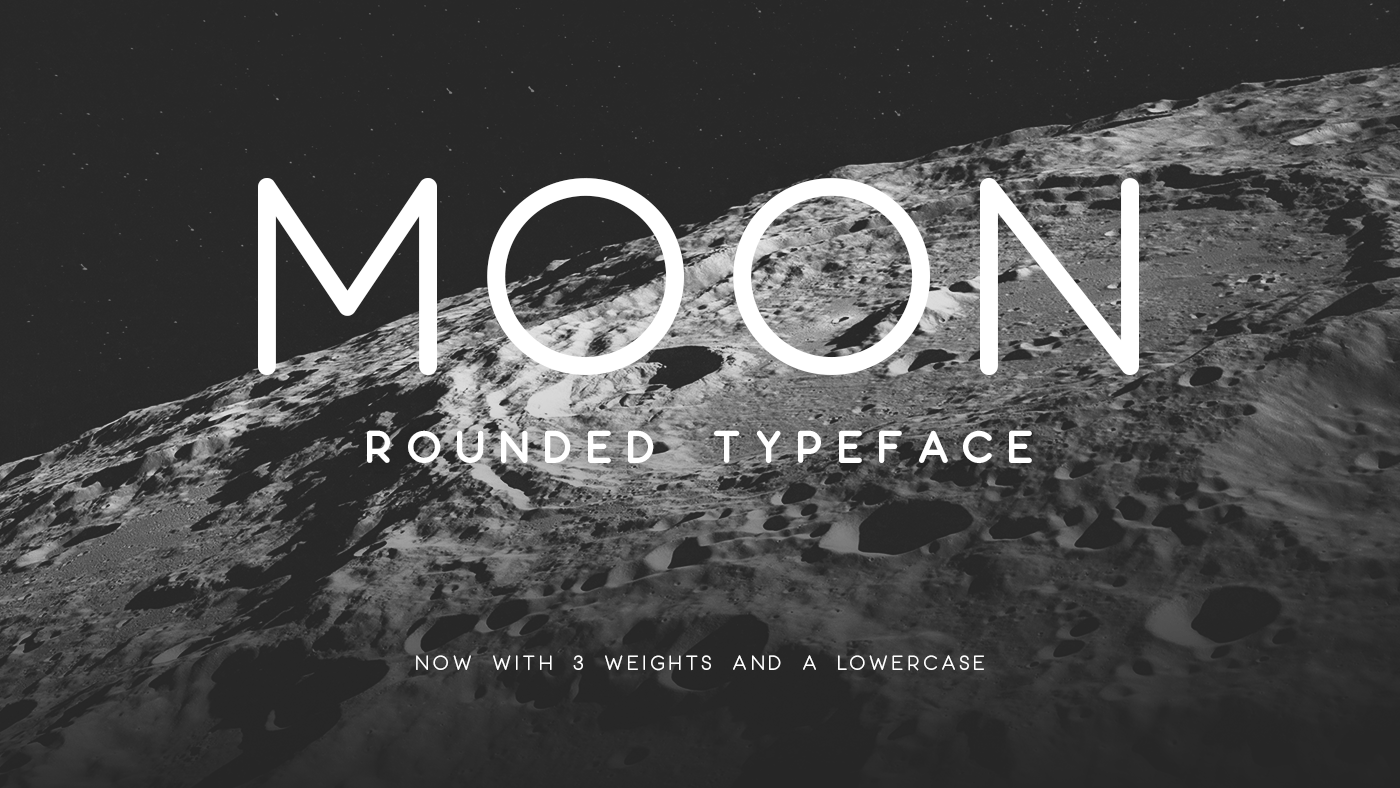 Free for personal use only
Moon is a rounded, sans-serif font that comes in three weights and has recently been updated to include a lowercase. It's the work of designer Jack Harvatt, who has made it available to download on his Behance page. Moon is free for personal projects, but if you want to use it commercially you'll need to pay for a licence.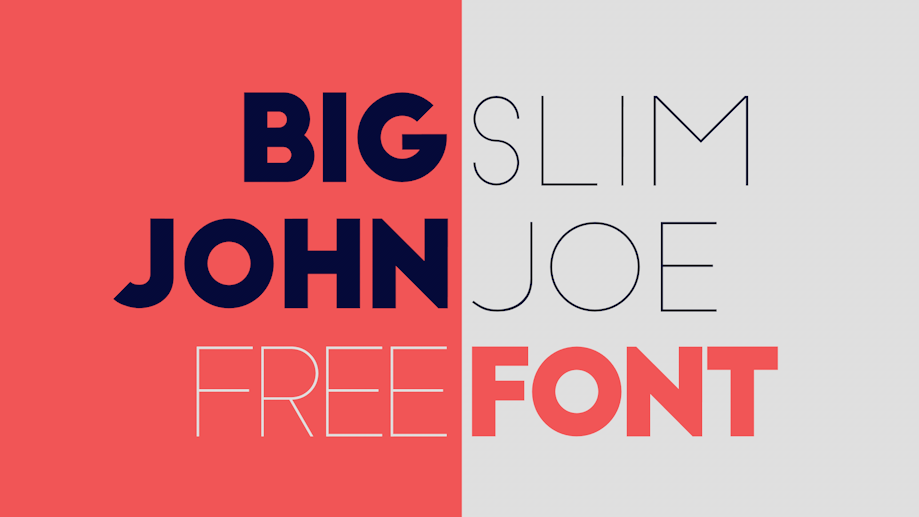 Free for personal and commercial use
Big John was created by designer Ion Lucin for his personal use. Eventually, he decided to share it on Behance, and then went on to add an ultra-light sister font: Slim Joe. Both are all-caps fonts, and contrast perfectly when combined together. These fonts are ideal for titles and headlines, and can be downloaded for free on Behance. Also check out Big John Pro, which is free too.

Free for personal and commercial use
Raleway is a free, neo-groesque inspired, sans-serif typeface. It was designed by Matt McInterney (who previously worked at Pentagram) and is available in a single, thin weight. This display typeface includes standard and discretionary ligatures, a good set of diacritics, and both old style and lining numerals. Fans of the font can also experiment with a more geometric-inspired alternate.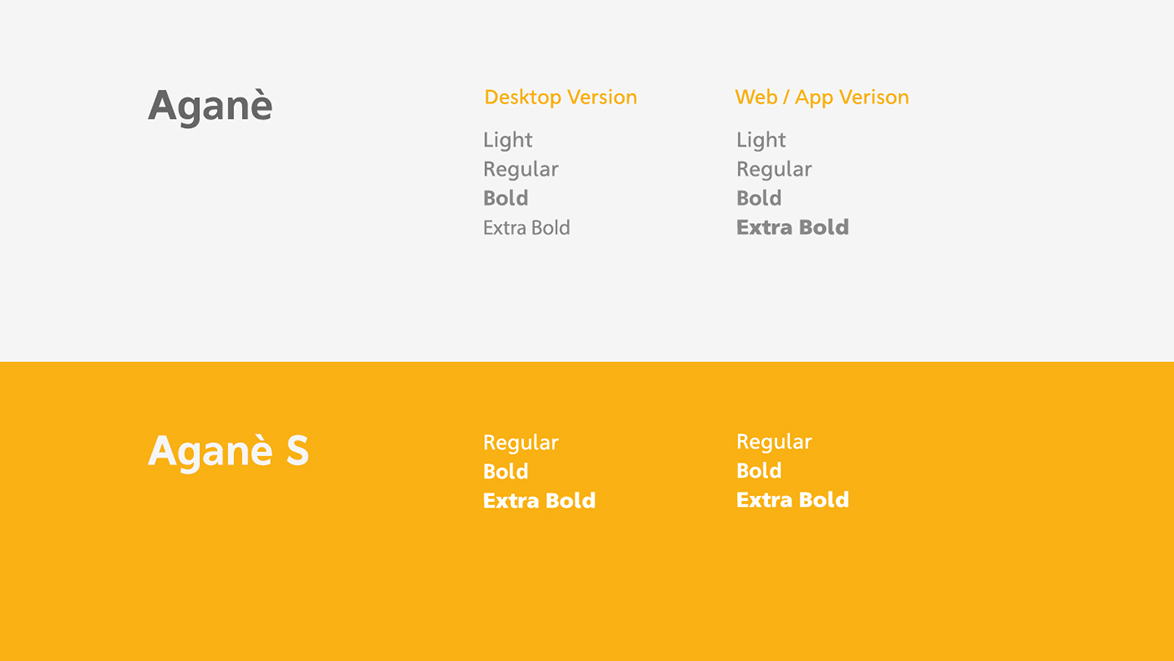 Free for personal and commercial use
Designed with wayfinding signage in mind, and equally suitable for user interfaces or anything that requires legibility from an angle, Aganè is a clean sans-serif from Swiss graphic, UI and type designer Danilo De Marco. Free for personal and commercial use, Aganè was inspired by Noorda Font by Bob Noorda, FF Transit by Erik Spiekermann, and Frutiger by Adrian Frutiger.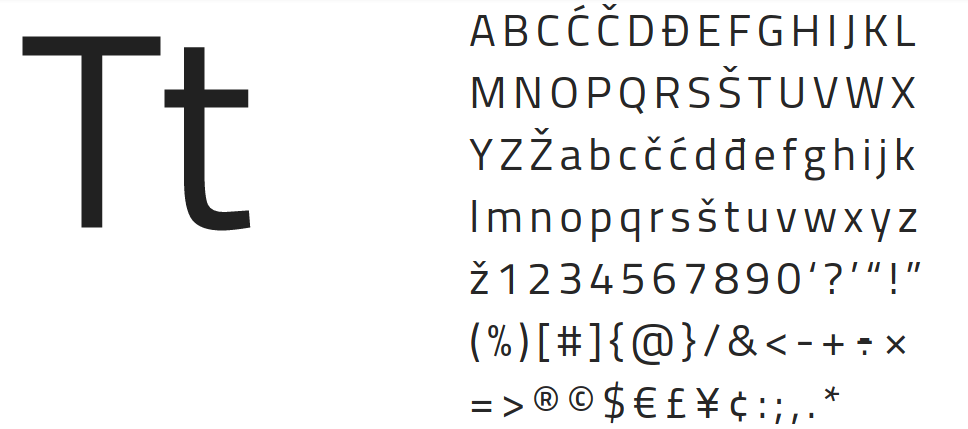 Free for personal and commercial use
For a free font, Titillium has a highly respectable pedigree, born of a type design project at Italy's Accademia di Belle Arti di Urbino. Each academic year, a dozen students work on the project, developing it further and solving problems, and they ask all graphic designers who use Titillium in their projects to email them some examples of the typeface family in use, to help them develop it further.
"Titillium has been a favourite font of mine for a few years now," says Rob Hampson, head of design at The Bot Platform, a platform for building bots on Messenger. "It's sharp, contemporary and comes in a wide range of weights. In my opinion, it works best in larger sizes; for example, for titles. That said, with careful consideration, it could be used as a body font."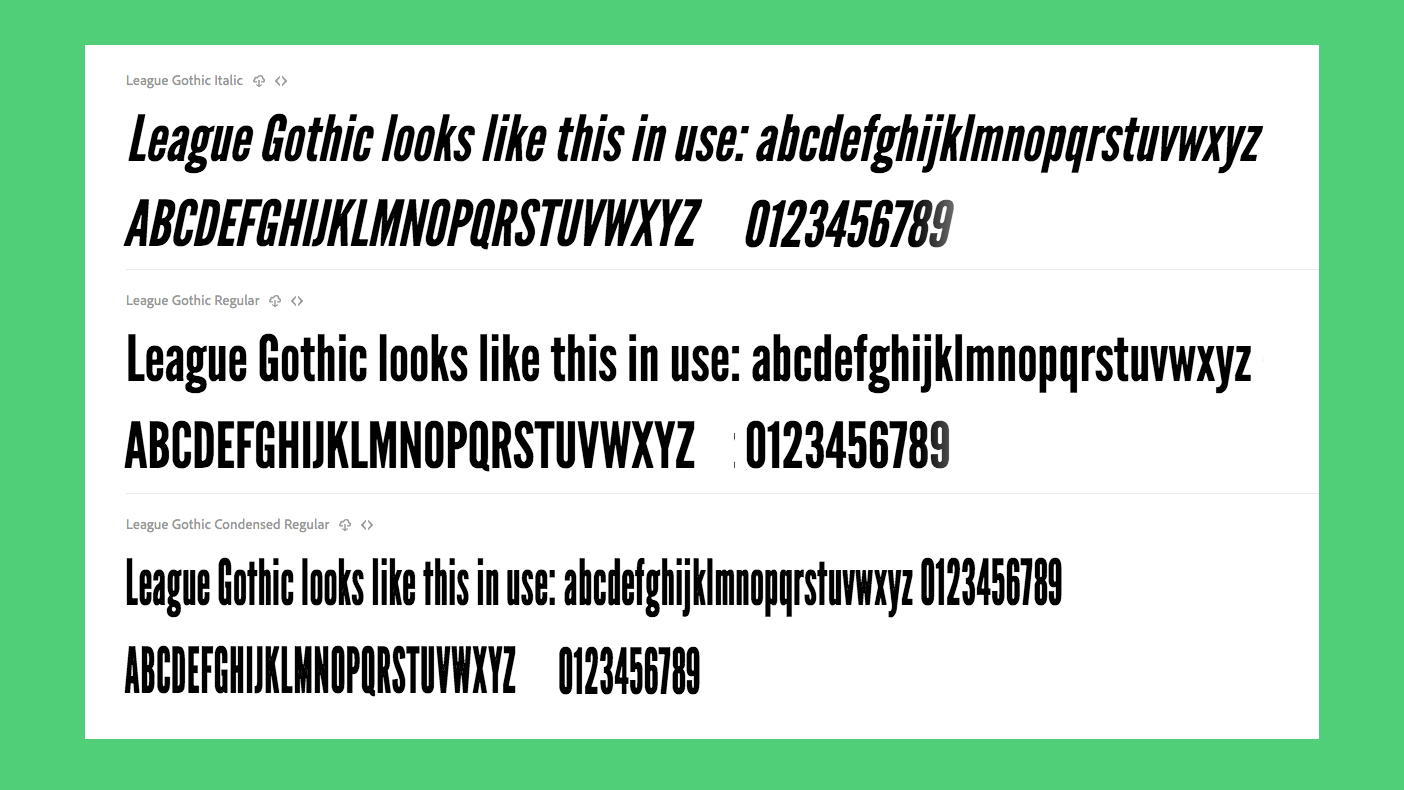 Free for personal and commercial use
League Gothic is a condensed sans-serif inspired by the classic typeface Alternate Gothic #1, originally designed by Morris Fuller Benton for the American Type Founders Company in 1903. The League of Movable Type decided to make its own version and open source it, with contributions from Micah Rich, Tyler Finck and Dannci.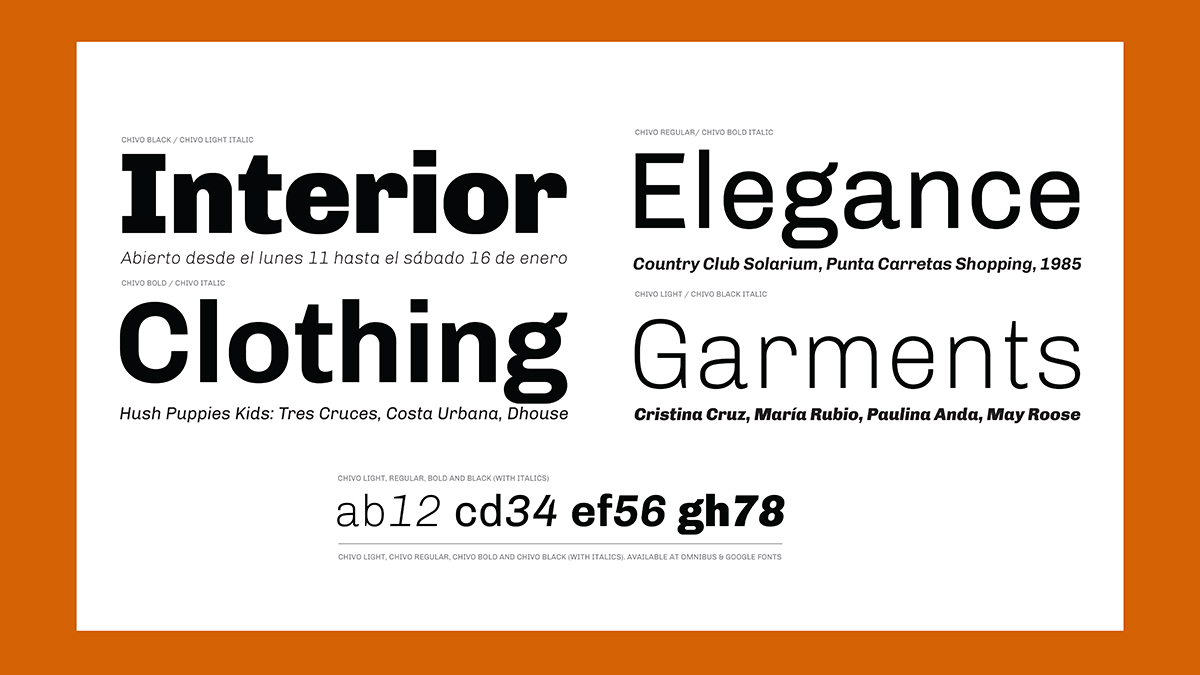 Free for personal and commercial use
Chivo is a grotesque typeface that's ideal for headlines, and other page furniture where you want to grab attention. Both confident and elegant, it's been released in four weights with matching italics. This free font is the work of Héctor Gatti and the Omnibus-Type Team.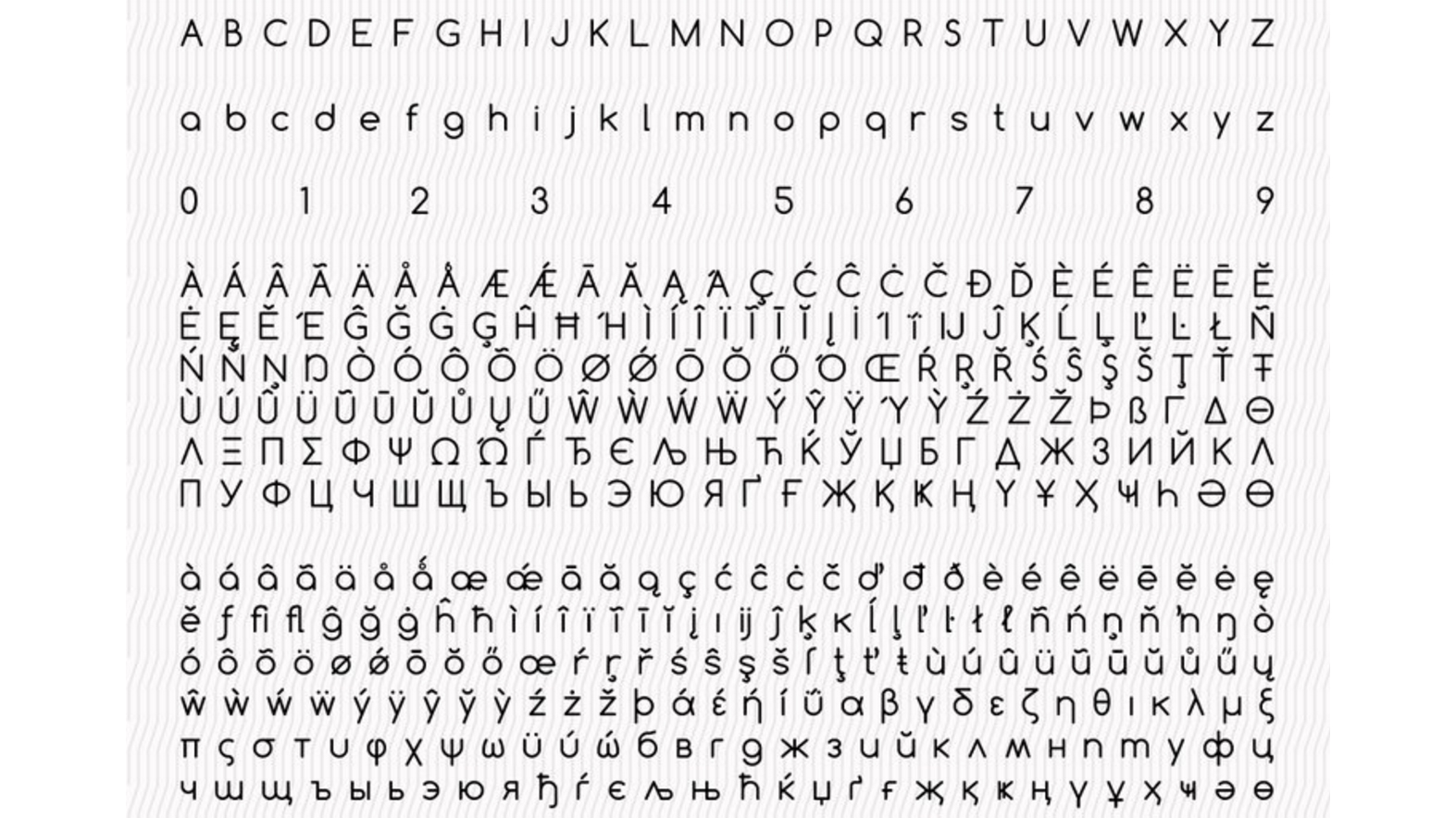 Free for personal and commercial use
Comfortaa is a rounded geometric sans-serif type design intended for large sizes. Created by Johan Aakerlund, a design engineer at the Technical University of Denmark, it's a simple, good looking font that includes large number of different characters and symbols. Part of the Google Font Improvements Project, the latest updates to the family include the addition of a Cyrillic character set and support for Vietnamese. 
David Airey, a graphic designer and occasional writer in Northern Ireland, is among its admirers. "A lot of free fonts need too much work cleaning up the points, but that doesn't mean you can't find good options," he says. "For an identity project, I used Comfortaa as the base for a bespoke wordmark. The before and after are really quite different, but Johan's work gave me a great foundation, and the client loves the result."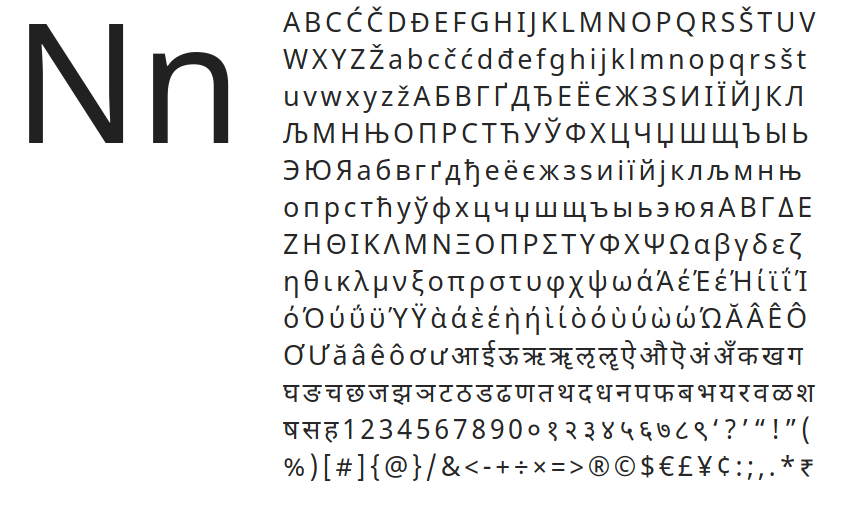 Free for personal and commercial use
Noto Sans is a free font family designed by Google supporting more than 100 writing systems, 800 languages, and hundreds of thousands of characters. Noto fonts are intended to be visually harmonious across multiple languages, with compatible heights and stroke thicknesses. The family include regular, bold, italic and bold italic styles, and it has a serif sister family, Noto Serif.

Free for personal and commercial use
HK Grotesk is a sans-serif typeface inspired by the classic grotesques, such as Akzidenz Grotesk, Univers, Trade Gothic and Gill Sans. It was designed by Hanken Design Co with the aim of creating a friendly and distinguishable font that's suitable for small text. It has recently expanded its language support with the addition of Cyrillic characters (Bulgarian, Russian and Serbian).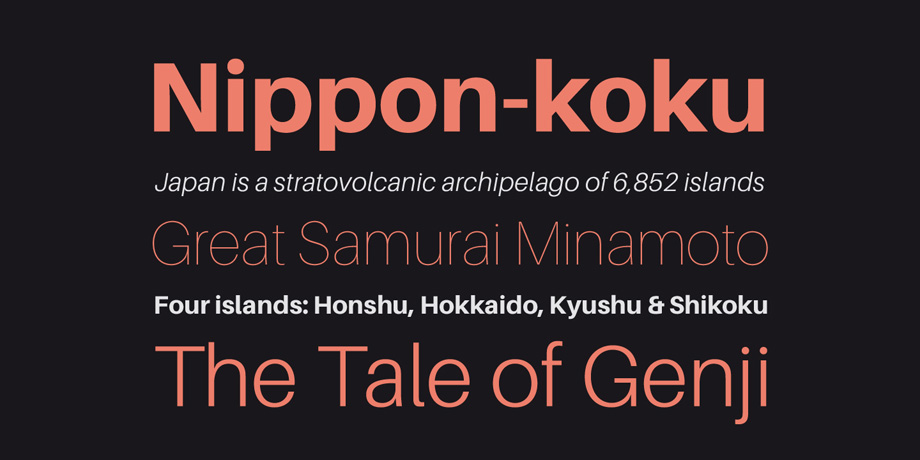 Free for personal and commercial use
Aileron is a versatile, neo-grotesque sans-serif that's somewhere between Helvetica and Univers. Created by Sora Sagano, a designer at Tipotype, it aims to provide readers with a high level of visual comfort. It's available in 16 weights, from ultralight to black.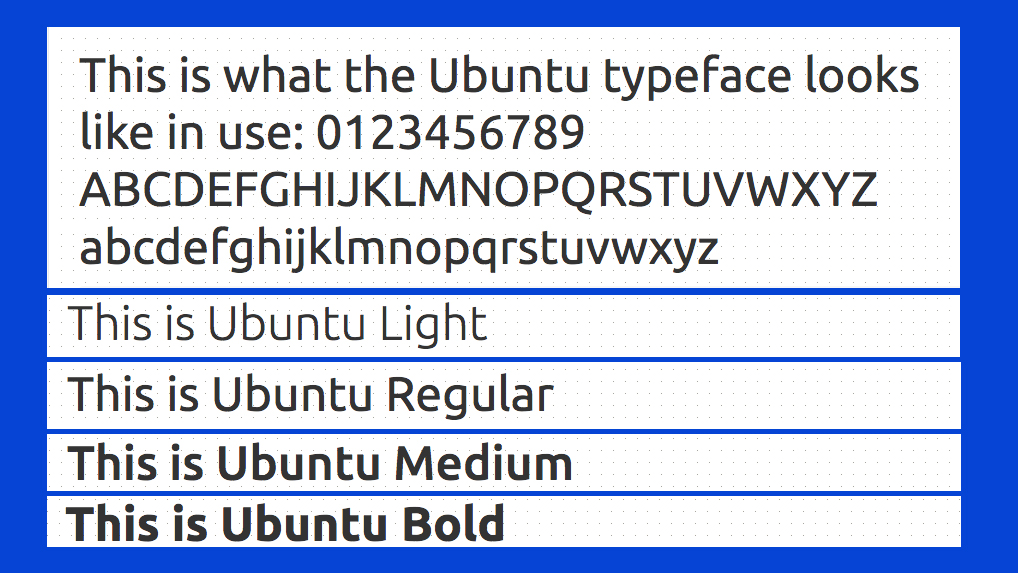 Free for personal and commercial use
This free font has been specially created to complement the tone of voice of Ubuntu, the Linux operating system for personal computers, tablets and smartphones. Designed by font foundry Dalton Maag, it uses OpenType features and is manually hinted for clarity on desktop and mobile screens.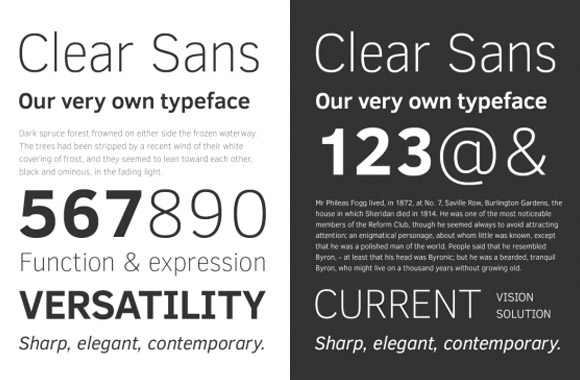 Free for personal and commercial use
Clear Sans is a versatile font designed by Intel designed with on-screen legibility in mind. Suitable for screen, print, and web, this free font is notable for its minimised characters and slightly narrow proportions, making it a great choice for UI design, from short labels to long passages (it has, for instance, been adopted by Mozilla for the 'Firefox for Android' browser). 
Created by Daniel Ratighan at Monotype under the direction of Intel, Clear Sans supports a wide range of languages using Latin, Cyrillic and Greek, and includes medium, regular, thin, and light weights with upright, italic, and bold styles.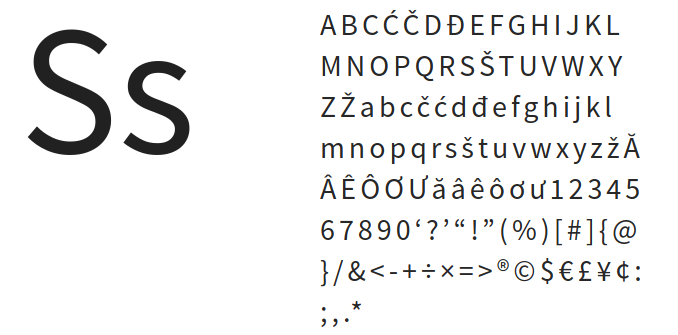 Free for personal and commercial use
Released in 2012, Source Sans Pro was the first open source type family for Adobe, and has proved wildly popular. It was envisioned as a classic grotesque typeface with a simple, unassuming design, intended to work well in user interfaces. It was designed by Paul D. Hunt,  who continues to work as a type designer at Adobe, and also designed the complementary free font Source Serif Pro.
Source Sans Pro is one of the favourite free fonts of James Hollingworth, a senior-level digital designer and illustrator based near Bath, UK. "It's such a solid, reliable font to use in design work," he enthuses. "Being dyslexic myself, I find it a very easy font to read, and it works brilliantly in user interfaces." 
Also read: 20 fonts every graphic designer should own
Next page: Free handwriting fonts

Free for personal and commercial use
This bold handwriting font was inspired by the slanting letterforms found in typical Tamal handwriting (as well as a Tamil alphabet, it also includes Latin letterforms). Kavivanar was designed by Tharique Azeez, a type designer based in Sri Lanka, and is free to download.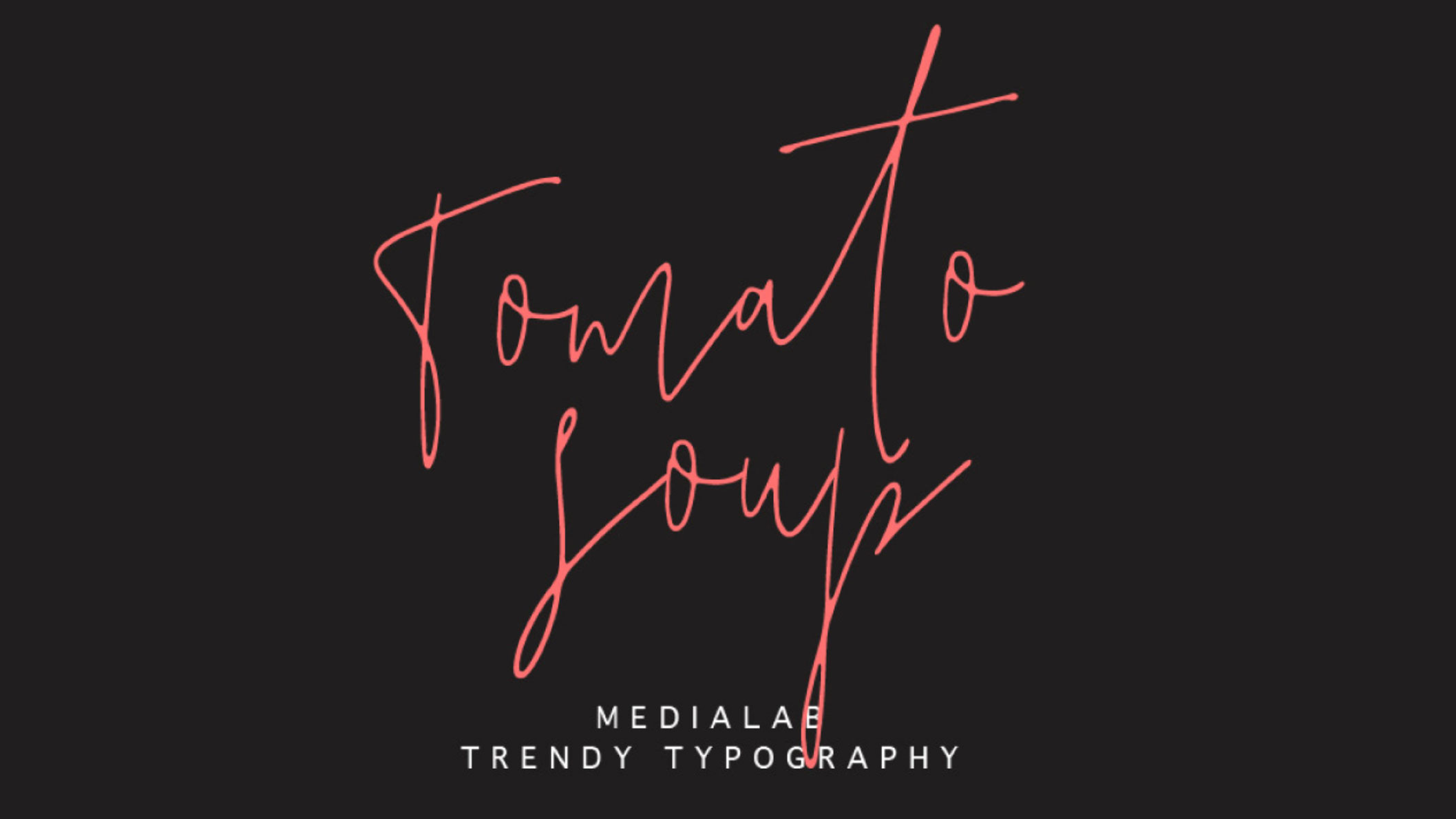 Free for personal and commercial use
If you ever feel like you want to recreate the scratchy handwriting of your doctor or perhaps teacher, this is the font for you. Tomato Soup was made by Typed.one and looks best when there's less text – we wouldn't recommend writing out long chunks of text with it. However, it's ideal for invitations or anywhere where you want to recreate the handmade look.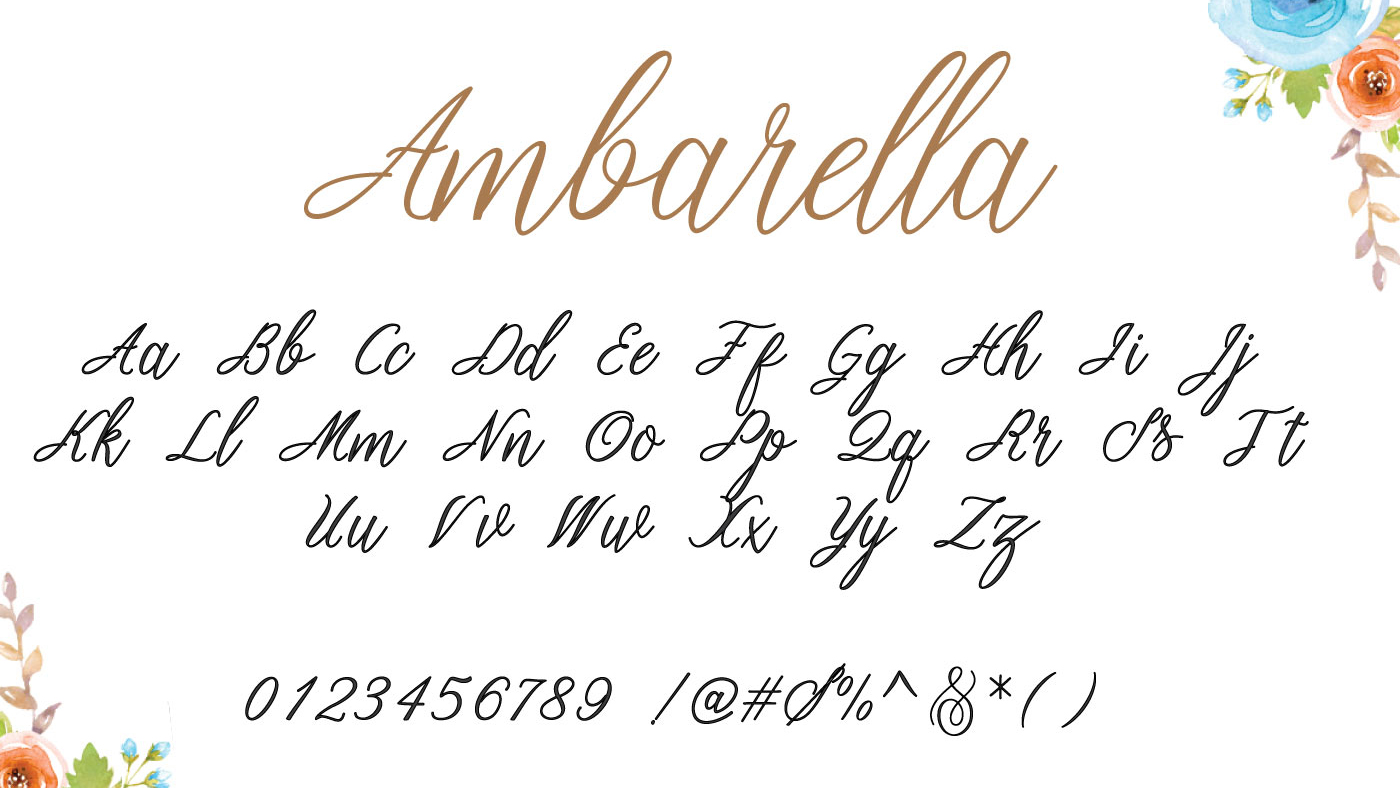 Free for personal and commercial use
Ambarella is a beautiful free font from Polem Studio. The handwritten design in a modern calligraphy style includes various swashes, alternates and Western European characters.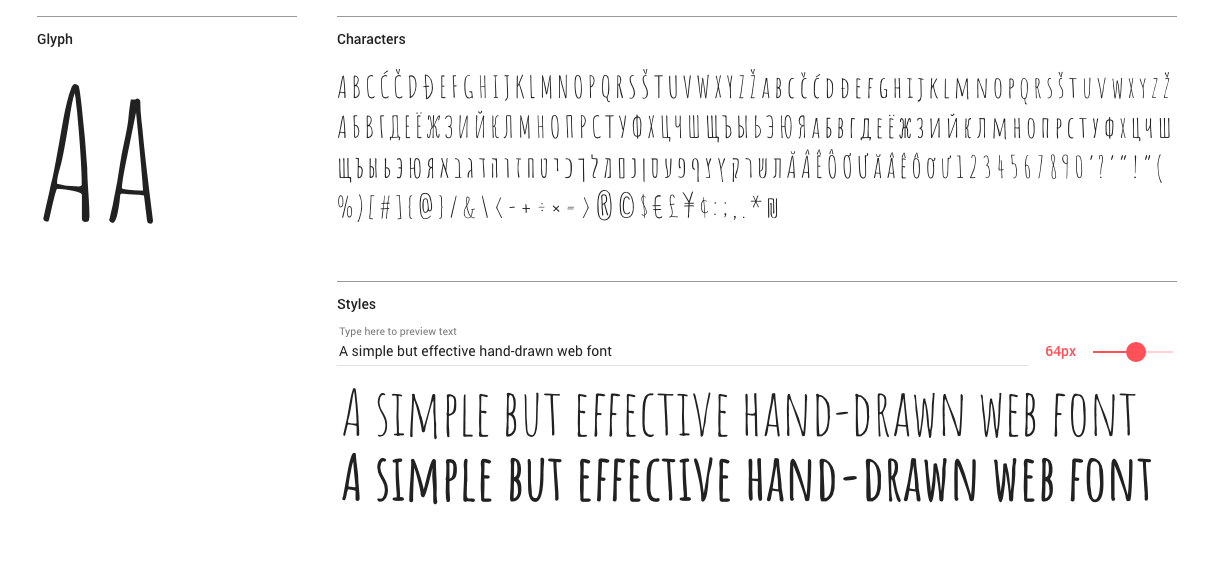 Free for personal and commercial use
Amatic is a small-caps, hand-drawn web font that is ideal for titles or small runs of text. It has gained popularity for its naive aesthetic, which is brimming with personality. The free font was first designed by Vernon Adams, before being refreshed and revised by Ben Nathan and Thomas Jockin. It currently features on over 760,000 websites.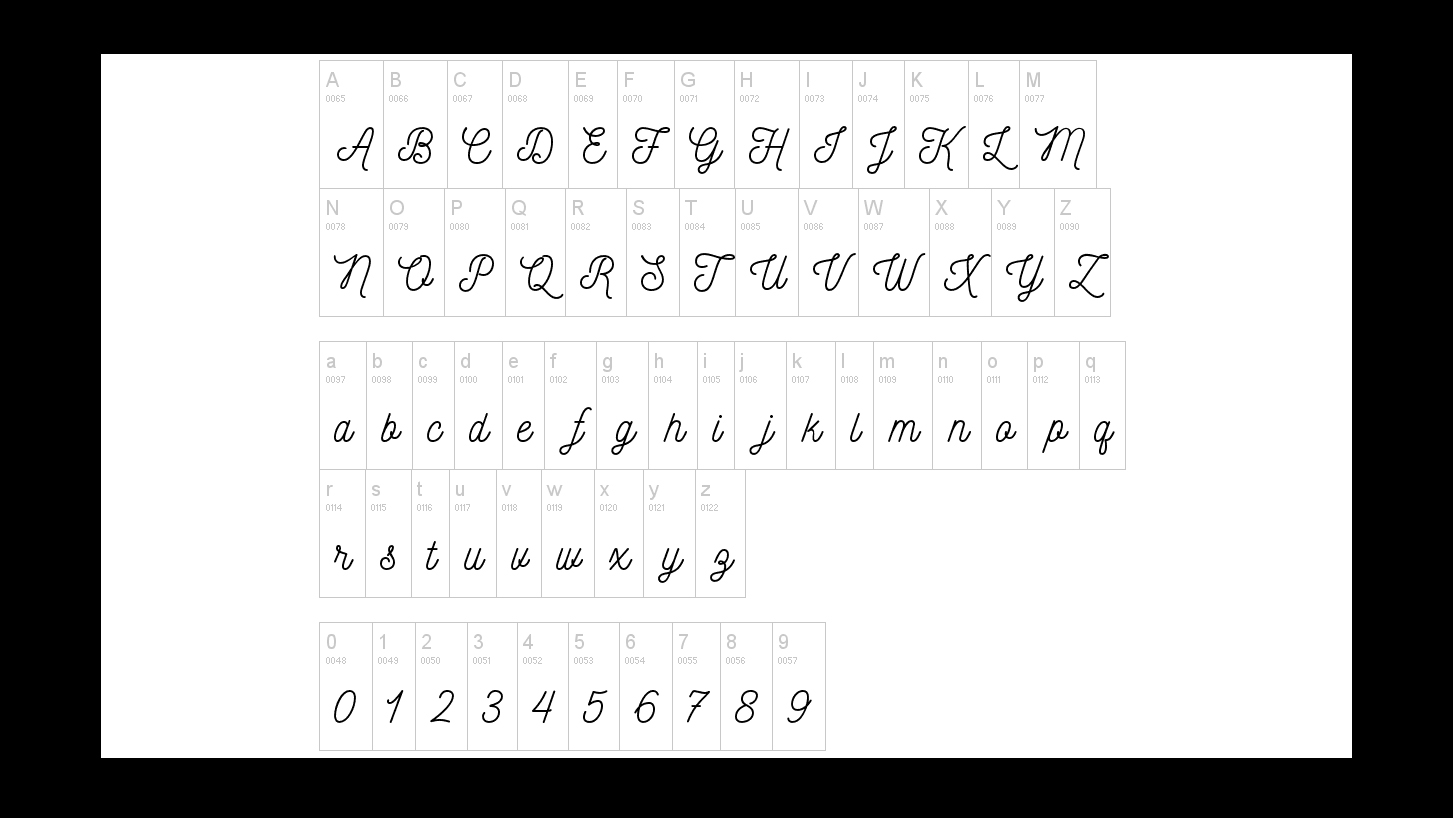 Free for personal and commercial use
Nickainley is one of our favourite free handwriting fonts. This Monoline script with a classic, vintage feel, includes uppercase and lowercase characters, as well as numerics and punctuation marks. Offering a variety of possible use cases, including logos, T-shirt designs, letterhead and signage, this free font was created by Indonesian agency Seniors Studio.

Free for personal and commercial use
Shadows Into Light is the work of type designer Kimberly Geswein. Ideal for adding a personal touch to your projects, this free font features rounded edges and neat, clean characters. It's currently available in one style only, but has already proven extremely popular.

Free for personal and commercial use
Pacifico is a fun brush script handwriting font inspired by 1950s American surf culture. This open source font was one of the great contributions to the free software community by the late designer Vernon Adams.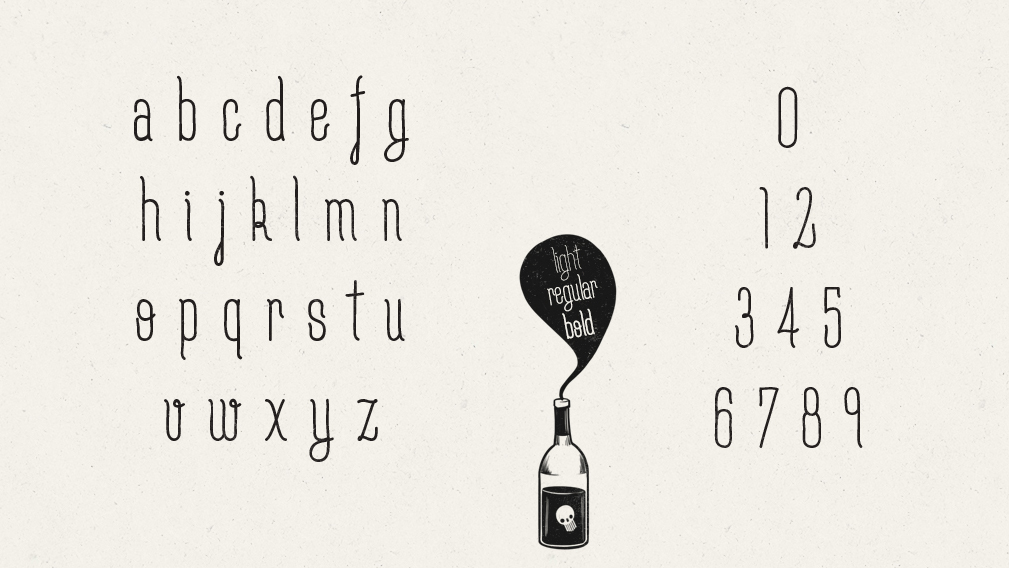 Free for personal and commercial use
Cute Punk offers a vibrant, youthful and thoroughly modern take on the handwriting font. Infusing the style with a striking, almost geometric feel, this free font is the work of Flou, a designer and illustrator from Bratislava, Slovakia.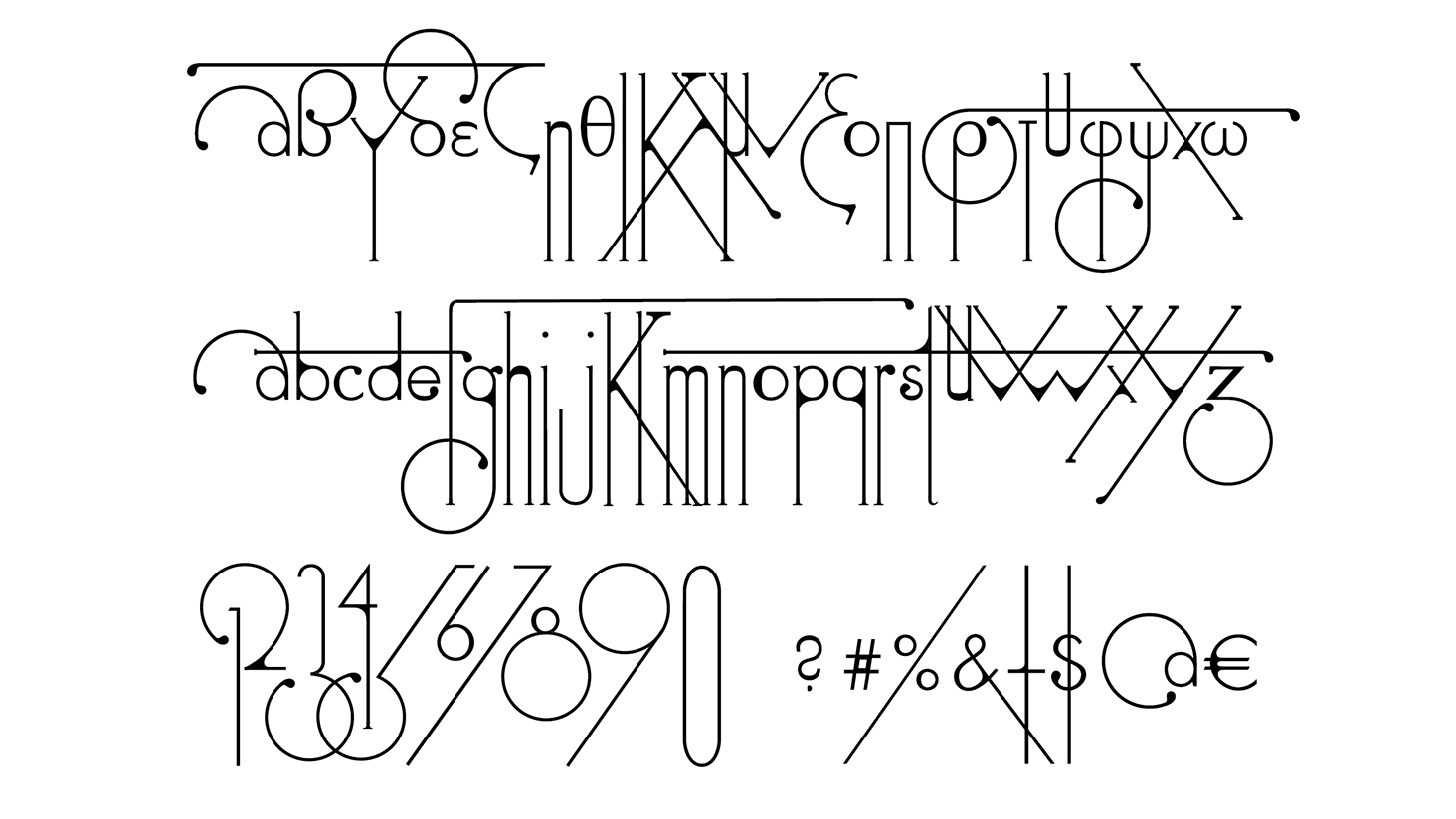 Free for personal use only
An idiosyncratic take on the handwriting font, Futuracha is inspired by John Baskerville's classic typefaces, as well as Futura Book. Created by Holy, this free font family includes numerics, symbol fonts, and Greek and Latin characters. Designed as a display font, Futuracha could work well when used creatively in headlines, logos or typographical illustrations.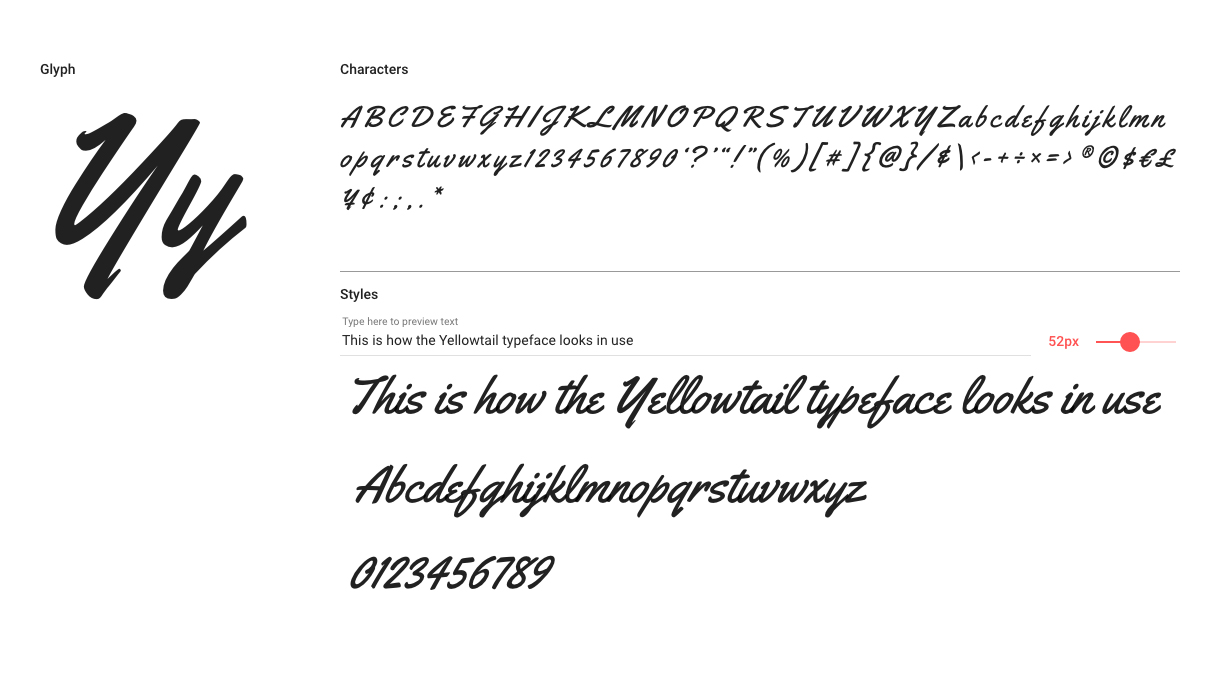 Free for personal and commercial use
Yellowtail is an old-school, flat, brush font that evokes classic 1930s typefaces like Gillies Gothic and Kaufmann. Designed by typography institute Astigmatic, its mixture of connecting and non-connecting letterforms gives it a unique look and ensures good legibility. 
Also read: 14 calligraphy fonts 
Next page: Free vintage and retro fonts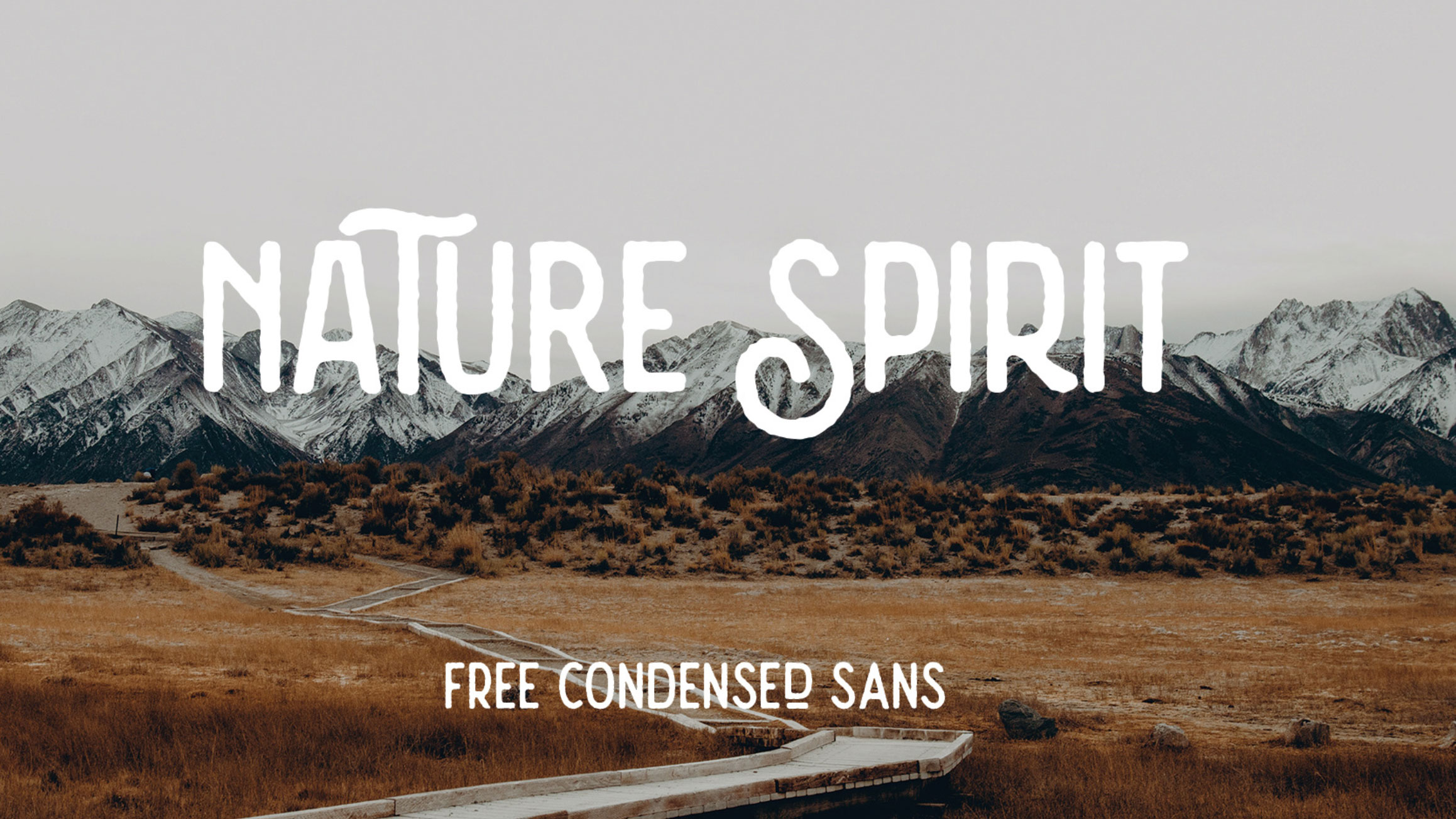 Free for personal and desktop commercial use
Nature Spirit is a vintage font by Alex Joganic of 1871 Project. The retro styling recalls hippy communes and an adventurous spirit, making it well suited for a vintage project. There are two styles – rough and regular – depending on whether you like your lines straight or a little rough round the edges.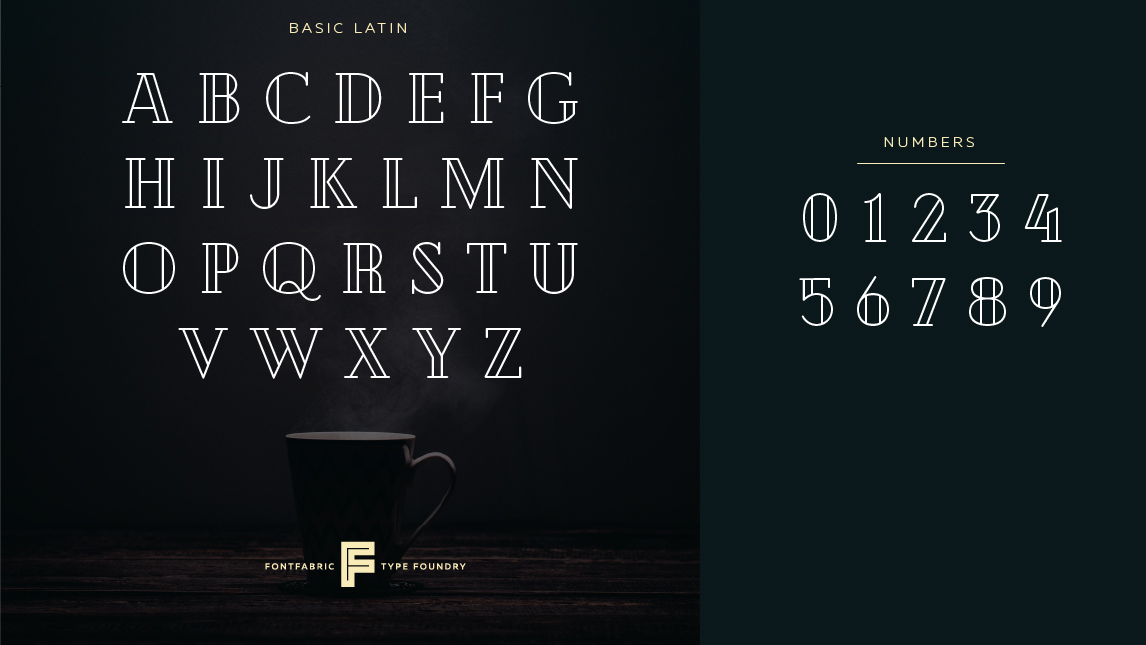 Free for personal and commercial use
Based on geometric shapes and with a classic, vintage look, Cheque started off as a student project by Fontfabric's Mirela Belova, then grew into a full display font. At its best when used in headlines or compositions, it comes in Regular and Black versions that are free for both personal and commercial use.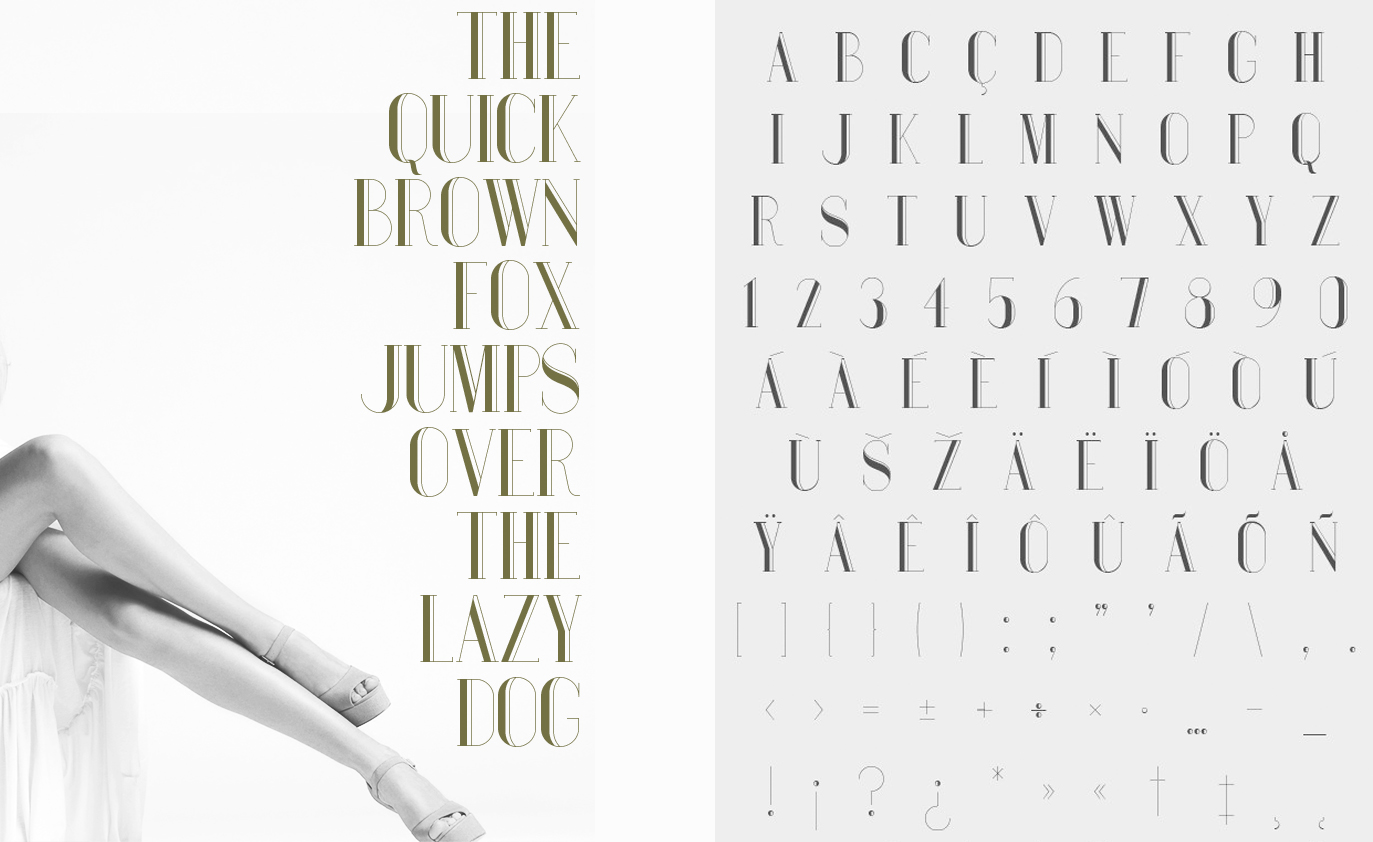 Free for personal and commercial use
Bauru is based on the kind of lettering that instantly sums up the feeling of a bygone age. One of the best free retro fonts, this could work well in portraying a sense of nostalgia and timeless values within a wide range of branding, posters, advertising or logo design. It was designed by Brazilian art director and illustrator Pier Paolo.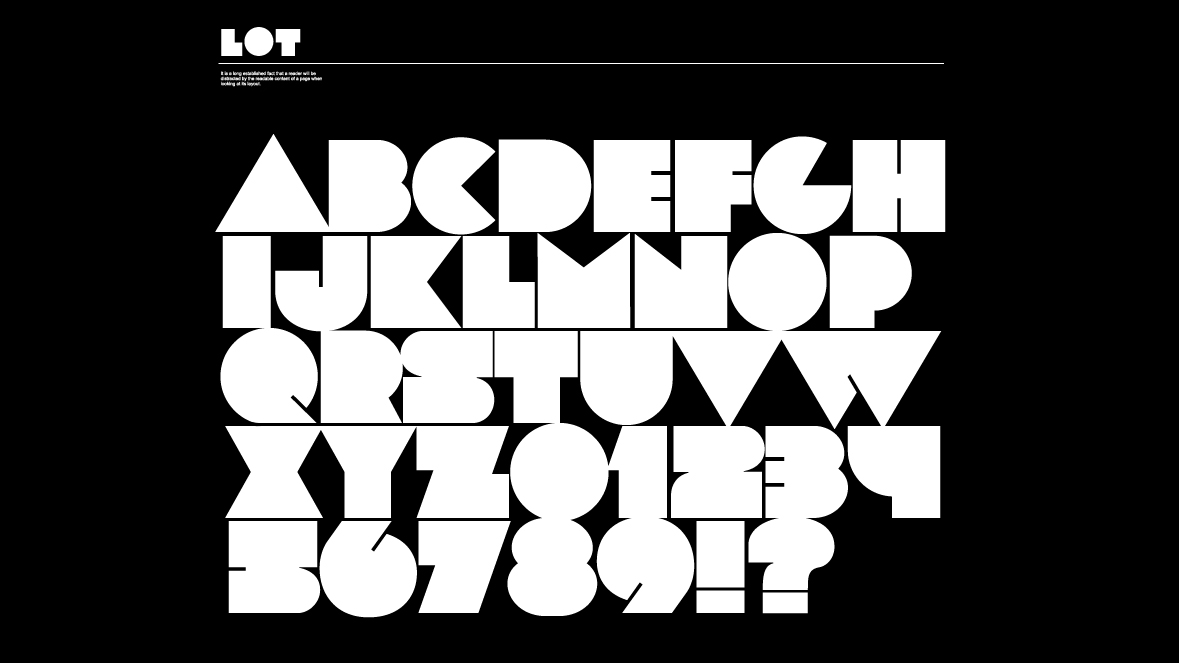 Free for personal and commercial use
Reminiscent of the stylised block lettering of 1970s and 1980s advertising, posters and magazine design, LOT nonetheless provides a sleek new take on a vintage style with its collection of fat, geometric letterforms. Featuring 78 characters, this free font would work well in posters, logos and headlines. It's the work of independent type foundry FontFabric.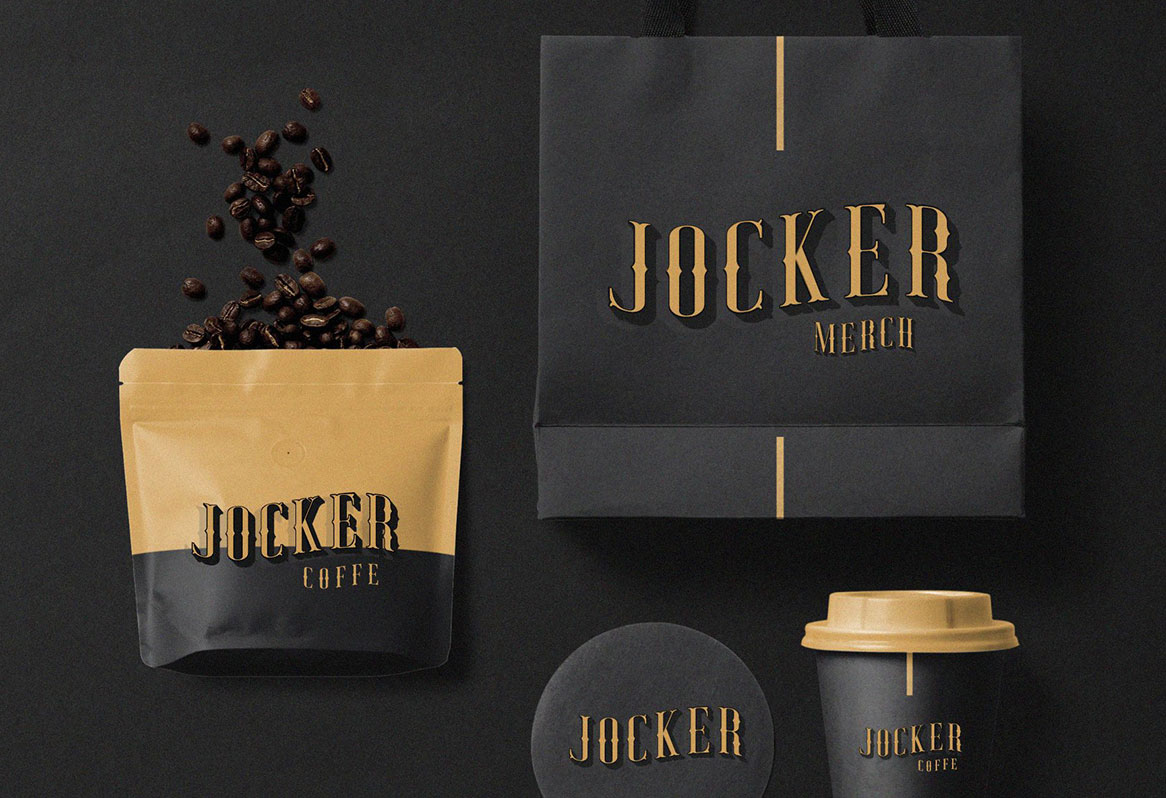 Jocker is a vintage font design that's available for free for personal use and has a fun, circus feel, which is great for posters, logo designs and packaging. This font was drawn from scratch and has since had more layers of detail added to it. If you like it, you can buy it for commercial purposes here for for $19.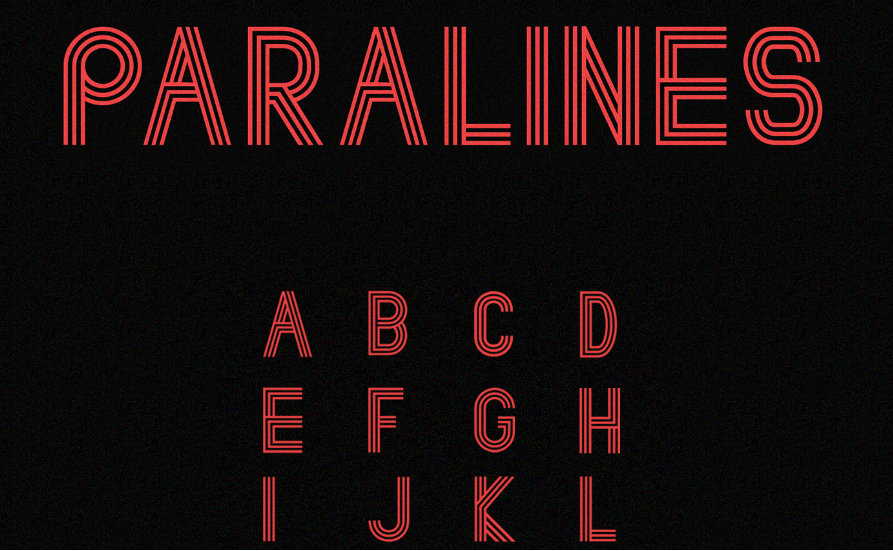 Free for personal and commercial use
Featuring idiosyncratic use of parallel lines, Paralines takes inspiration from both decades-old design and modern-day typography. This free font would suit any project aiming to evoke the graphic design of the 1970s and early 1980s. It's the work of freelance UK designer Lewis Latham.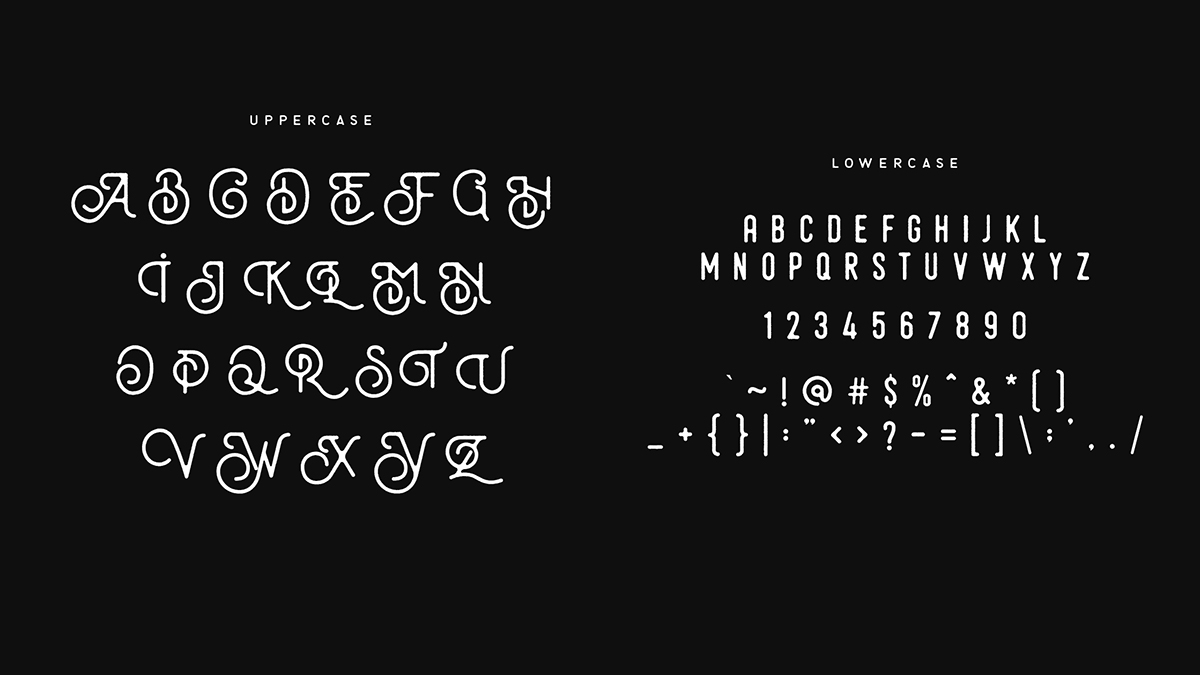 Free for personal and commercial use
Hamurz is a hipster-style retro typeface with rough edges and rounded shapes. Created by Bagus Budiyanto, it offers a multitude of potential uses, such as logos, headings, or designs for T-shirts, badges or letterpress printing.
Also read: 45 free retro fonts 
Next page: Free brush fonts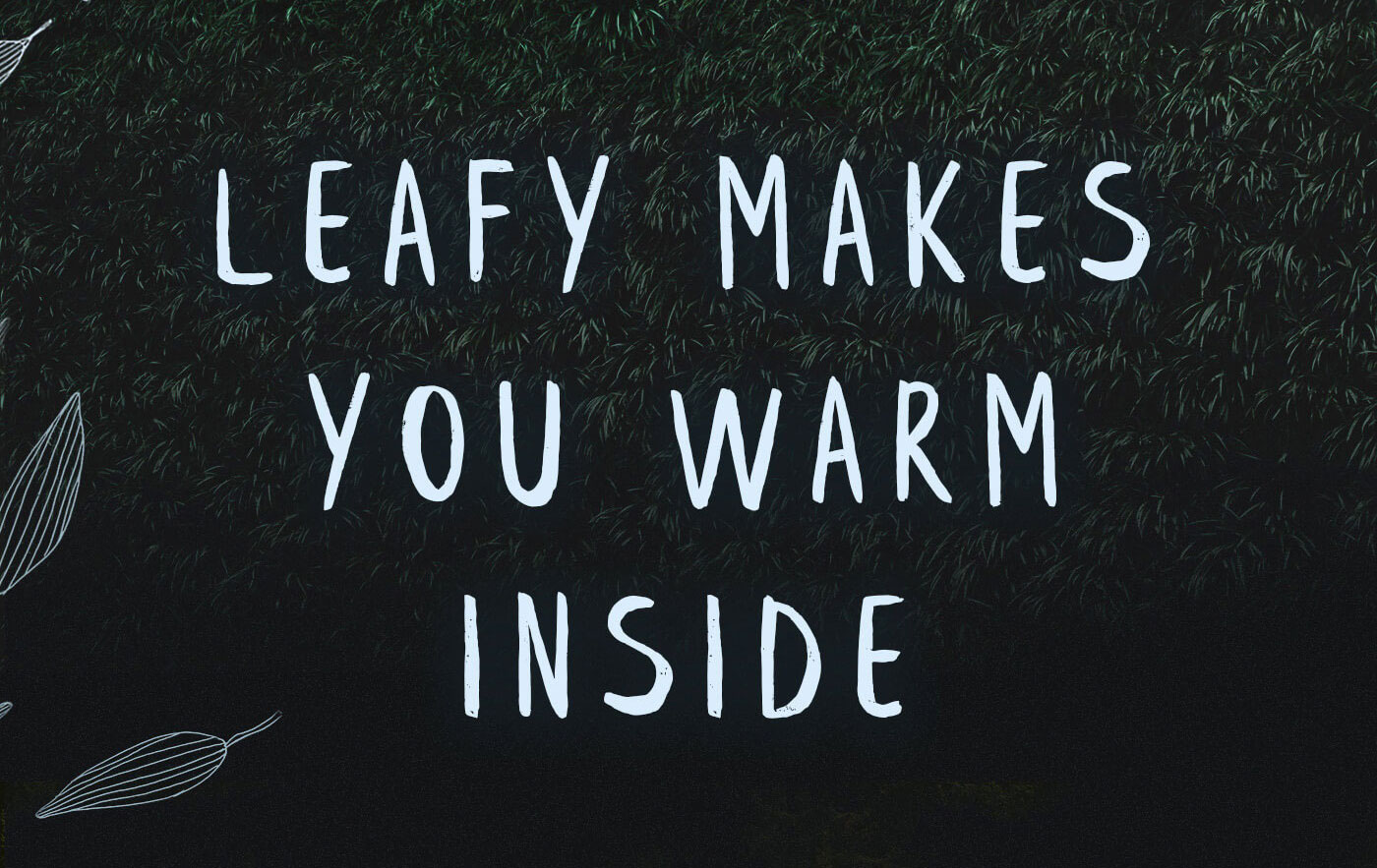 Free for personal and commercial use
Featuring 95 unique, hand-crafted characters, Leafy is an all-caps brush font drawn by Ieva Mezule and assembled by Krisjanis Mezulis of Latvian agency, Wild Ones Design. Perfect for any design that could use a personal, handmade feel, it's free for both personal and commercial use.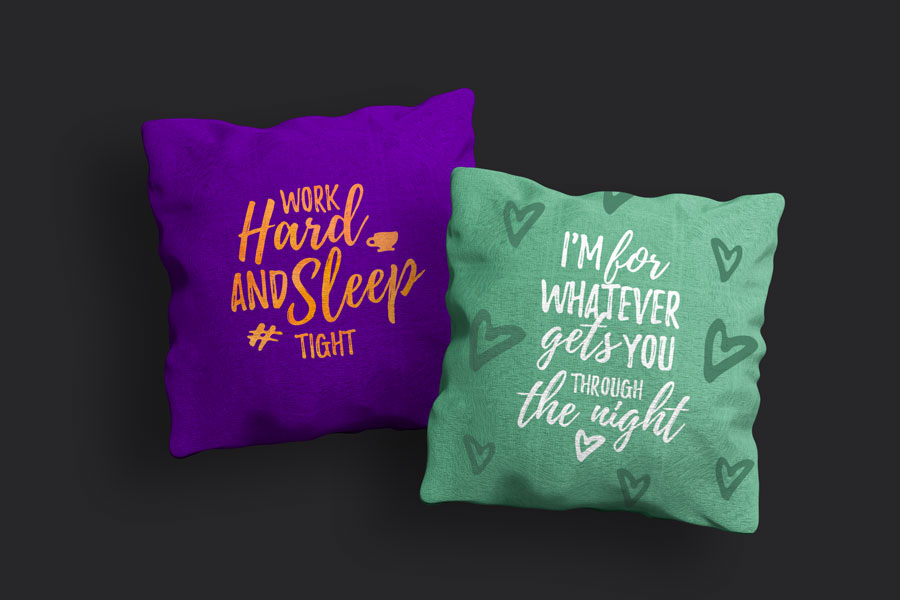 Free for personal and commercial use
Playlist is a hand-drawn font with dry brush styles that comes in three varieties: Script, Caps, and Ornament. Ideal for illustrated designs, including posters, T-shirts and other merchandise, this is one of our favourite free brush fonts.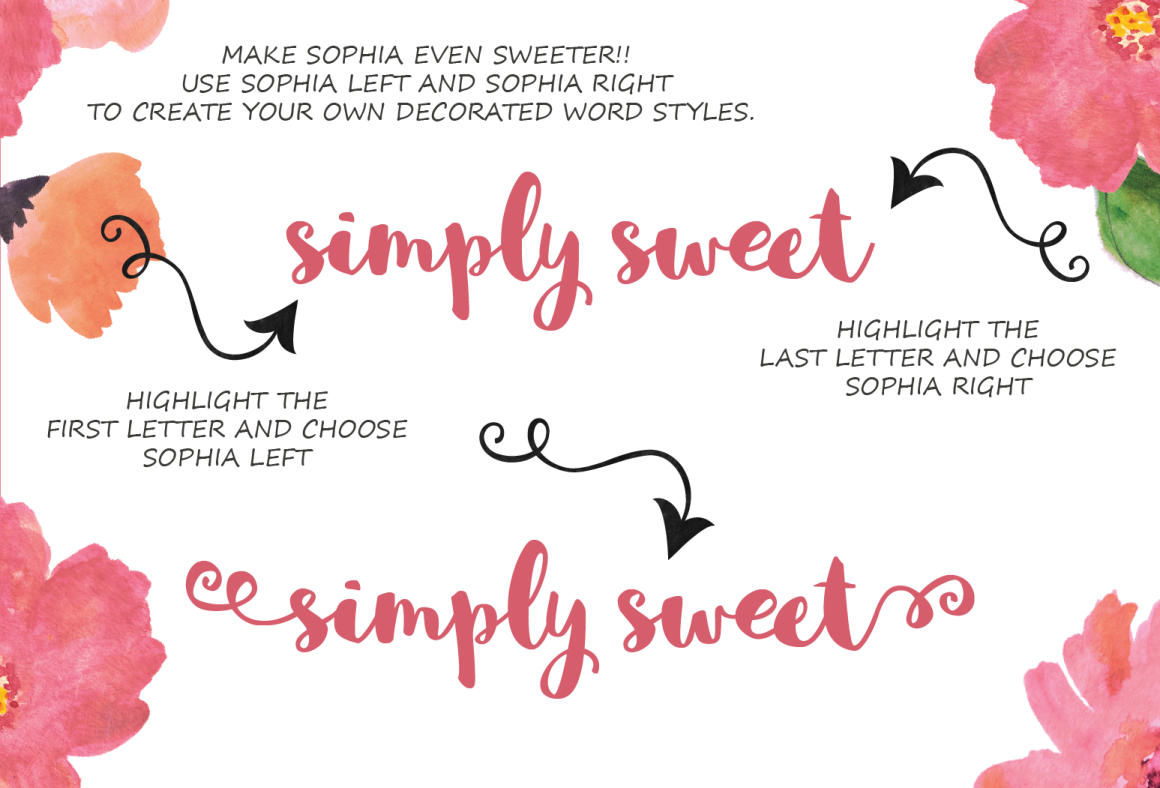 Free for personal and commercial use
Sophie is light, friendly and slightly off-kilter, in a fun way. Described as "a hand-lettered brush script with a sweet decorative bonus", the family includes multilingual glyphs, as well as left and right stylistic letter combinations. This free font was designed by Mats-Peter Forss and Emily Spadoni, of Finland and the USA respectively.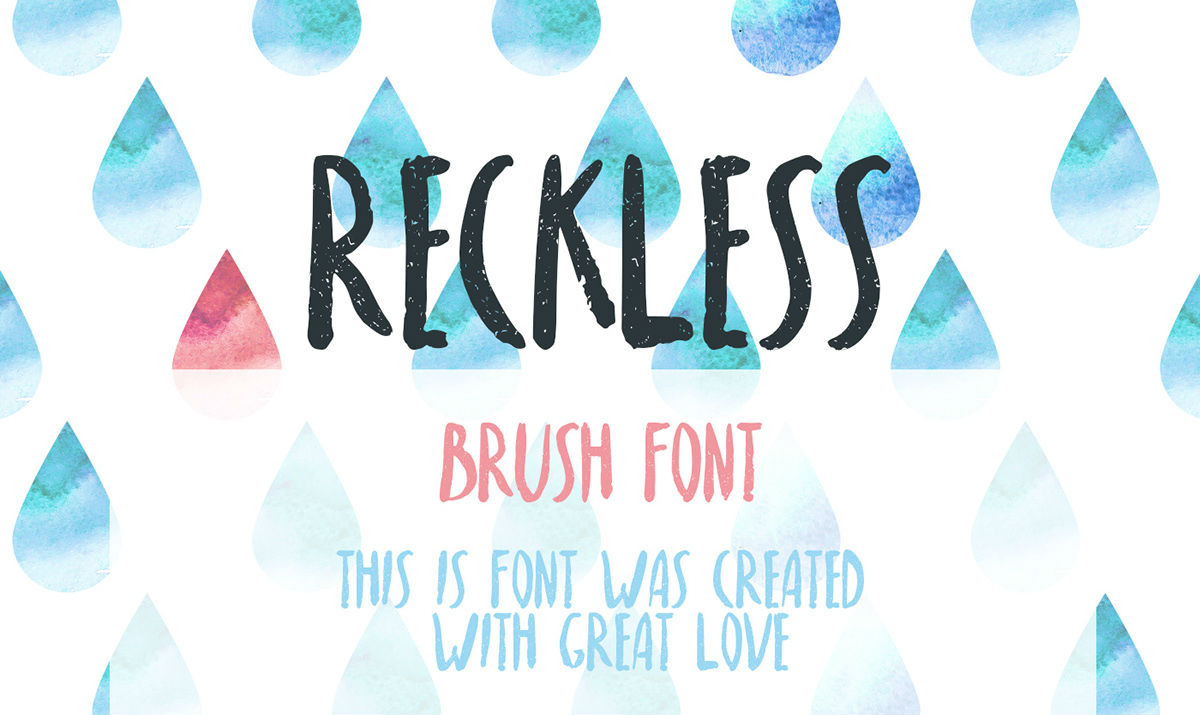 Free for personal and commercial use (pay with a tweet)
Reckless is a handwritten brush font that includes uppercase and extended Latin characters. As shown above, it would work well with a watercolour-effect design, either in print or on the web. It was created by Russian designer Nadi Spasibenko.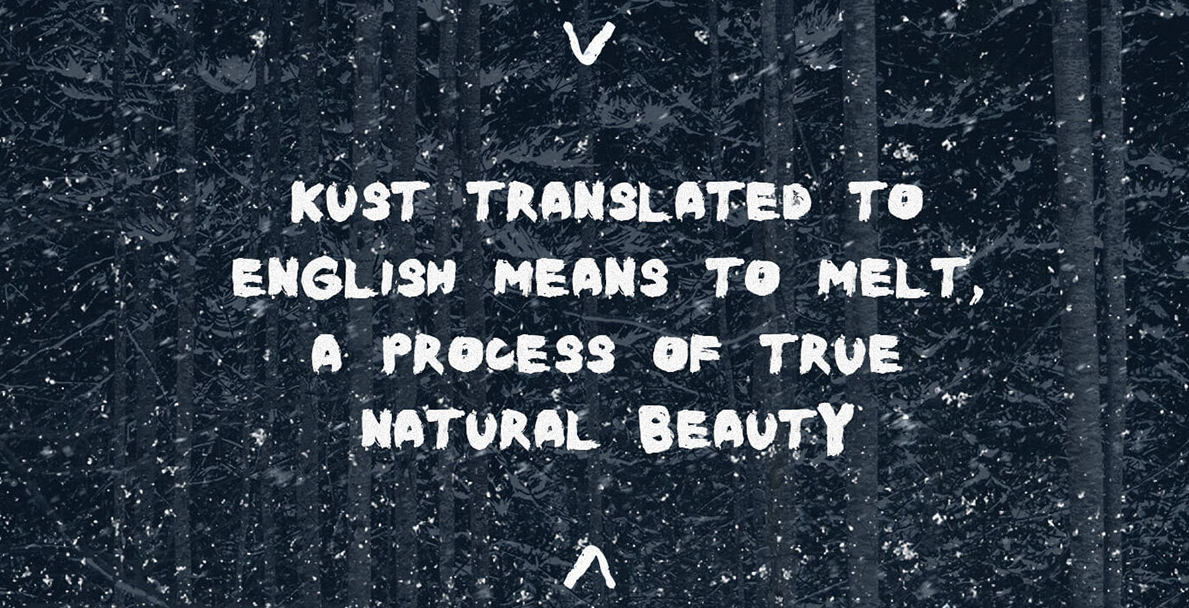 Free for personal and commercial use
Kust is a handwritten, all-caps font with a distorted, slightly corrupted look. This free font was based on letters drawn on hard paper, with a thick brush using pure black ink, by fashion designer and artist Leva Mezule. It comes courtesy of Wildtype Design, a studio based in Latvia.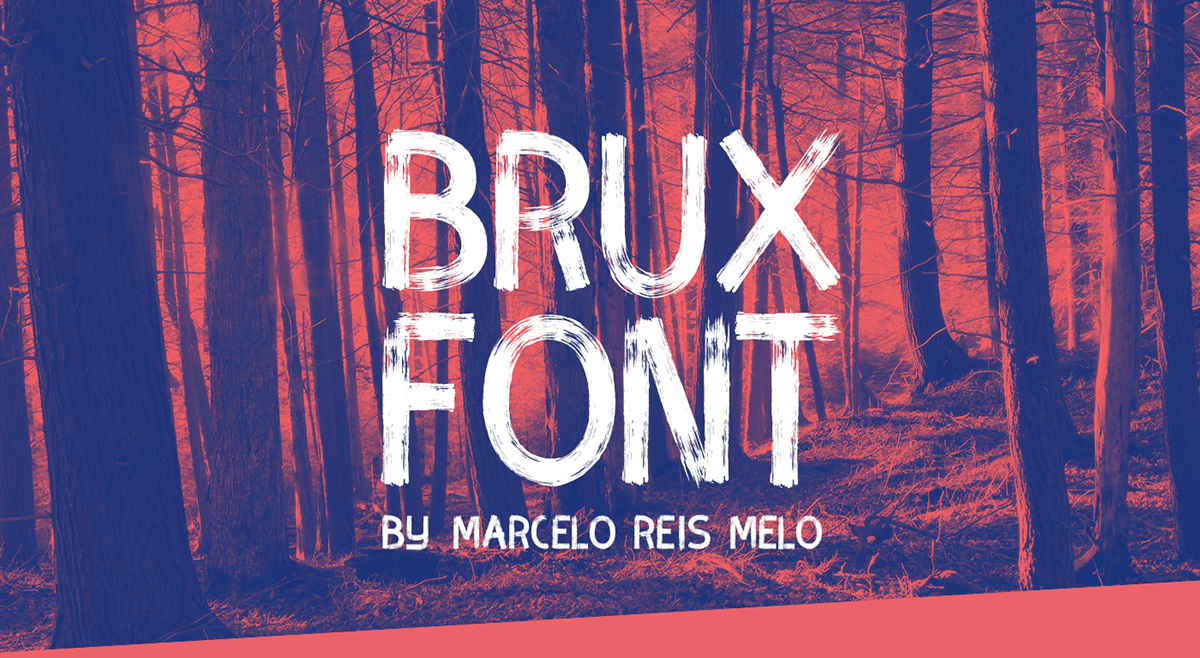 Free for personal and commercial use
While most brush-style free fonts are pretty laid-back, stylistically speaking, Brux is quite rigid and formal, almost evoking the feel of a stencil. This gives it a very fresh and original look. The free font includes Swedish, German and Spanish characters and is the work of Stockholm-based art director Marcelo Melo.
Also read: 10 special wedding fonts 
Next page: Free tattoo fonts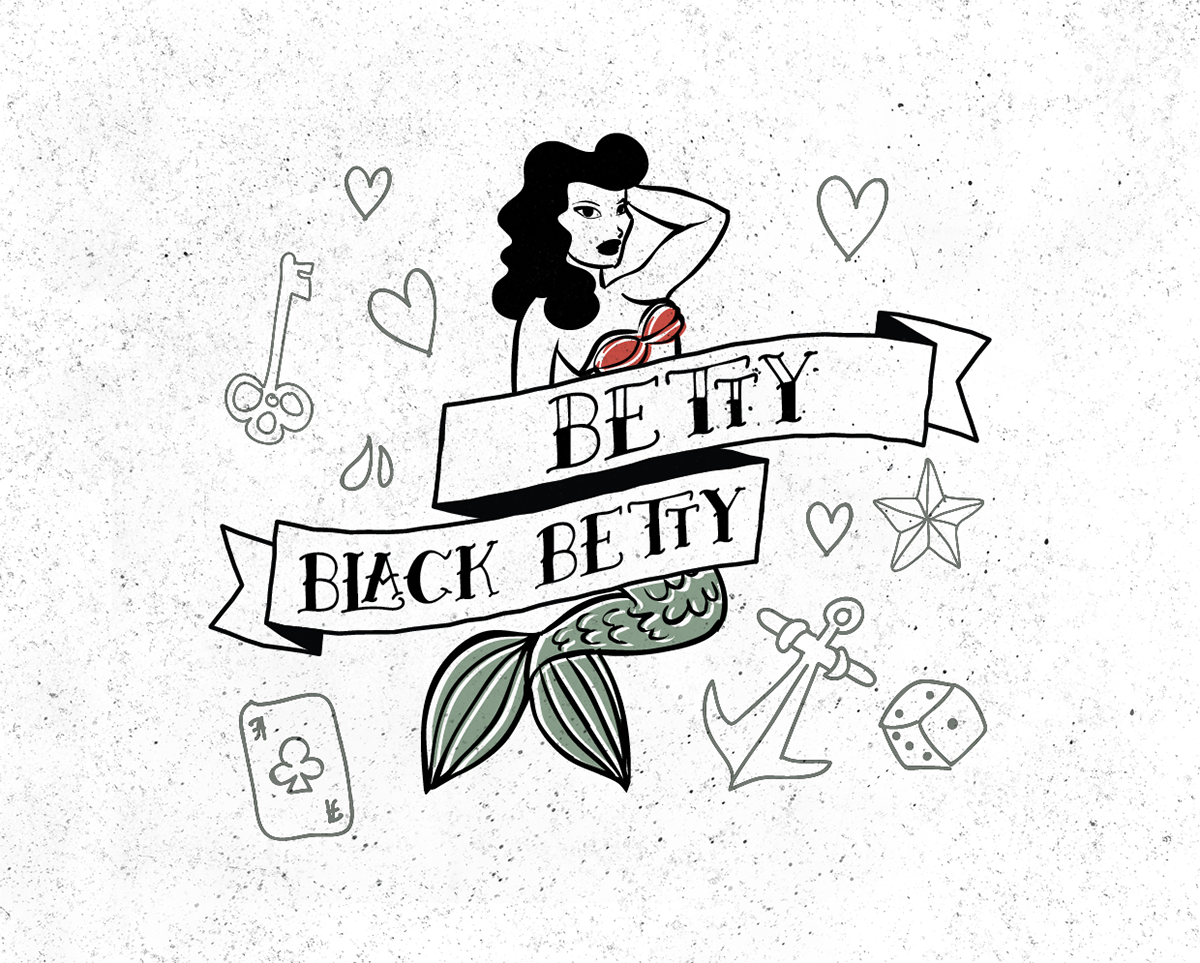 Free for personal and commercial use
None of your hipster stars or tribal tattoos here. Betty is one of those free tattoo fonts that reaches back into the past to a bygone age, when every 'real man' had a sailor's anchor and 'I heart Mum' inked on his bicep. This free font is the work of Athens-based designer Anastasia Dimitriadi.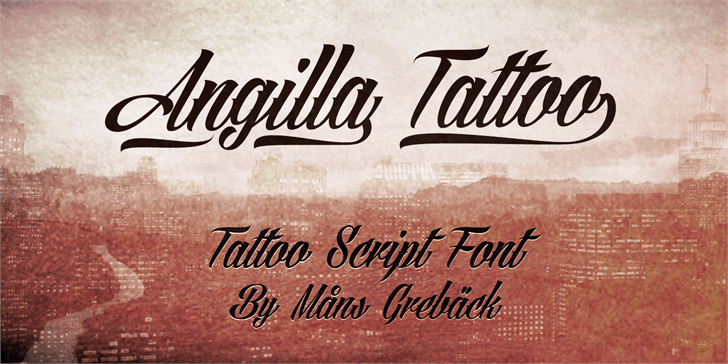 Free for personal use only
This tattoo script font draws on the spirit of calligraphy to create something extremely fresh and stylish. This free font is the work of Swedish designer Måns Grebäck.

Free for personal use only
Another calligraphic font that's perfect for tattoo stylings, Serval is a wiry, scratchy beast of a design. This free font is the inspired work of Maelle.K and Thomas Boucherie.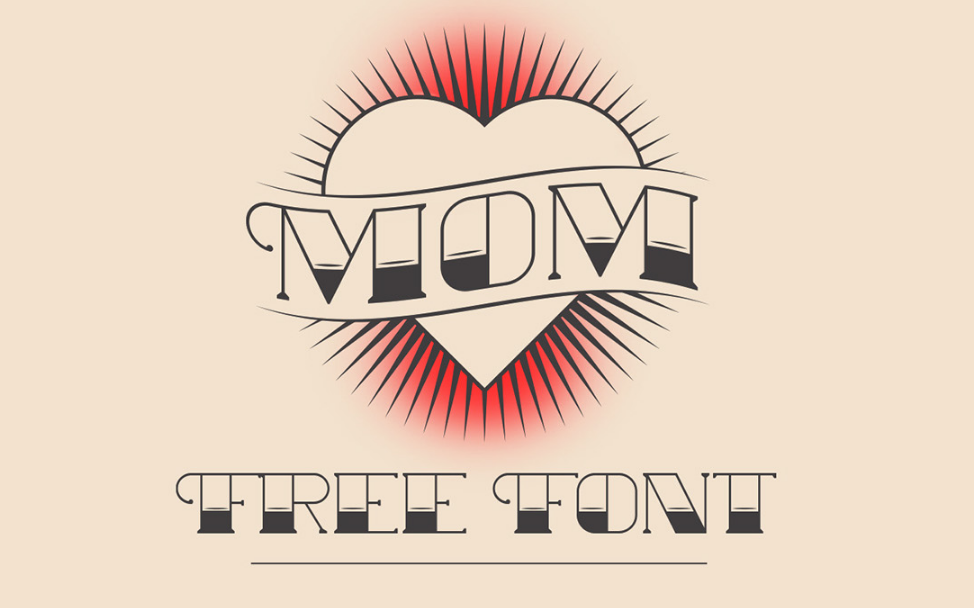 Free for personal and commercial use
MOM is a font inspired by the old-school tattoo lettering of the American tradition, and a tribute to the great tattoo artists of the past. This free font is the creation of Rafa Miguel, an art director based in Santo Domingo, Dominican Republic.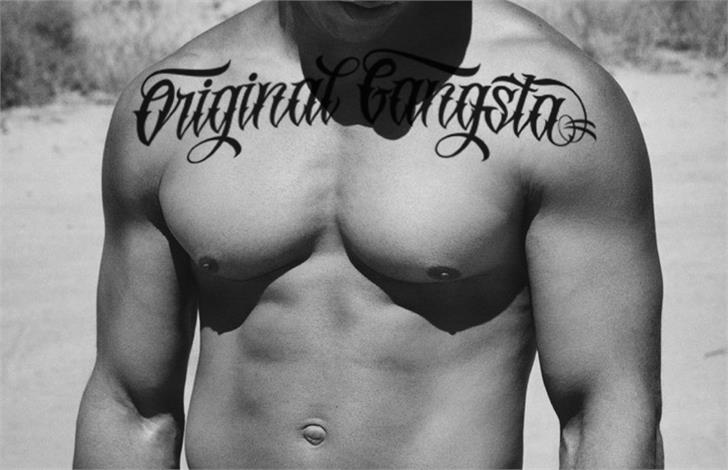 Free for personal use only
Want a tattoo font that shows no mercy? Original Gangsta is a hard-edged script font that's both stylish and uncompromising. This free font was created by Gilang Purnama Jaya, a designer from Indonesia.
Also read: 52 best free tattoo fonts
Next page: Free graffiti fonts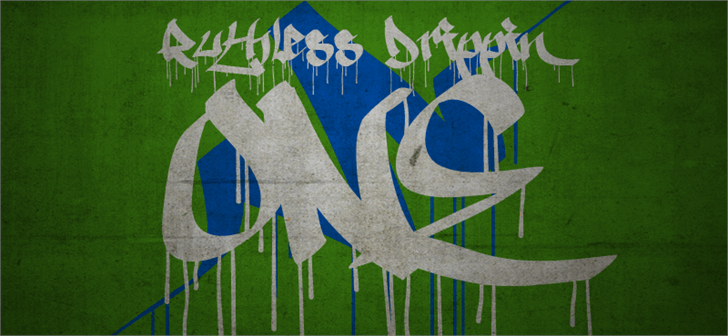 Free for personal use only
Most free graffiti fonts are really just stylised cursives that lack the sense of art, style and playfulness that's so central to the urban street art scene. Ruthless Dripping One by Swedish designer Måns Grebäck bucks the trend with this free font, which combines calligraphy with paint drips to create something more on the money.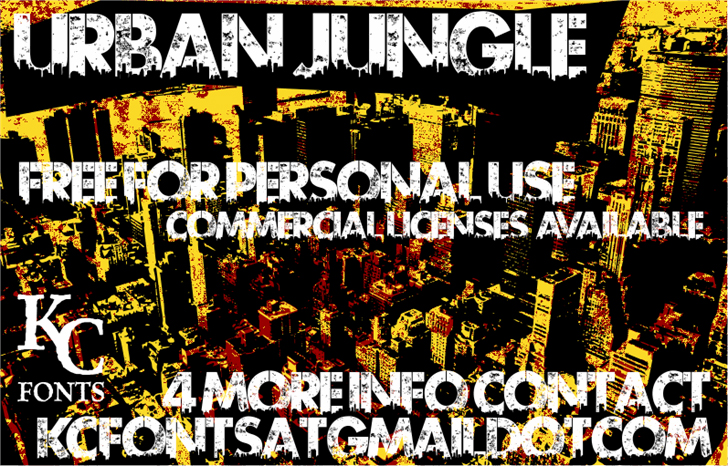 Free for personal use only
Stencils are a big focus of modern day street art, for both practical and aesthetic reasons. Here, Urban Jungle draws on the stencil tradition and adds a distressed texture that instantly evokes the sweat and fury of the street. It's the work of Canadian typographer Kevin Christopher, aka KC Fonts.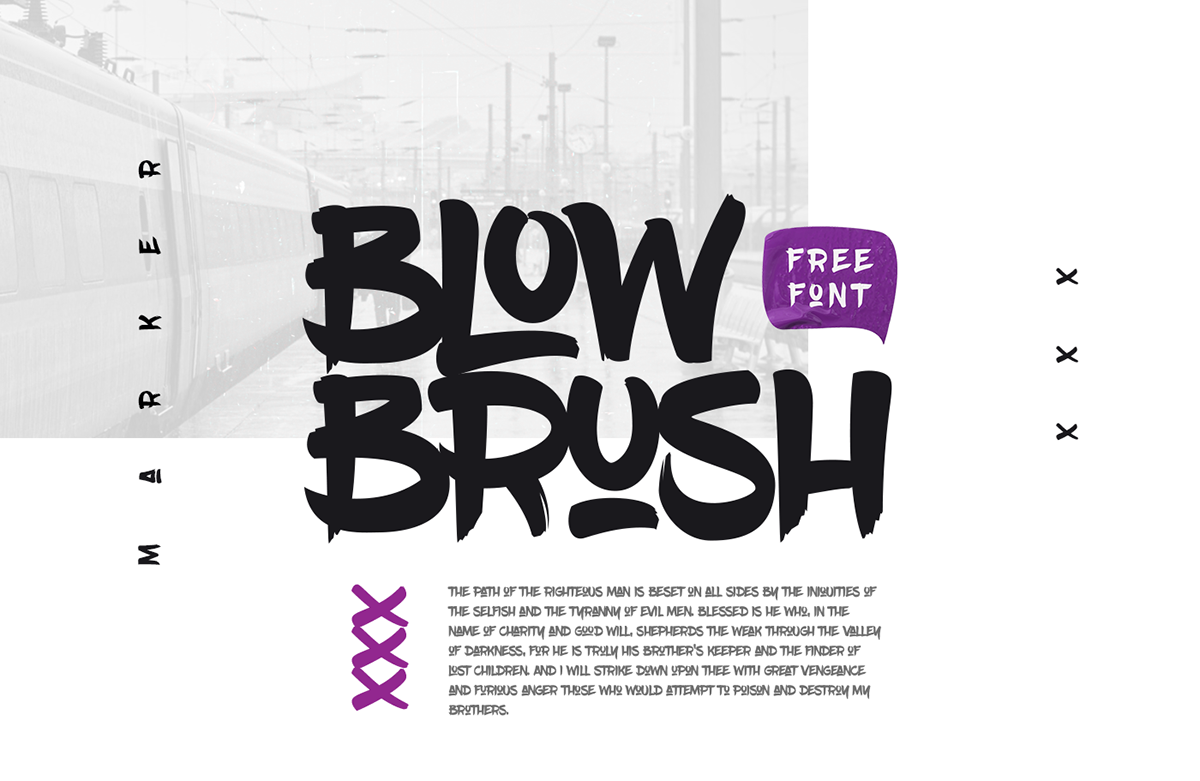 Free for personal and commercial use
There's a real energy and boldness to Blow Brush, a handwritten, marker-style font inspired by hip-hop and urban culture. Quirky enough to feel authentic, but formal enough to provide legibility and font functionality, this free font is the work of Petar Acanski, aka Raz, a Serbian multidisciplinary designer and front end developer. It includes a full set of uppercase characters, numbers, 22 ligatures, a selection of special characters and some variations.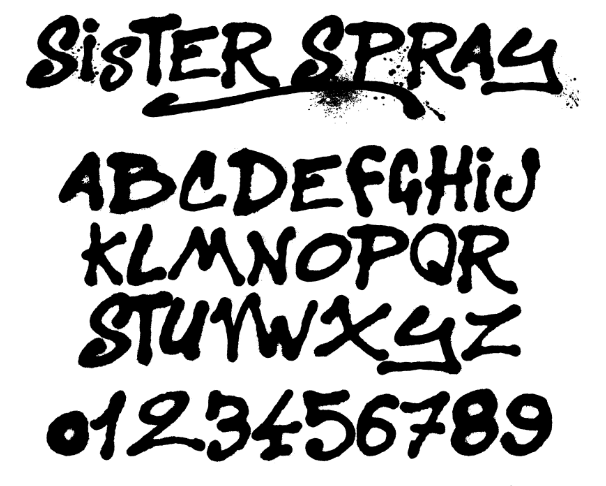 Free for personal use only
Sister Spray is a beautifully messy, spray paint-style font that includes letters, numbers and a bunch of splatters, splotches and strokes. This free font is the work of French typeface design workshop ImageX.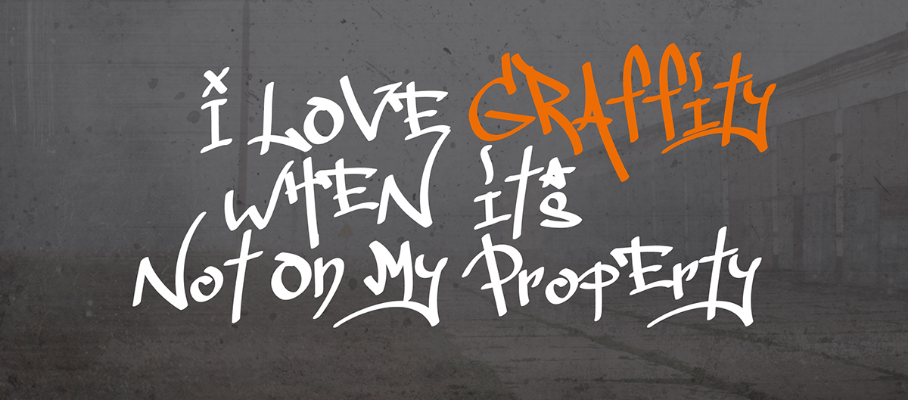 Free for personal use and charity use
Tag Type is inspired by graffiti tags that contains upper- and lowercase letters, numerals and punctuation. Both Latin and Cyrillic characters are included in this free font, which is the work of Ukranian designer Andy Panchenko.
Also read: The 40 best free graffiti fonts
Next page: Free unusual fonts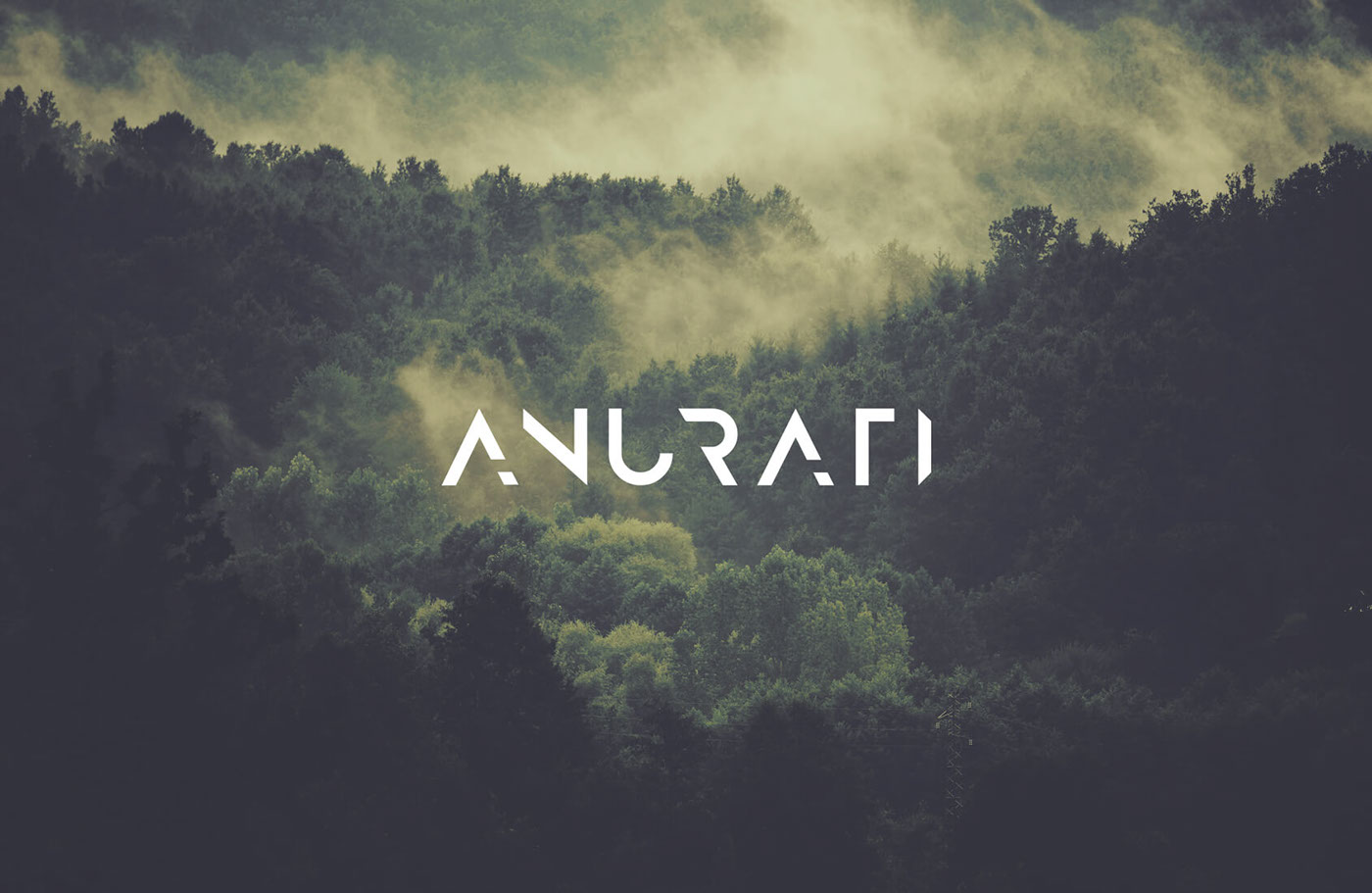 French graphic and type designer Emmeran Richard created futuristic-style font Anurati while developing his website. Richard created the font with the intention of offering it for free for personal use to the masses. Check out Anurati Pro if you want to use it for commercial purposes.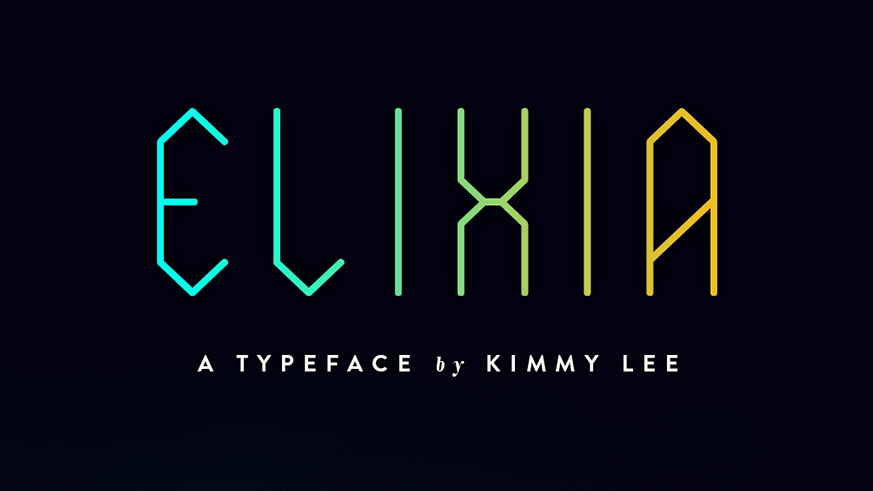 Free for personal and commercial use
Based around a hexagonal grid, Elixia is a slightly condensed typeface with a strong vertical emphasis. It was created by artist and designer Kimmy Lee back in 2005, and includes upper case, lower case, numerals, extended characters, accents and stylistic alternates. Elixia would be best suited for use as a decorative display font, thanks to its mystical, futuristic vibe.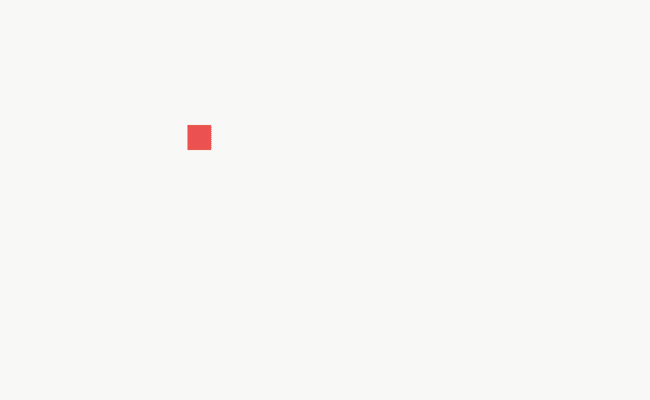 Free for personal and commercial use
Gilbert Baker, who died in 2017, was a LGBTQ activist and artist who's best known for creating the iconic rainbow flag, and he's been commemorated by this striking free display font. Designed with headlines and banner slogans in mind, Gilbert is available as a standard vector font as well as a colour font in OpenType-SVG format, and an animated version.

Carioca is a fresh, fun and fruity creation, based on a morphological colour and pattern. This delightful free font was developed as part of a three-month experimental type project by Argentinian graphic designers Tano Veron and Yai Salinas. Contact the designers if you want to use it commercially.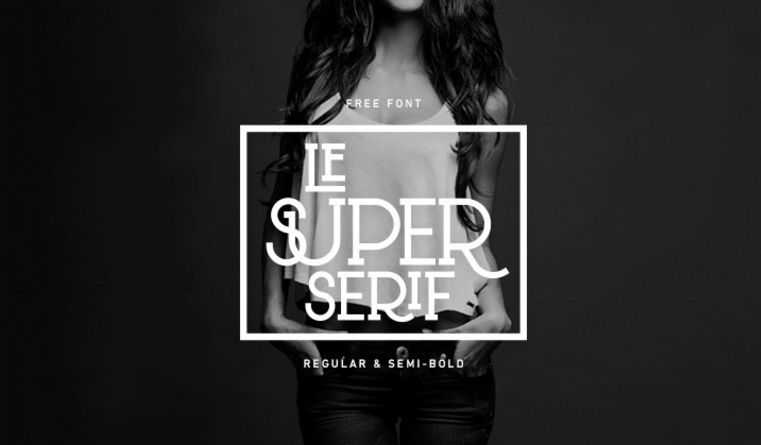 Free for personal and commercial use
Le Super Serif is that rare thing: a typographical experiment that actually works. It's described by its creator, Dutch designer Thijs Janssen, as "a fashionable uppercase typeface with a little modern Western flavour to it". This free font features 88 ligatures and comes in the weights Regular and Semi-Bold.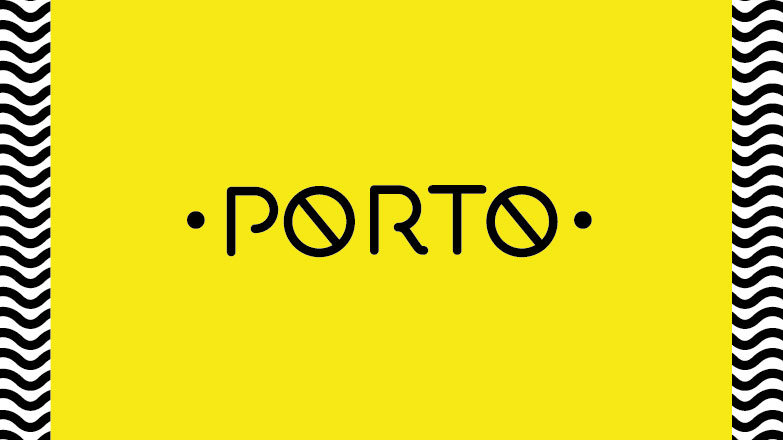 Free for personal use (check terms for commercial)
Porto is a nautical themed free font that Upper Font Foundry says was "so gorgeous" it couldn't bear to hide it away. And that's good news for you, as you get to use it. We can imagine this font working well on posters or invitations.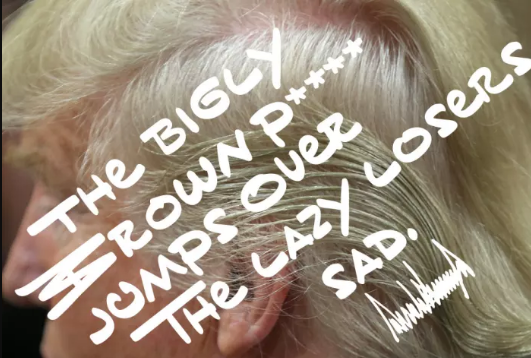 Free for personal and commercial use
Even though Buzzfeed is aiming to transform into a serious news organisation, it's still managing to maintain its sense of fun. And here's a great example: a free font based on US President Donald Trump's eccentric handwriting style. It was created by typographer Mark Davis, and apart from being a very funny satire, it could actually work well as a cartoon or comic-book font.
Related articles:
from Creative Bloq http://www.creativebloq.com/graphic-design-tips/best-free-fonts-for-designers-1233380
74 best free fonts for designers