Letterpress printing has been around for hundreds of years and yet remains one of the hottest trends in stationery, so it's little surprise that letterpress business cards can still turn heads. The ancient technique involves a surface with raised letters or artwork inked and then pressed into thick, soft paper, adding an exciting, tactile quality to the design.
Known for producing a clean and elegant style, the letterpress technique is favoured by many designers for creating unique and creative business cards. Here we've picked some brilliant examples of letterpress business cards to inspire your designs.
01. Maldini Studios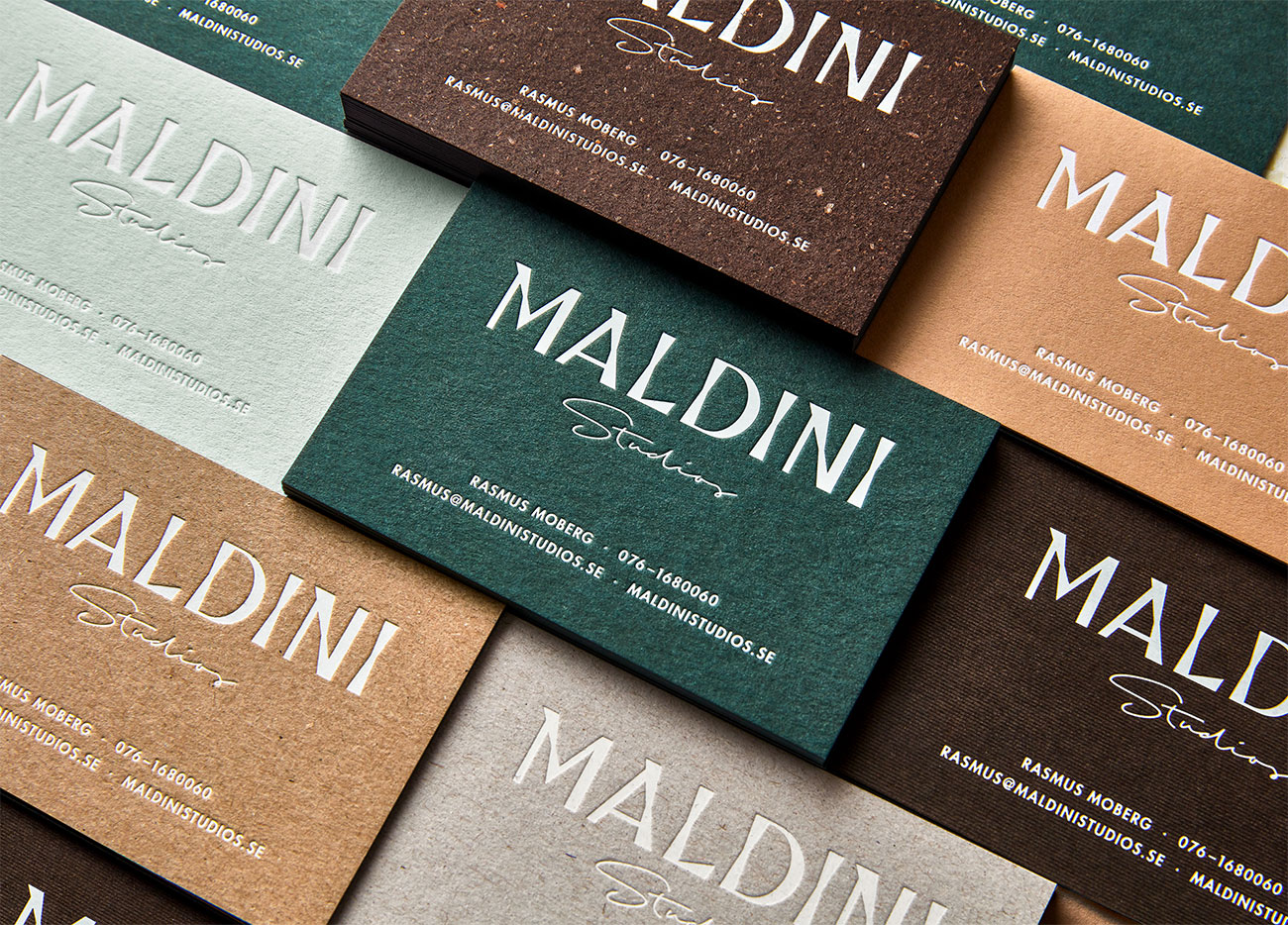 Maldini Studios is a Stockholm-based interior design and construction firm that specialises in design and carpentry for private and public spaces. As part of a larger identity project for Maldini, Jens Nilsson created these fantastic letterpress business cards on textured stock from GF Smith and Arjowiggins, making good use of the bespoke Donadoni typeface he created for the studio.
02. Gala Tuesday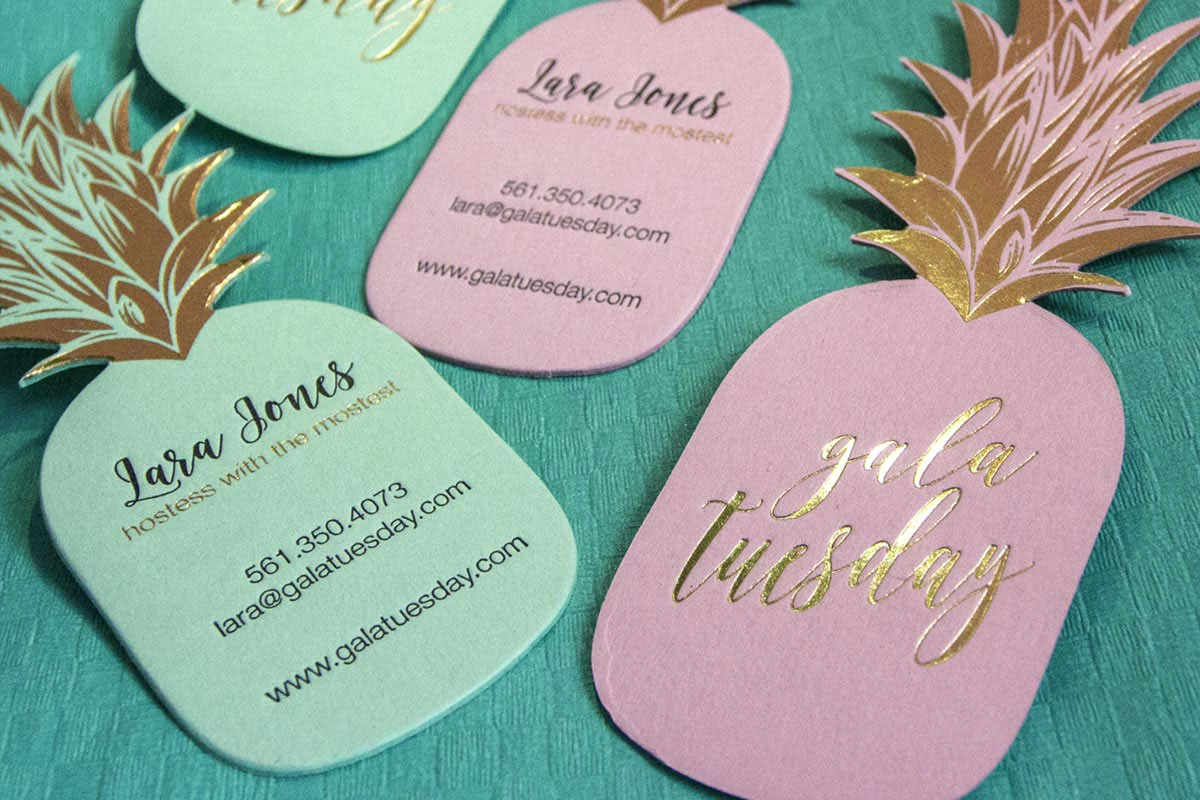 Produced by Jukebox Print for Gala Tuesday, these letterpress business cards create an instant impression thanks to their die-cut pineapple shape, backed up by eye-catching pink and green paper stock, plus a luxurious finish in the form of some gold foil.
03. Stawomir Mielnik photography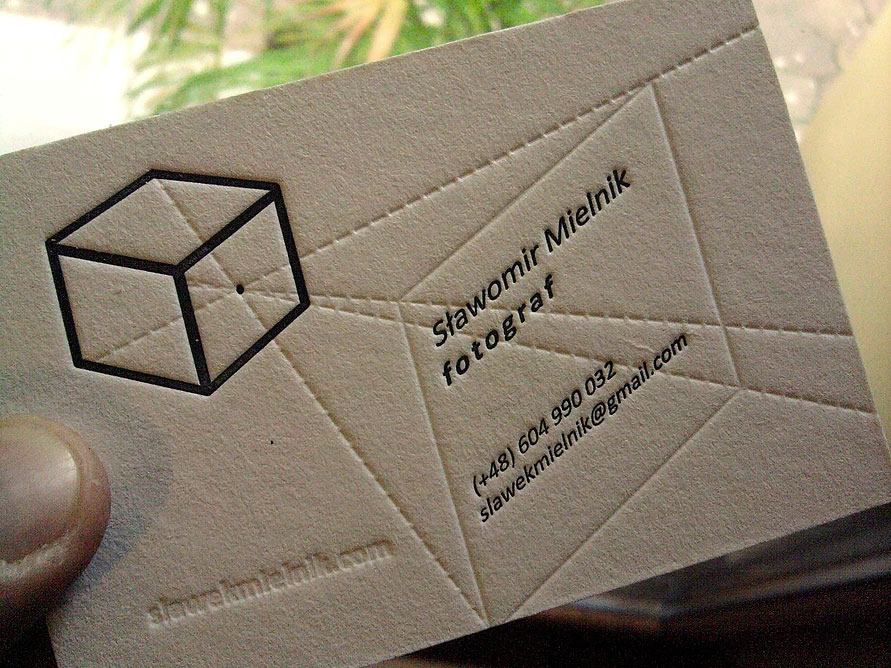 Polish print and design studio PanBonTon came up with a very clever camera-inspired card for photographer Stawomir Mielnik, using uninked embossed lines to represent light, and turn a simple cube into a pinhole camera.
04. Sauvage Garage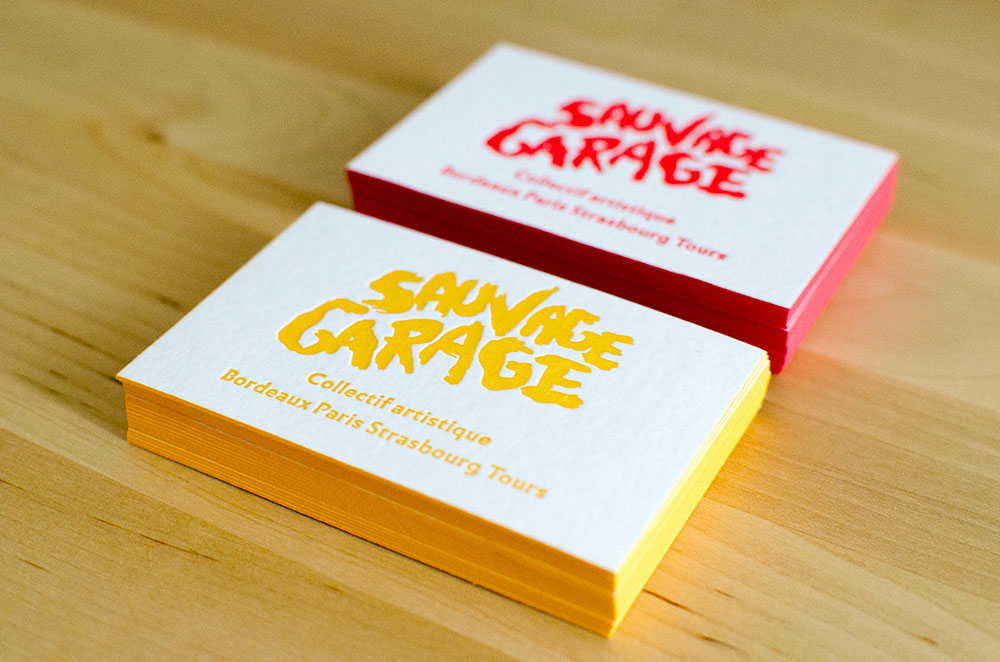 Sauvage Garage is a creative collective consisting of graphic artists, photographers, writers, illustrators and more, from all across France. Its business cards, designed by Anne-Perrine Couët and printed by Letterpress de Paris, keep things simple with strong colours and an evocative graffiti logo. 
05. Stefan Leitner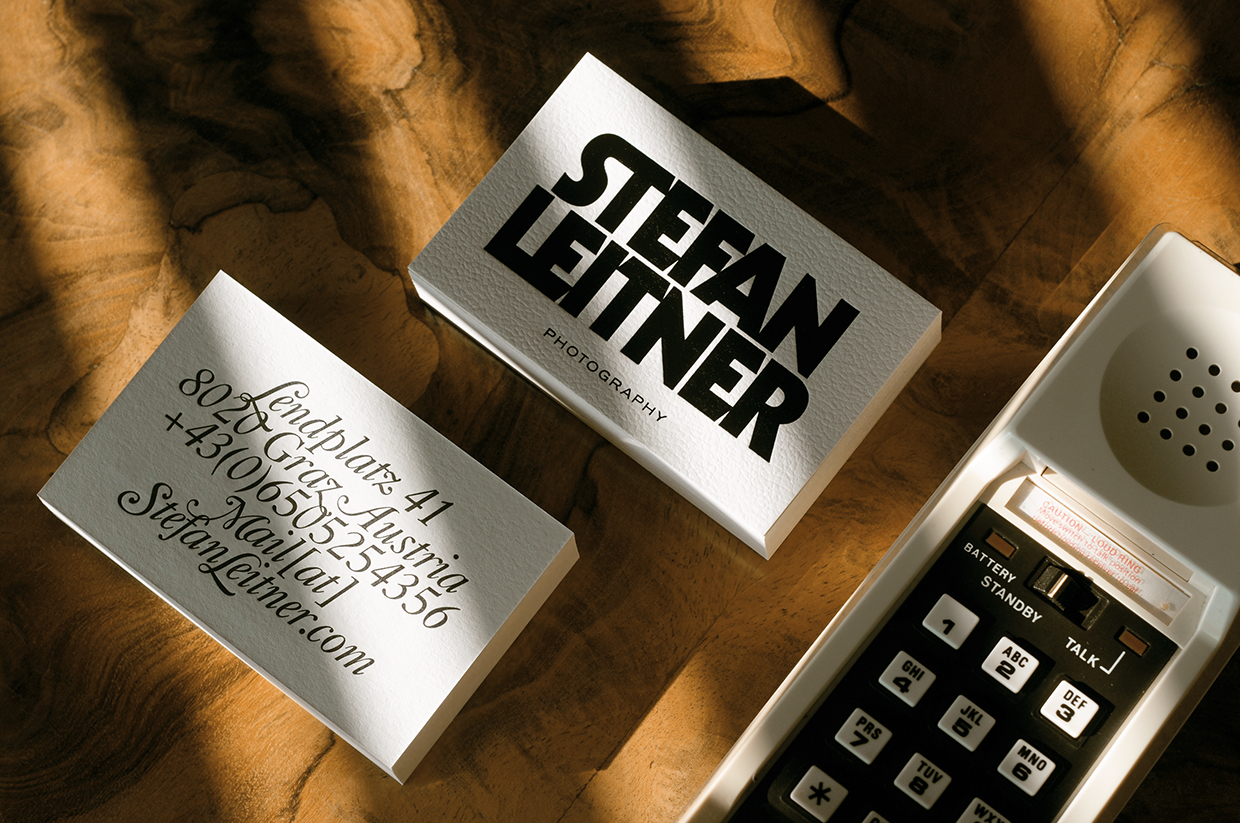 Photographer Stefan Leitner asked Kristina Bartosova to design a simple business card for him. Instead, inspired by his extrovert personality, she decided to do the exact opposite, and designed a bold logotype that really stands out when rendered in letterpress.
06. Voltalab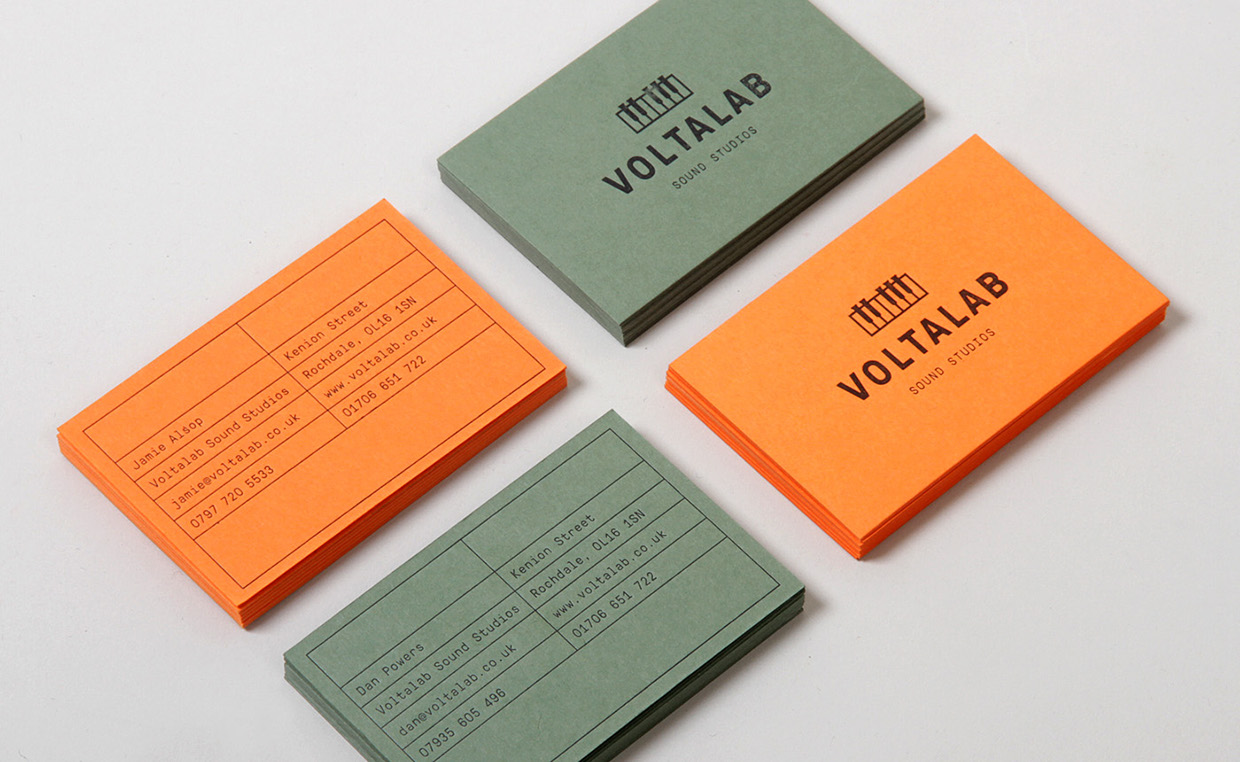 Voltalab is a recording studio built in the space where Cargo Studios and Suite 16 used to record classic bands such as Joy Division, The Fall, Happy Mondays and The Stone Roses. Fieldwork designed a whole identity package inspired by the building's rich heritage, including these stunning minimal business cards. The cards showcase the logo mark, which is a visual play on the Voltalab name and combines references to a test tube rack and an octave on a keyboard.
07. Spotted Zebra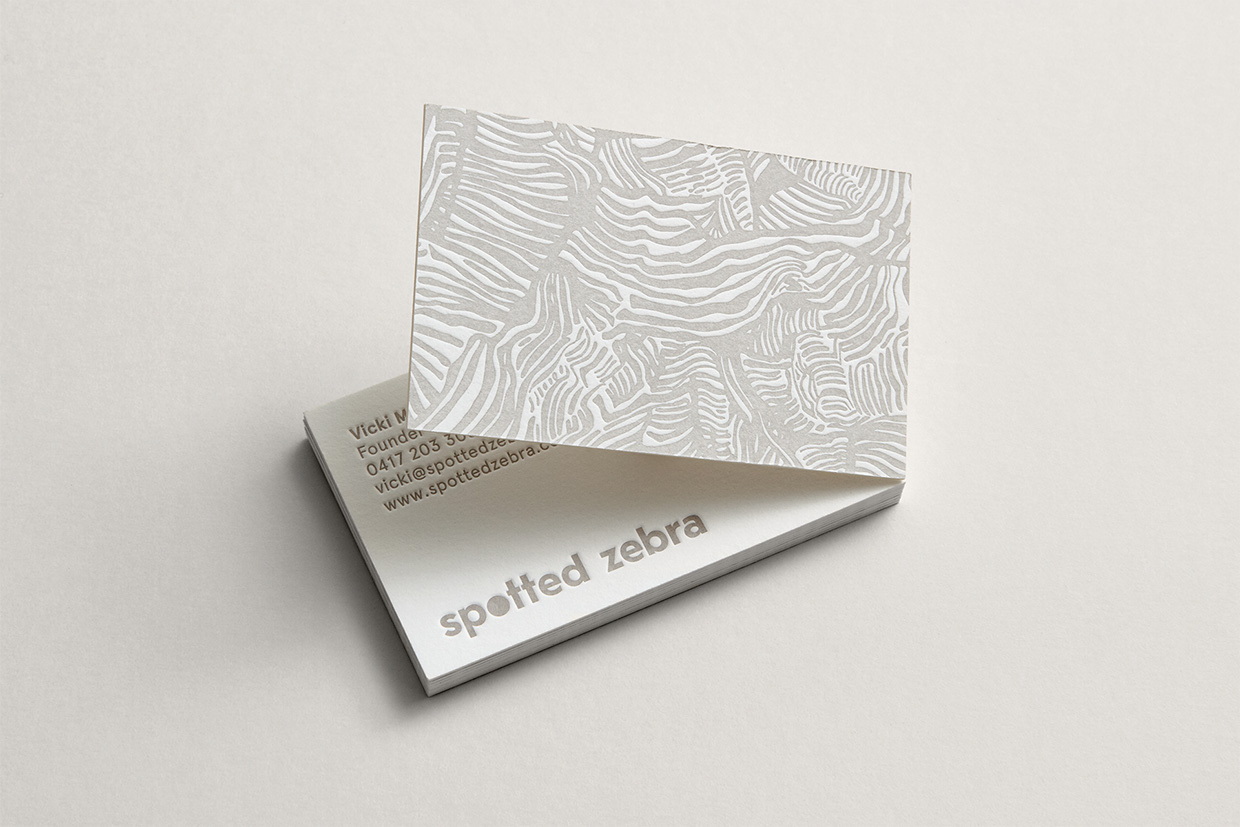 Sarah Mangion's branding for Spotted Zebra, an online resource for writing, events and media management, needed to feel professional, bold and sophisticated with a slight quirkiness. Her letterpress business card design combines the logo in a simple geometric typeface, and a hand-drawn zebra illustration to add a custom feel.
08. Le Balene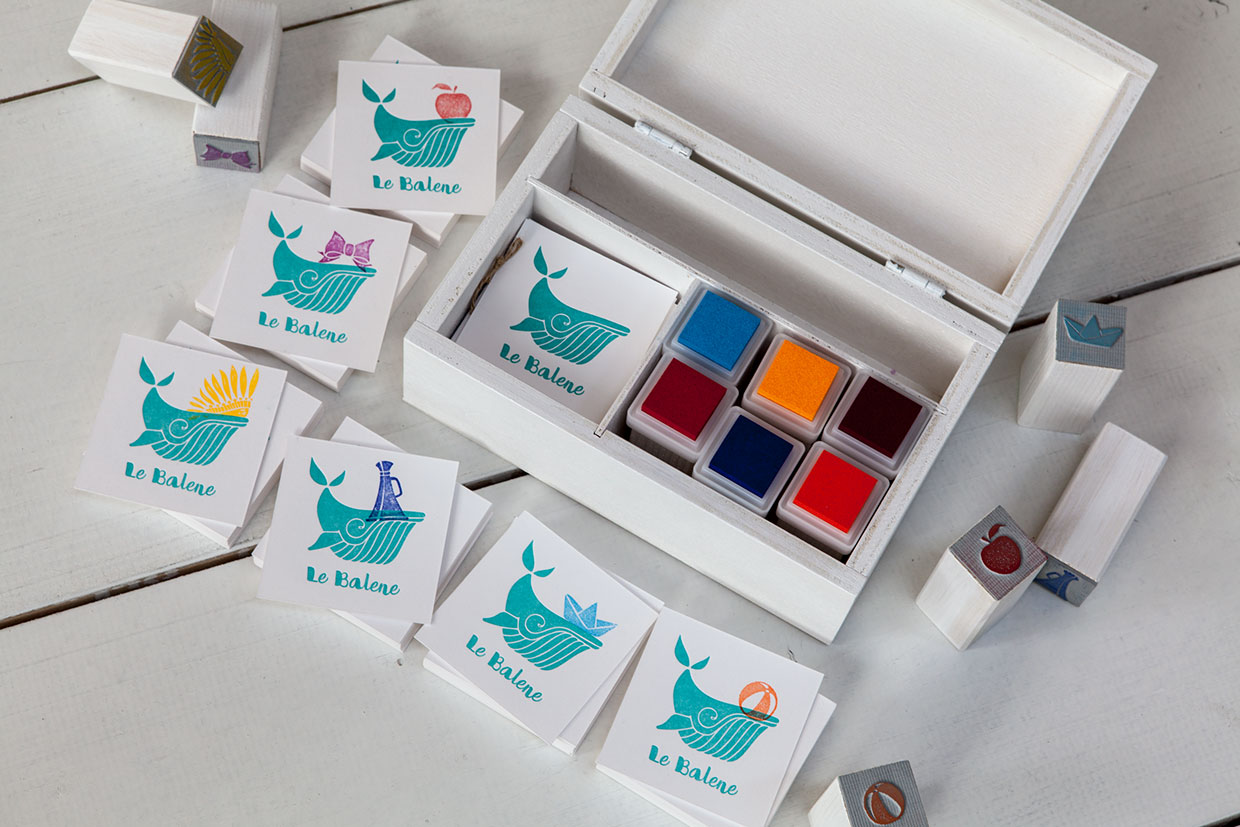 We love Eleonora Petrolati's wonderful stylised whale-based logo for Italian communication agency, Le Balene, and how she's turned it into a distinctive business card design. But what really marks this project out is her inclusion of a set of stamps and coloured inks that people can add their own little customisations to.
09. Quentin Monge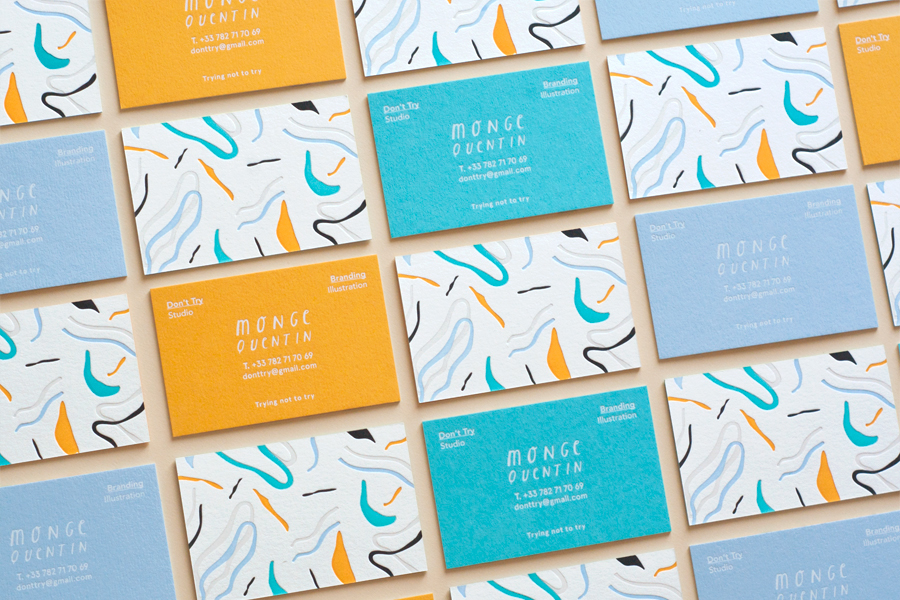 Created using white foil, these five-colour letterpress business cards on triplex colourplan paper certainly pop. Using a bold and colourful pattern only plays to the card's strengths, which will certainly make for a memorable exchange. Designed by Don't Try Studio for Quentin Monge, they're some of the best-looking we've ever seen.
10. The Fox Yards Company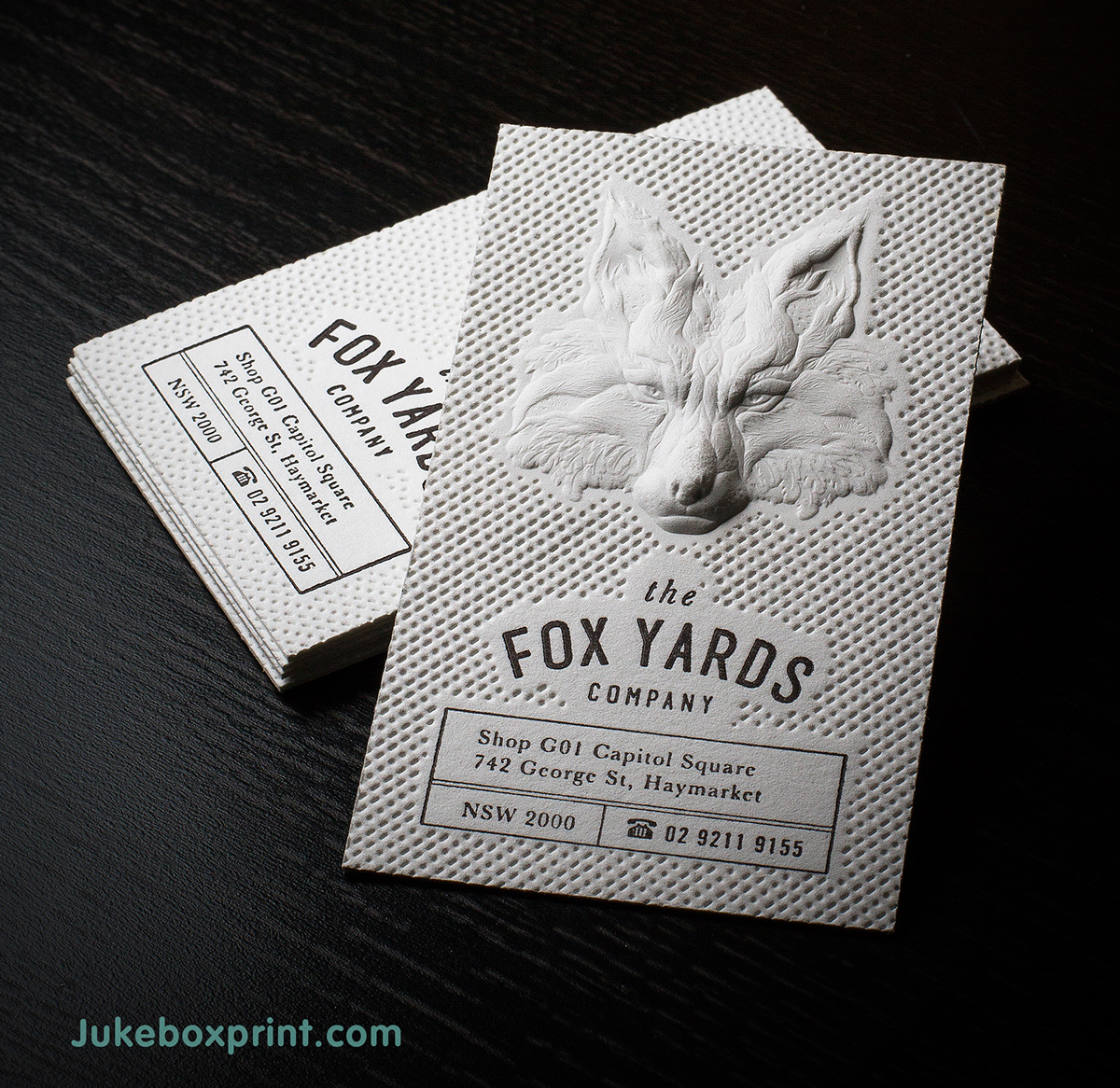 Produced by Jukebox Print, these ultra-thick cotton paper letterpress business cards bring 3D embossed design to the table. Using Jukebox Print's own innovative method, the attention to detail is wonderful, with the letterpress used to add text as well as a quirky textured background.
11. Christina Yan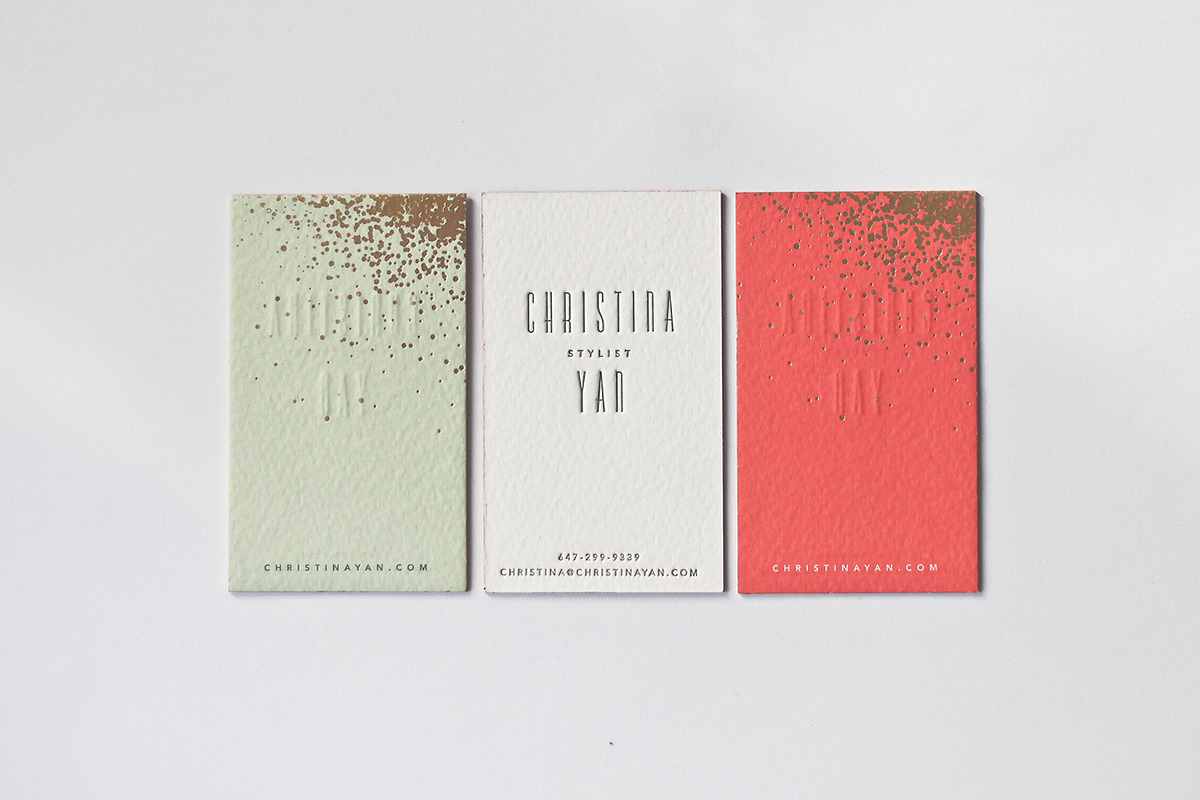 "Christina Yan is a talented prop stylist based in Toronto," explains creator Belinda Love Lee. "This whole stationery set exudes sophistication and timelessness with a bit of edge. Each piece was letterpressed with the finishing touches of gold foiling, gold edging, and embossing."
12. OF ZOOS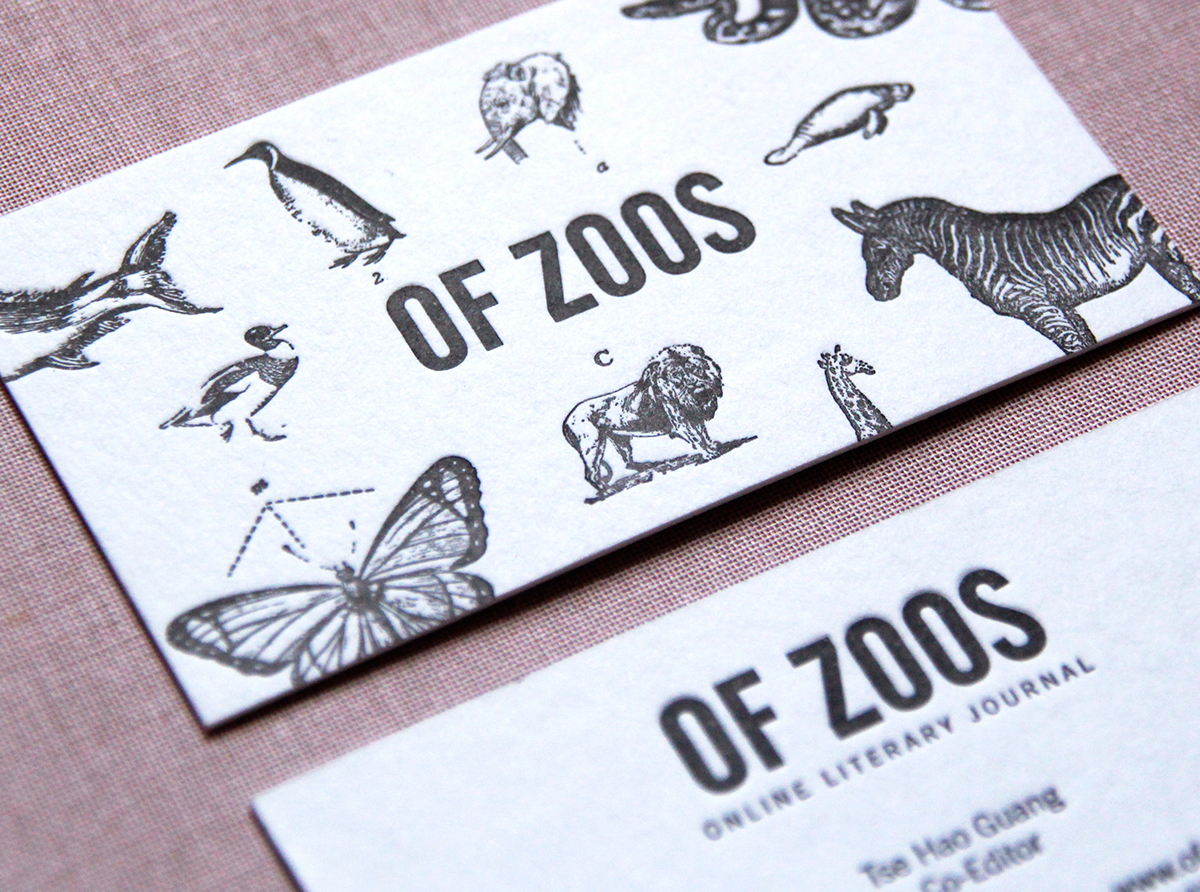 Using a simple yet effective pattern of illustrative animals, these letterpress business cards pack a punch when it comes to originality. Designed for Singaporean online literary journal OF ZOOS, we love designer Charmaine Yeo's execution.
13. Rafal Borek Photography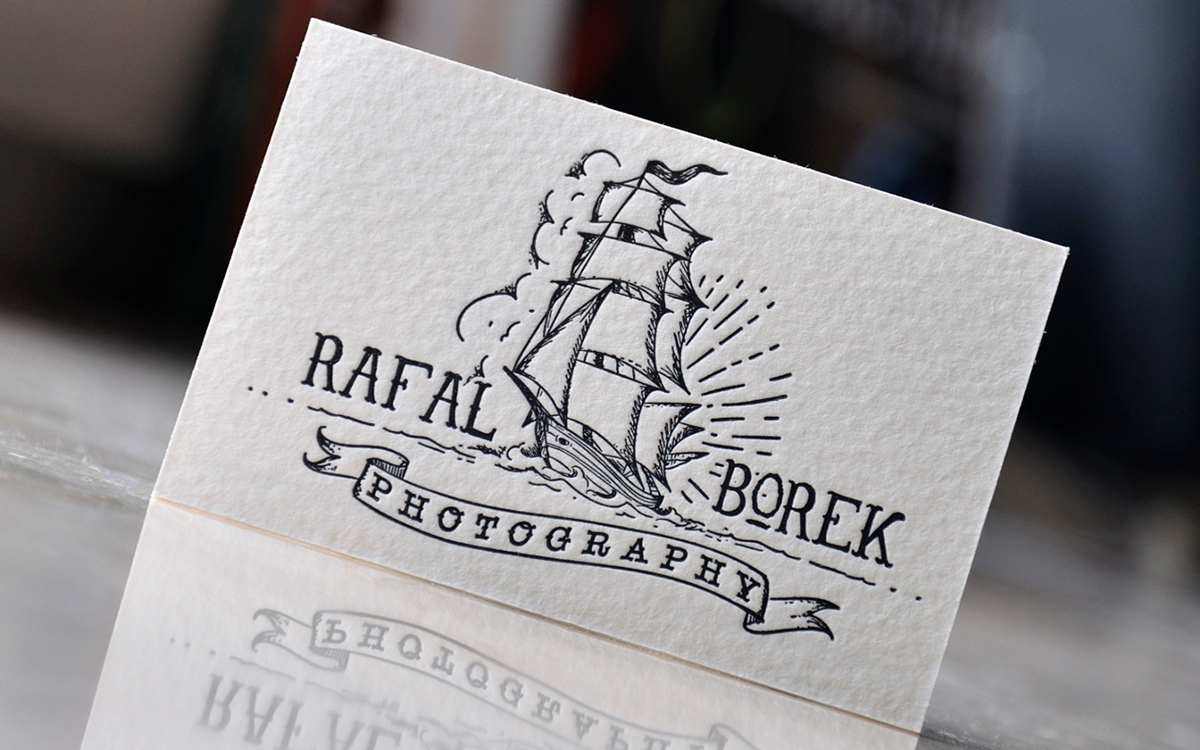 The Letter & Press Behance page states: "Mr Rafal from Ireland needed some business cards for his photographic business. But not a usual ones – really wonderful and over the top. So we printed the graphic with our historic press which can really show fine detail."
14. Mild Whistle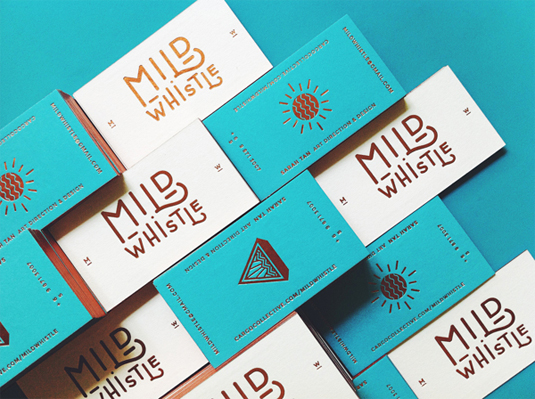 Combining craft and precision to produce a beautiful aesthetic, these cards from Singapore-based agency Oddds are about as beautiful as they come. The Oddds website states: "The identity broadens with usage of letterpress accompanied by glamour with modernism. This is created with the intertwining between bronze and a soft tone of turquoise. The play of metal tones and pieces with cotton represents the designer's ideologies of art direction and design."
15. Elias Mendoza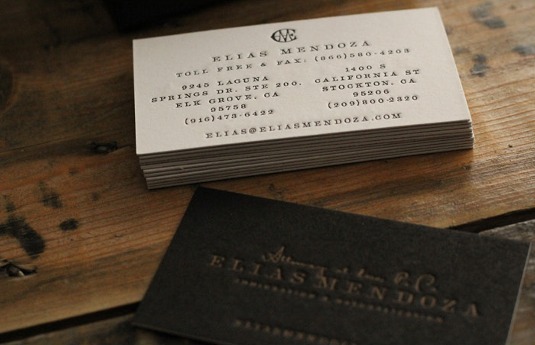 When Cocoa Branding was hired to create branding materials for Elias Mendoza, an immigration and naturalisation attorney in the US, it needed to convey the unique and personalised touch that Mendoza brings to his work with all types of family and business immigration needs. Part of the branding solution was these heavyweight letterpress business cards, designed by Rodrigo Suárez.
16. Bailey H Robinson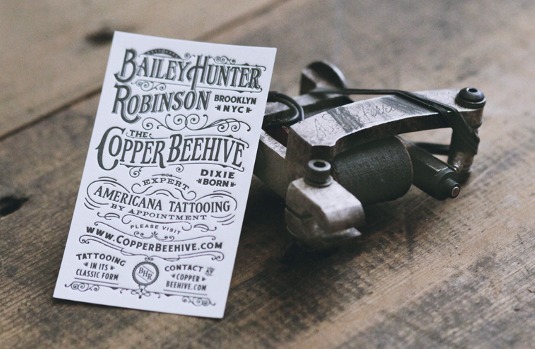 Brooklyn-based tattoo artist Bailey H Robinson has a very distinct take on traditional American tattooing. Two Arms Inc was keen to design something that looked and felt like traditional turn-of-the-century type. The resulting letterpress card is an ornate delight that wouldn't have looked out of place in 1901 (except for the contact URL, of course).
17. Motor City Chop Shop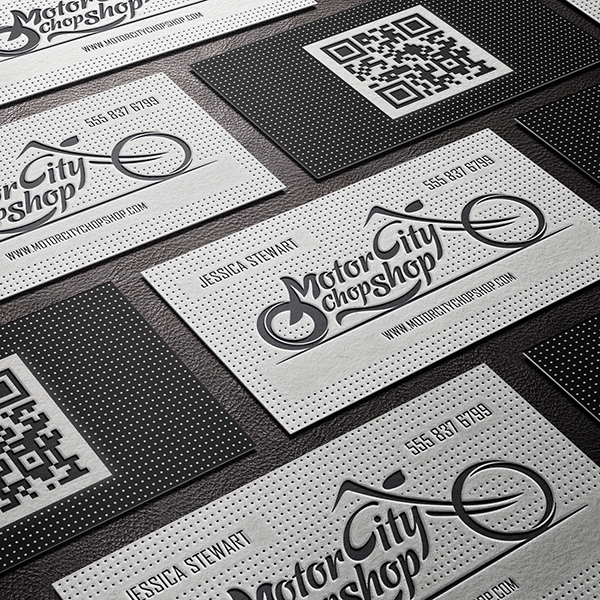 This design for Motor City Chop Shop has its finger on the pulse of Detroit's motorcycle culture. Created by Company Folders, the card's surface features a dotted emboss effect for a cool background texture that doesn't compete with the letterpress text. Tires and handlebars turn the curvy font into a chopper, while the slanted letters add a sense of speed and movement.
18. The Yard VFX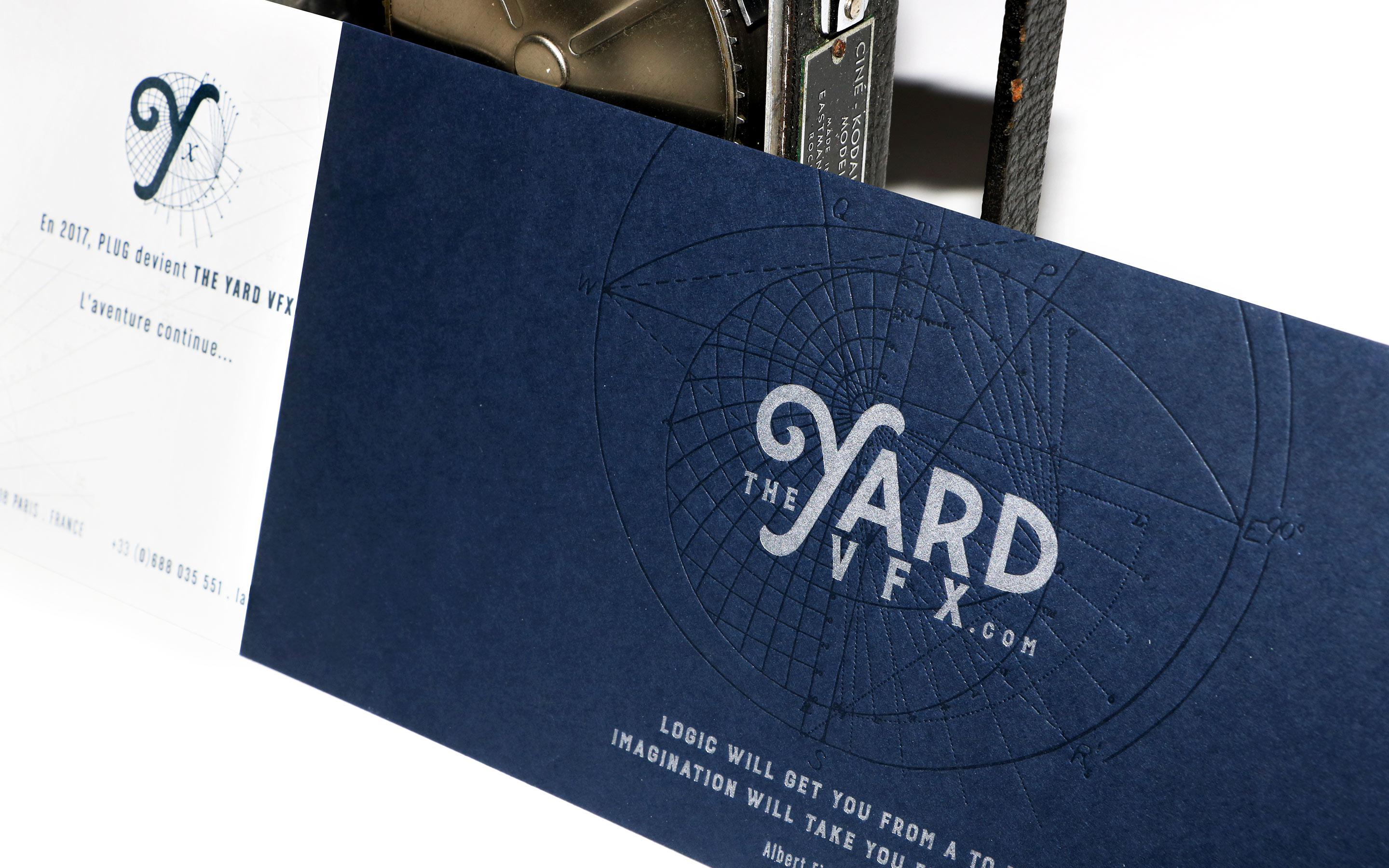 The Yard VFX is a visual effects company based in Paris. When Mr Cup Studio was tasked with redesigning the studio's identity, the entire graphic language was built around the fact that it would be printed using letterpress. The eye-catching letterpress business cards feature a debossed astrological design, with the studio's URL in striking silver.
19. Mia Parcell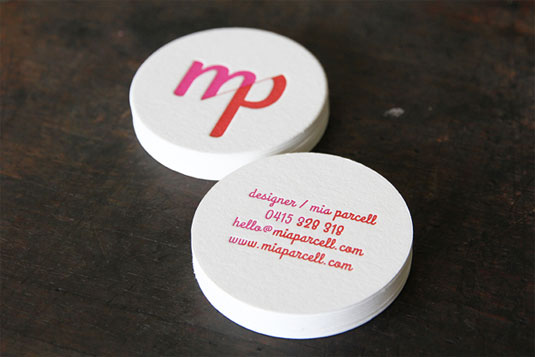 Impressworks printed these letterpress business cards for designer Mia Parcell. The job features a two-colour, double-sided print on our 600gsm Fluoro White Crane Lettra stock. Parcell took care of the artwork herself, with Impressworks coming up with the circular execution.
20. Simon Featherstone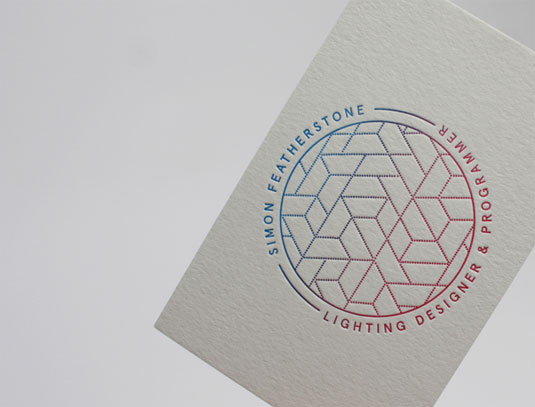 Simon Featherstone is a freelance lighting designer and programmer, with vast experience in video and LED technology. The contemporary logo marque uses a pattern derived from LEDs and combines it with a bold gradient running from cyan to magenta. The branding collateral uses a range of cool grey tones to suitably reflect the high-end nature of the industry and communicate a professional and knowledgable tone of voice.
Next page: More brilliant letterpress business cards
21. Ben Chen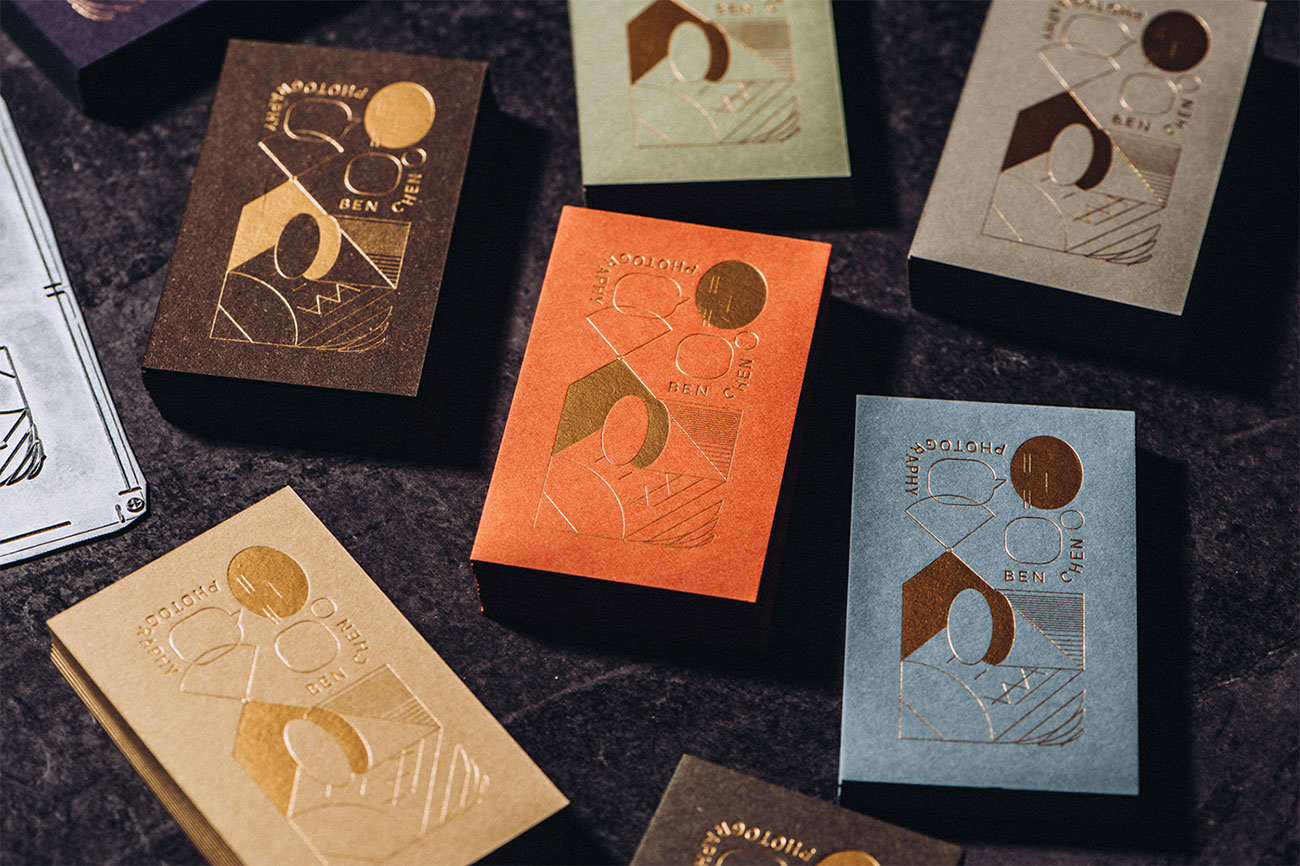 Taiwan-based designer Sion Hsu created these stunning business cards for the photographer, Ben Chen. Using textured card stock in a variety of colours, Sion's designed are enlivened by a letterpress process and gold foil.
22. Dane Holmquist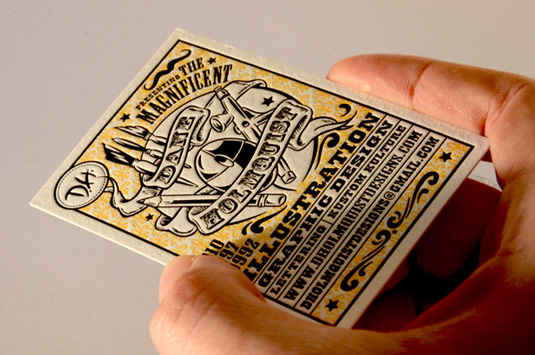 These detailed, beautiful letterpress business cards belong to illustrator and graphic designer Dane Holmquist. The talented artist created the intricate illustration himself, before enlisting the help of printers DSJ in Santa Monica, who helped bring his vision to life. Holmquist's mantra is: "If it has the potential to be cool, I will do my very best to make it so." And he's certainly achieved that with this gorgeous design.
23. Jee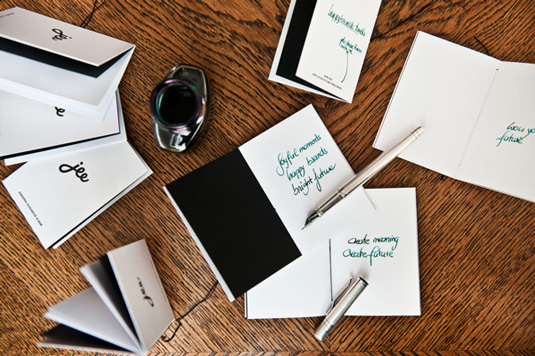 Brand consultant Johanna Elisabeth Ecker wanted a business card that reflected both the quality of her work and her personality. Working alongside designer Kurt Glanzer, she developed these beautiful letterpress business cards, which double as a tiny notebook, including a personal handwritten message for the receiver and 15 more empty pages for them to use as they wish.
24. Bentply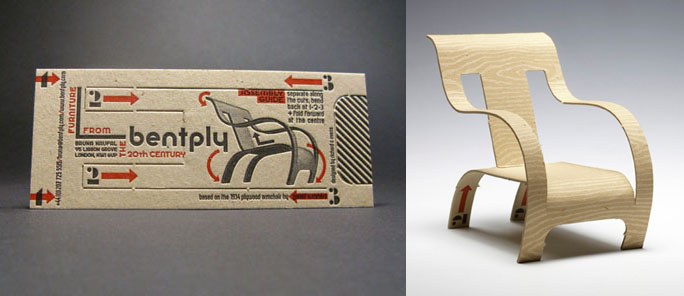 What you see here is one of the neat letterpress business cards for furniture shop Bentply in Marylebone, London that can be made into mini bent plywood chairs. The ingenious card design was created by art director, writer, and designer Richard C Evans and produced by Elegante Press in Lithuania. Just follow the instructions and the kiss-cut card can be folded into a miniature replica of the iconic 1934 plywood armchair designed by Gerald Summers.
25. Whitney Shaw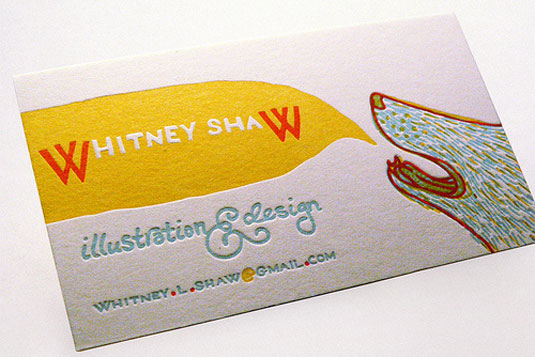 The colours really won us over with Whitney Shaw's letterpress business card. Incorporating a variety of fonts, as well as a playful illustration, this is a design that would surely be cherished by the receiver. The use of larger 'W's' also allow for Whitney's name to stick in the mind, while keeping the design aspects to a minimum.
26. Bryon Darby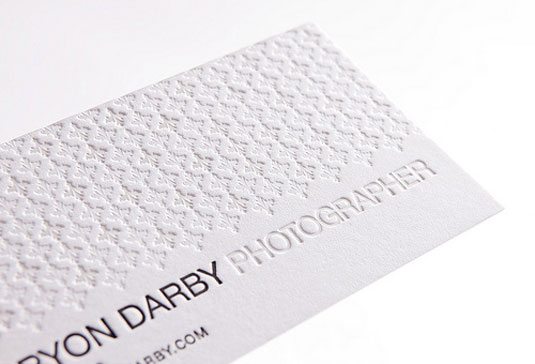 Often, less is more when it comes to design. That's certainly the case for this letterpress business card for photographer Bryon Darby. With its minimal colour scheme and use of the letterpress to create a series of beautiful patterns, it's beautifully simple.
27. For Luca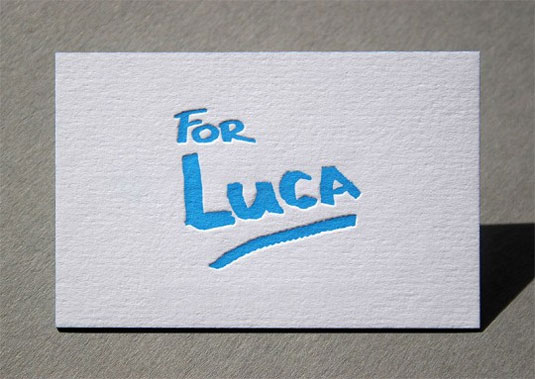 When Luca was three years old he was struck down with Meningococcal Septicaemia, losing both of his legs along with muscle and skin below his hips. When his dad contacted Blush Publishing in North Wales for some business cards to help with Luca's fundraising campaign they fired up the presses and produced this delightful design. We love the bright blue typography placed on a simple, white backdrop. 
28. Amy Weibel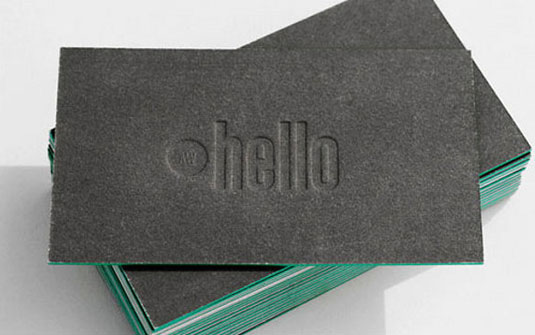 Amy Weibel is an art director and designer with a passion for food, travel, technology and, of course, design. The typography treatment on each side is simple and effective, while the trim is bold and memorable.
29. Mei Yen Chua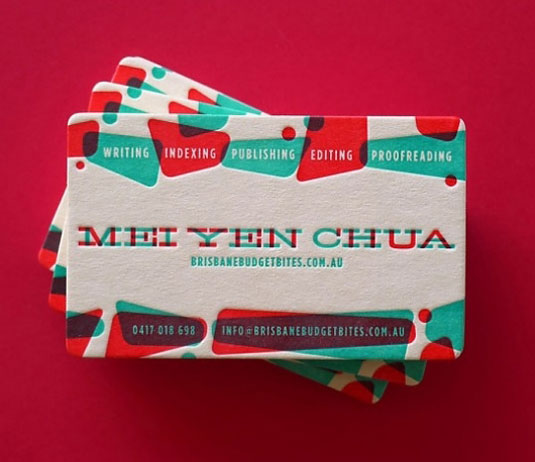 A variety of techniques were used on this business card for Mei Yen Chua. The experimental techniques using overlays of ink works wonders. Each shape also been embossed into the card, combining slab-serif and serif typefaces. This is a confident and eye-catching card.
30. Meg Gleason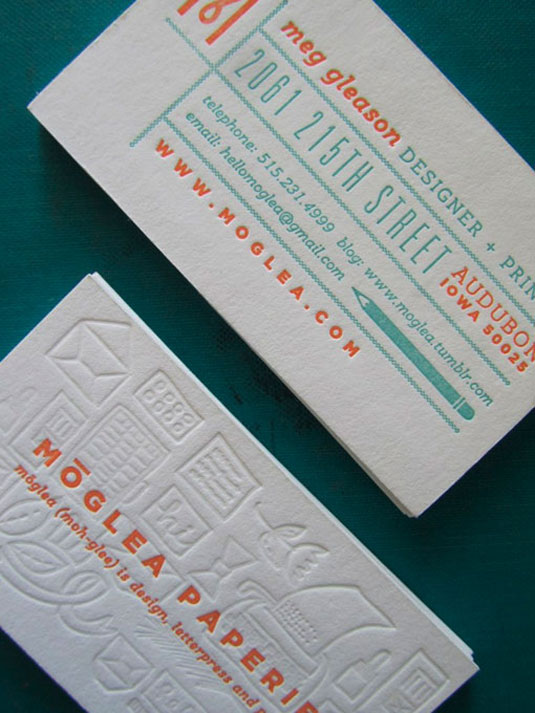 Moglea is a boutique letterpress stationery design studio created by Meg Gleason. She loves bold pops of colour, hand-lettered typography and intricate floral and geometric patterns. The letterpress studio is within a farmhouse in Western Iowa, and this influences her style, which often involves animals and nature.
31. Ninja star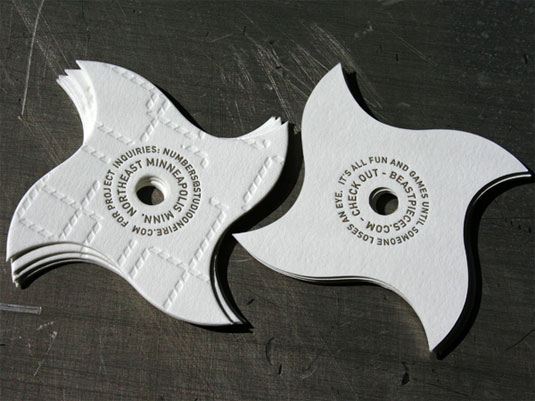 Now, here's a letterpress business card that'll catch a potential client's eye for all the right reasons. This design will certainly get your 'point' across (sorry!) Although it might not be the ideal shape and size to slip into your wallet, the letterpress design and carefully placed typography make it a must in this list.
Next page: More brilliant letterpress business cards
32. LG Whittaker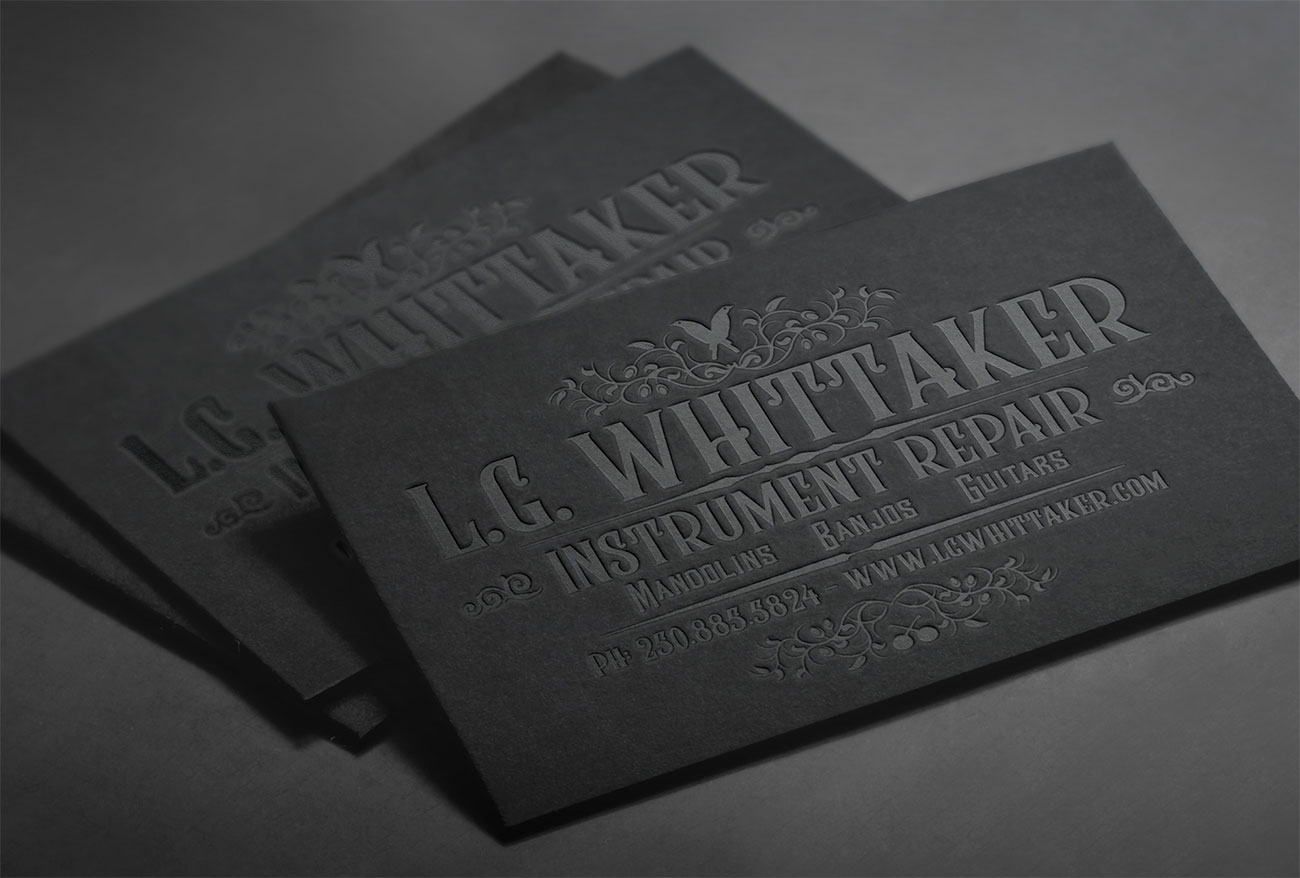 For instrument repair specialist LG Whittaker, Canadian designer Jesse Ladret made these gloriously black business cards. With a layout based on Whittaker's existing banner but with refreshed typography, these debossed letterpress cards are wonderfully tactile.
33. Nili Studios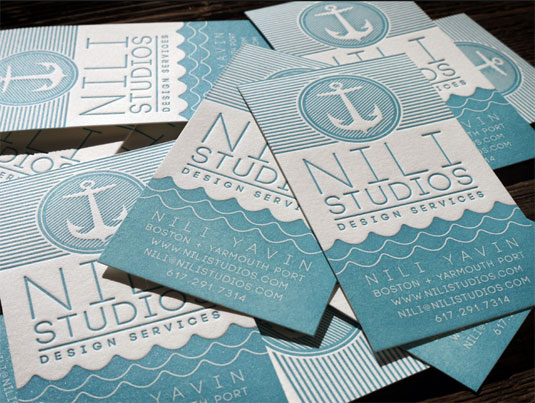 This lovely-looking letterpress business card was designed for creative agency Nili Studios by Print & Grain. The nautical-inspired theme is perfectly executed with the chosen soft blues as well as the waves and anchor logo. The easily readable font is also a brilliant choice.
34. Druckerei Eisenhardt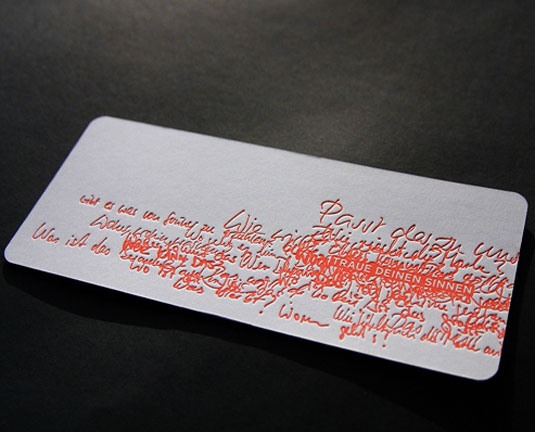 A printing press that's been operating for over 42 years, Eisenhardt is a trusted German company offering the best in letterpress design. A family-run business, it works with both modern and traditional techniques in the centre of Frankfurt.
This letterpress business card design immediately caught our eye thanks to its bold choice in size, shape and typography. The orange-on-white colour scheme enables the font to stand out while the understated letterpress gives it the edge it needs.
35. Stu Horvath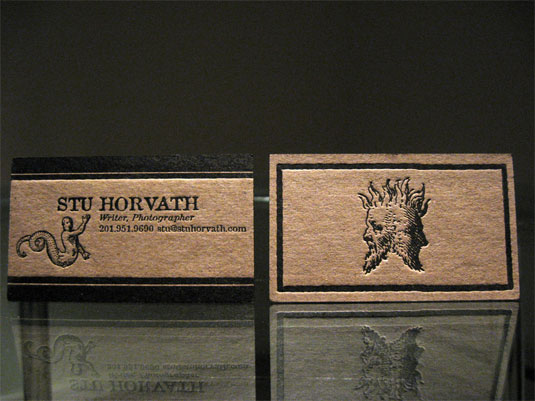 Dolce Press is a boutique print shop and design studio located on the eastern end of Long Island. Specialising in letterpress, the design studio creates one-of-a-kind prints. This letterpress business card was printed on super-thick kraft stock in black ink, showcasing what can be accomplished with one-colour printing. The letterpress cards were finished off with black edge colouring.
36. Dare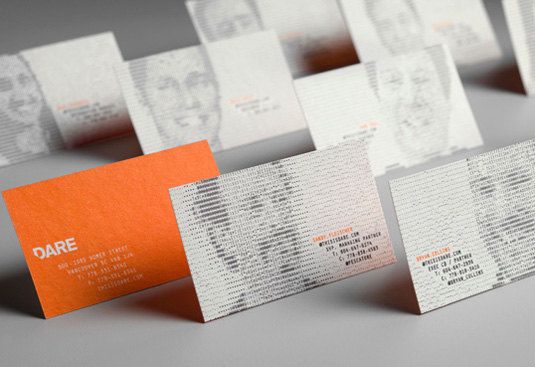 We love these innovative designs by creative agency Dare. The company describes itself as 'a merger of a traditional agency and digital shop', so it wanted letterpress business cards that also combine old with new. An ASCII image was automatically created using characters from employees' contact details. The company then chose to letterpress these images onto individual business cards in order to re-emphasise the idea of traditional techniques meeting digital.
37. Pablo Abad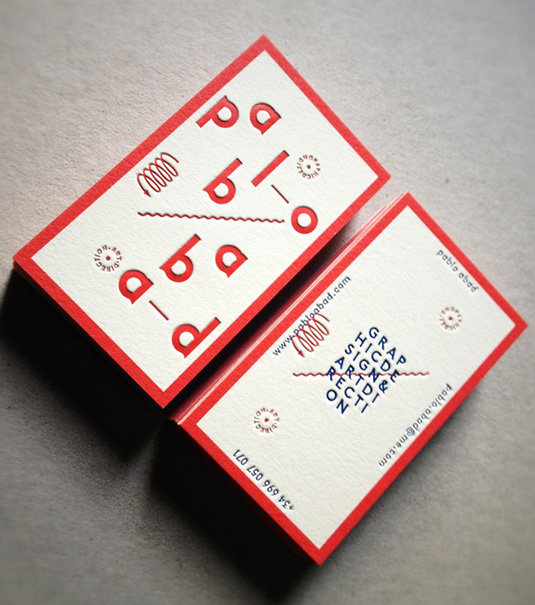 This beautiful letterpress business card was created by Madrid-based graphic designer and art director Pablo Abad. In a quest to create a new visual identity, Abad designed a bespoke geometric sans-serif typeface, gara. The clean yet edgy letterpress business card design makes it eye-catching but still easy to understand. Abad's love of illustration and typography is clear in this very personal project.
38. Shyama Golden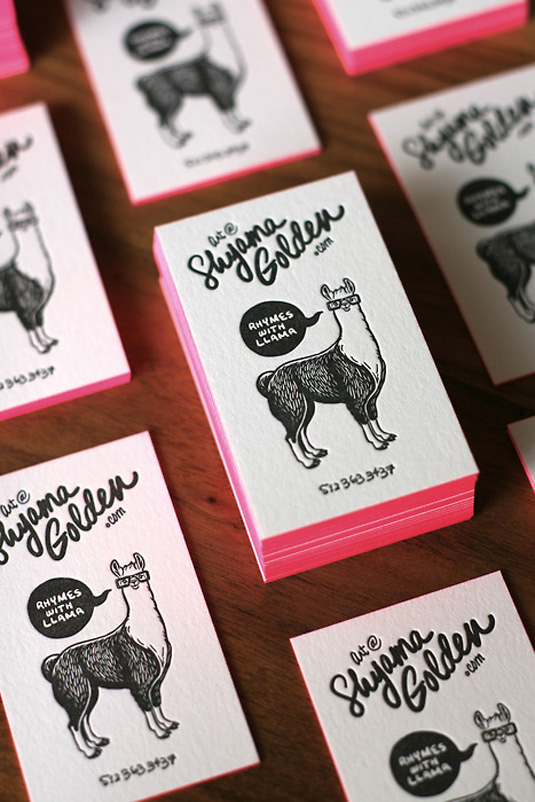 It's always an awkward moment when you can't pronounce someone's name or get it wrong. To ensure that never happens again, artist and designer Shyama Golden designed these funky letterpressed business cards with her catchphrase 'It rhymes with llama'. Printed on Cranes Lettra cotton paper, with 100 per cent hand-drawn type and a hand-drawn llama, these beauties are one-colour letterpress printing at its best.
39. Ovi Prunean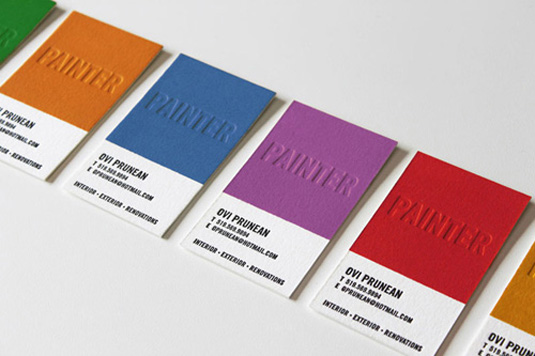 As is often the case, simplicity can work wonders. A perfect example of this is these gorgeous letterpressed business cards created by graphic designer James Prunean for his brother, Ovi. Prunean used strong, bold colours that immediately catch your eye and at a first glance look very similar to Pantone colour cards. Printed on 220lb cotton paper, the soft yet strong impression has reportedly helped painter Ovi beat off a lot competition. And we can see why!
40. Jennifer Daniel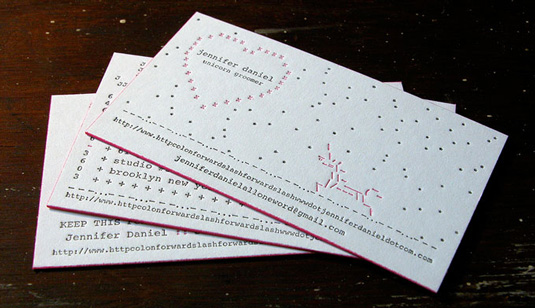 These quirky but cool letterpress business cards belong to Bloomberg Businessweek's graphic director Jennifer Daniel. An internationally recognised illustrator, designer and art director, Daniel is also a lover of unicorns. After having a hard time choosing from her designs, she decided to have three printed, each one as memorable as the next and featuring her RSI-inducing contact email along the bottom. We wonder whether she's got any unicorn grooming business off the back of them? 
Related articles:
from Creative Bloq http://www.creativebloq.com/design/top-letterpress-business-cards-912651
40 inspiring examples of letterpress business cards