Artists and creators who offer content to subscribers on Facebook via Fan Subscriptions could be set to pay through the nose for the privilege. The feature, which has been touted as Facebook's answer to Patreon, recently invited more page owners to start using its service for a monthly fee, however its potential fees and licensing rules have been panned by artists.
Announced back in March 2018, Fan Subscriptions was originally a limited availability service that allowed creators to give fans exclusive access to content for a monthly subscription fee of $4.99. Subscribers could also adorn a Supporter badge which would show up when they left a comment on the artist's Page.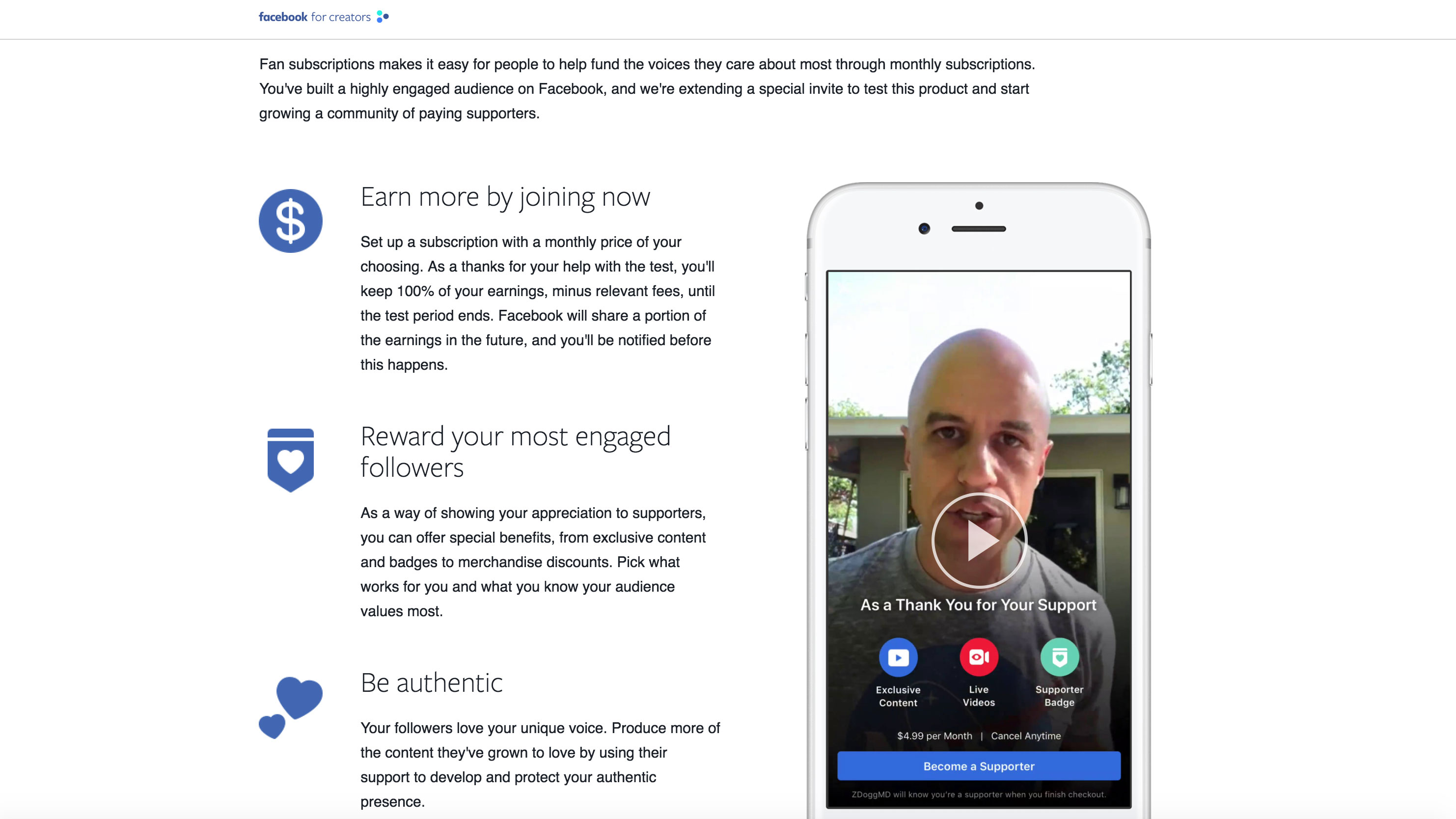 Earlier this week, Facebook started to invite more creators to Fan Subscriptions, which has lead to a major pushback from artists unsatisfied with the cuts it could potentially take. As it stands, page owners would still be able to keep all of the subscription fees they earn. But according to its terms of service, Facebook could start to take a cut of up to 30 per cent.
Given that Patreon only charges 5 per cent of a user's pledges, Facebook's terms have been met with an angry reaction from artists. Matt Saincome, founder of satirical news site The Hard Times, and Rob DenBleyker, the creator behind popular webcomic Cyanide & Happiness, took to Twitter to vent their frustrations.
The 30 per cent cut isn't set in stone just yet, although it is in line with other apps in both the Apple and Google app stores. And considering that live streaming video platform Twitch takes a 50/50 cut, it isn't the worst deal out there.
If the cut does comes to pass, creators will be given 30 days notice. The full list of terms and conditions is currently only available to those that have been invited to Fan Subscriptions, however a policy document is doing the rounds that details how Facebook could offer "discounted or free trials for fans from time to time in our discretion". While these discounts might benefit fans, it would ultimately be the creator who would end up paying.
Related articles:
from Creative Bloq http://www.creativebloq.com/news/facebook-takes-on-patreon-but-its-terms-enrage-artists
Facebook takes on Patreon, but its terms enrage artists