Good design can do many things. It can make us laugh, it can push technologies and ideas in directions we'd never thought possible, it can bring communities together and forge new ones, it can look beautiful, it can look ugly yet still be brilliant, it can change the way we see the world and it can even provide solutions to the problems blighting our poor little planet.
Design doesn't have to do all these things all the time, of course. Sometimes good design is straightforwardly about craft, or selling something. But in this article we're celebrating the practitioners whose work goes deep, looks stunning, and most of all, reconfigures what we thought possible with image-making and the concepts behind it. These game-changers showcases the breadth of boundary-pushing designers and the best of experimental design around today.
If your eyes aren't already turned on to these creatives and the thoroughly brilliant output they produce, make sure that changes: we reckon they'll be making some big waves this year and beyond.
Click on the icon at the top-right of the image to enlarge it.
Astrid Stavro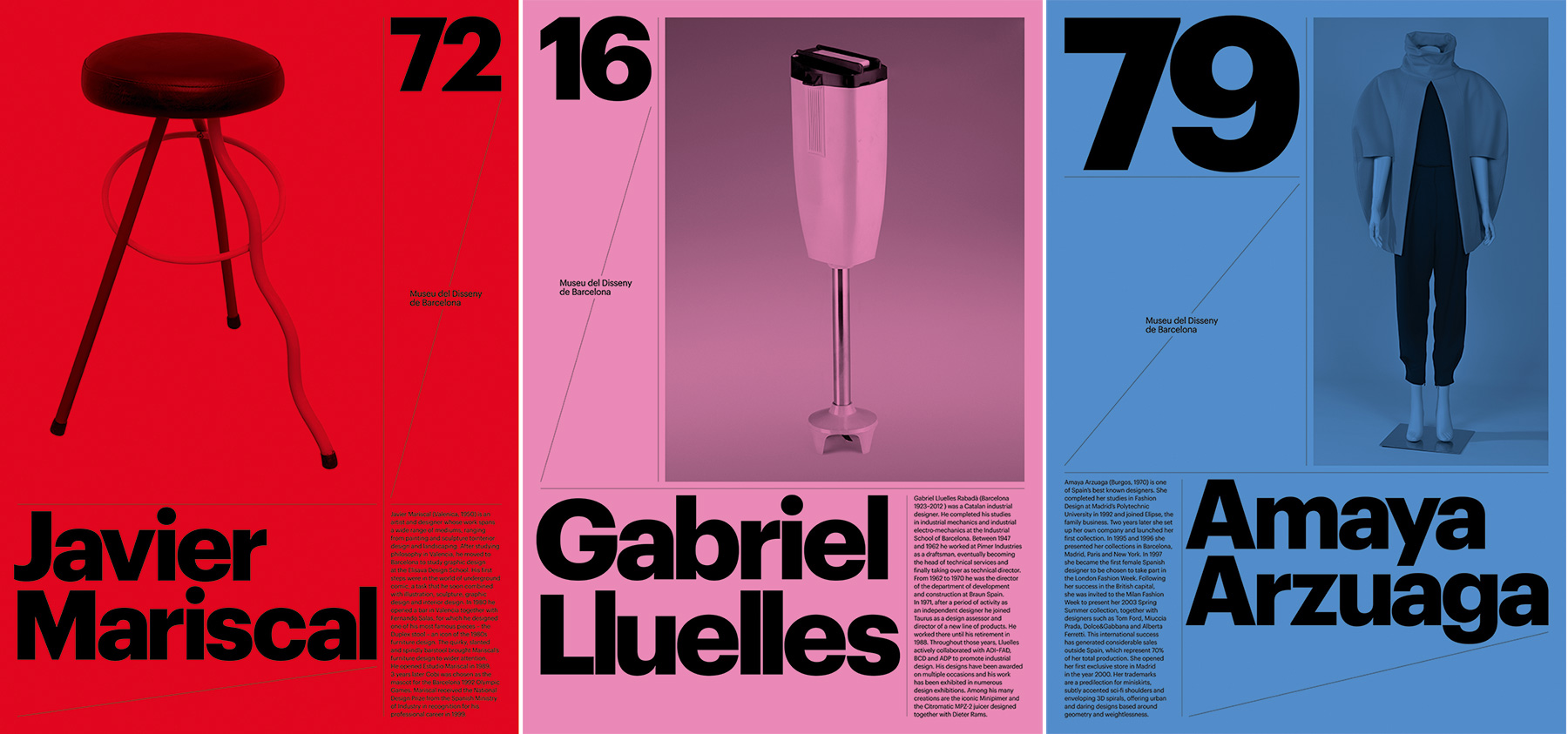 2018 was a big year for Astrid Stavro: she joined Pentagram London as a partner. Not that she needed one of the biggest names in design to boost her CV, though. Since founding Astrid Stavro Studio, and co-founding Atlas around six years ago alongside her partner Pablo Martín, Stavro has made a name for herself as one of the best, sharpest and smartest designers around. 
Stavro studied graphic design at London's Central Saint Martin and The Royal College of Art, where she is currently a visiting lecturer in the School of Visual Communication, as well as being a member of design association Alliance Graphique Internationale (AGI).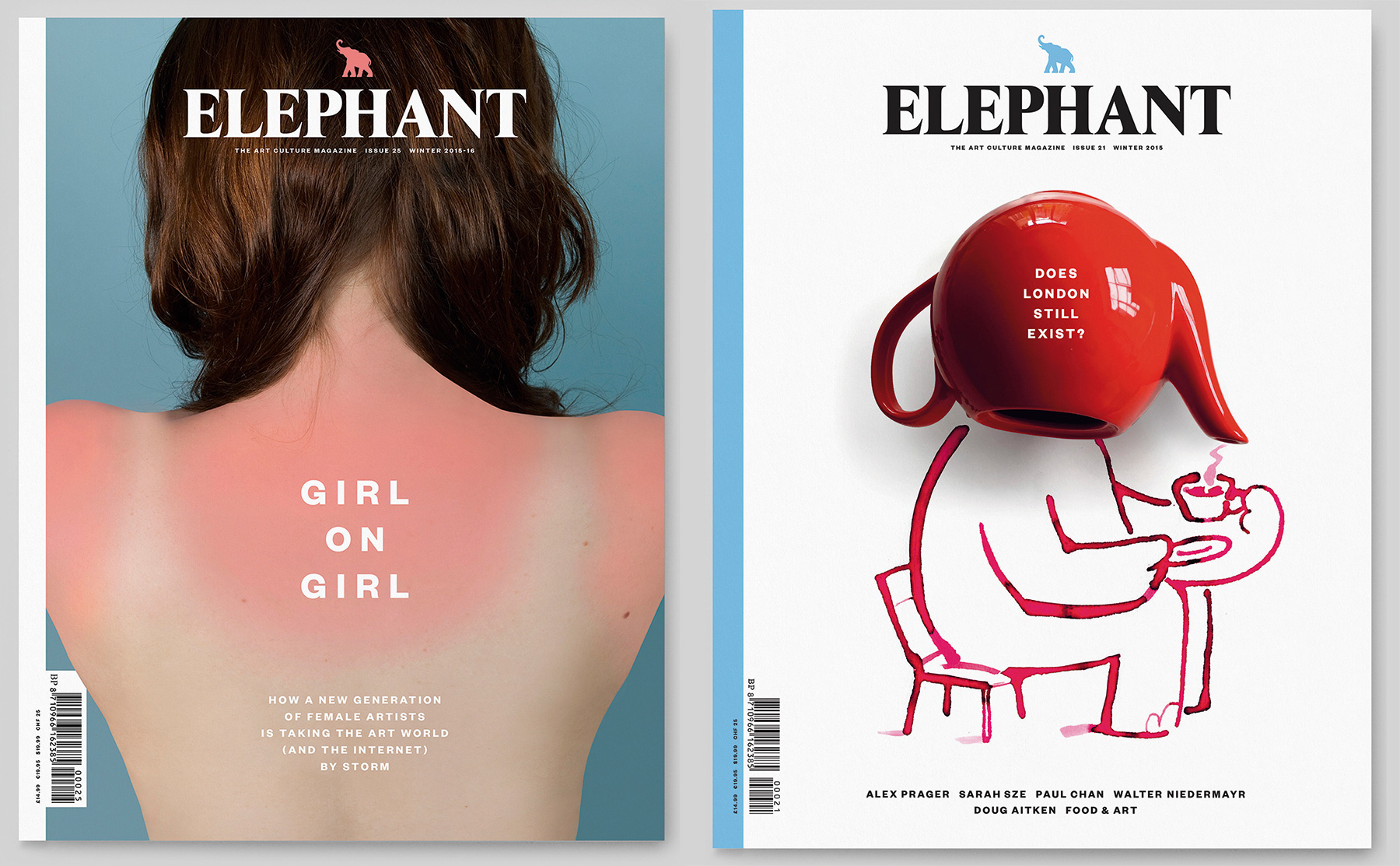 "As a designer you have to be like an author, too; you have to imagine yourself in someone else's shoes," Stavro says. This idea of narrative and "soul" is crucial to Stavro's design work, and explains why a large portion of Atlas' portfolio has centered around design for books and magazines, alongside corporate identity and packaging work. 
Stavro was behind a previous redesign of London-based arts magazine Elephant, bringing in a variety of experimental approaches to type and layout. She also writes for the publication, among others, and she's planning on writing her own novel too.
Having worked for clients ranging from Phaidon to Camper to The National Portrait Gallery and the Barcelona Design Museum, Stavro's work unites meticulous craft with smart conceptual ideas and imagery that looks to engage the viewer on an emotional level.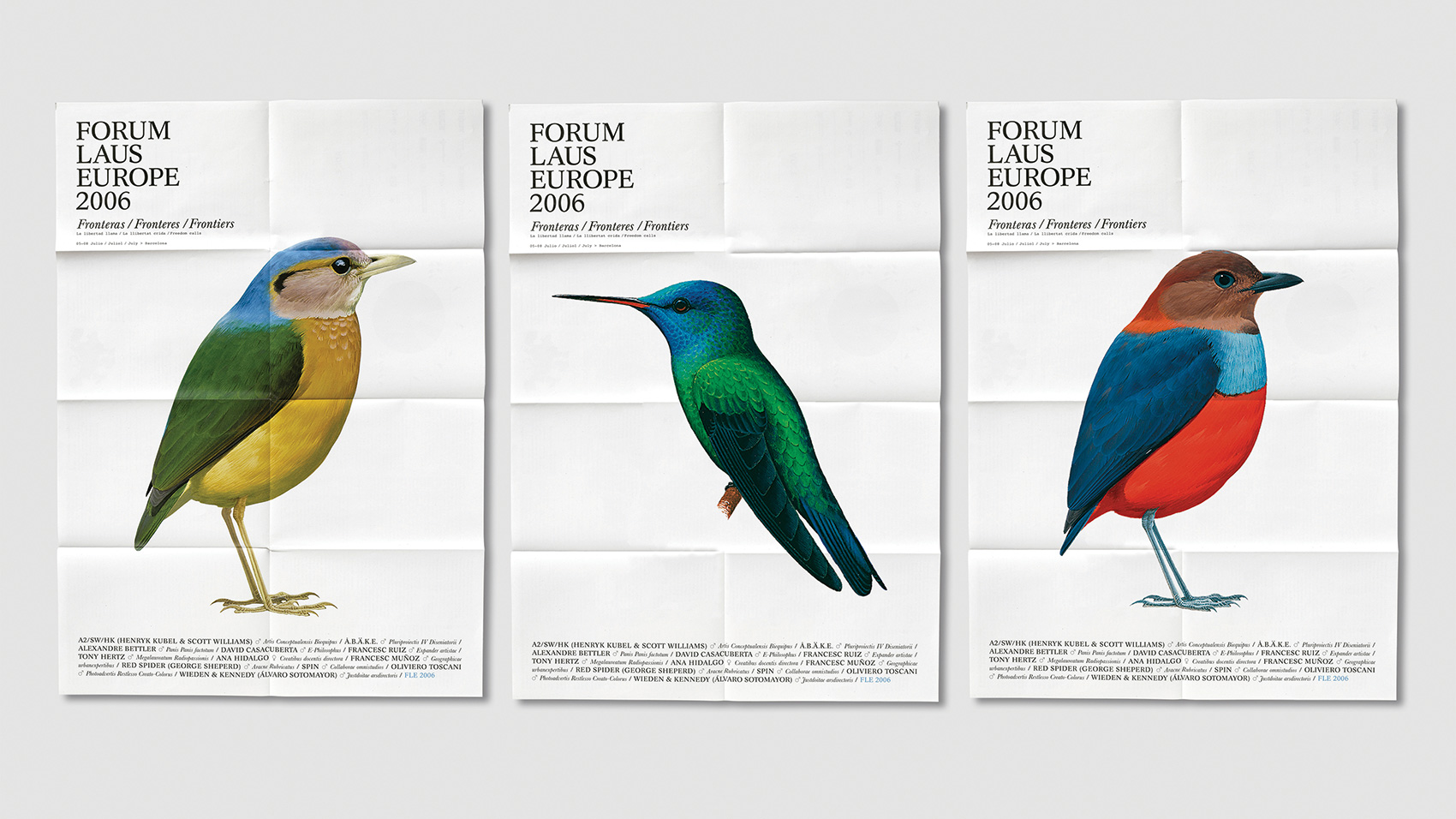 Her design process always begins away from the screen: "I sketch and draw on bits of paper, napkins or whatever I can find as I'm horrible with sketchbooks and lose them anyway. That's where ideas happen, not at a computer," she says.
"Astrid is not only a contemporary and active voice in design, but her work is both intellectually and aesthetically of the highest order," says Pentagram partner Angus Hyland. "We share the same values around the importance of conceptually led work delivered with minimum fuss. At a time when we are broadening Pentagram's brand with new partners in unfamiliar disciplines – I'm thinking particularly of Yuri Suzuki – Astrid represents a continuity of quality in classic graphic design craft."
Jonathan Castro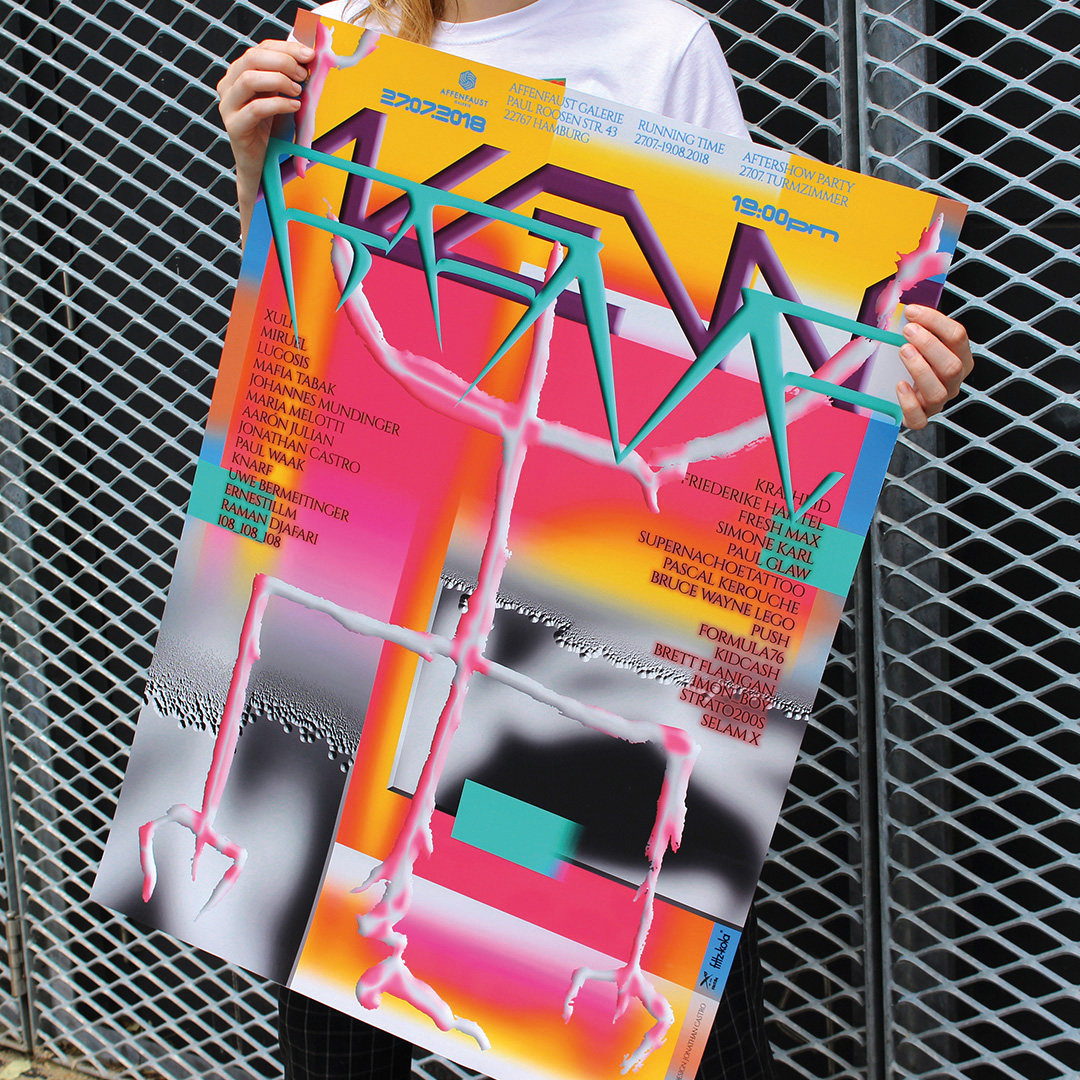 Peruvian-born designer Jonathan Castro has worked with a veritable who's who of brilliant studios: The Rodina, Studio Dumbar, Metahaven and Bureau Borsche, to name a few. It's not hard to see why he's so in demand. His work is colourful, impactful, and experimental; it's informed by multiple cultural and conceptual strands ranging from his Peruvian roots (in particular the traditional costume aesthetics) to black metal and punk graphics, experimental electronic music and jazz. 
"When I started making graphic design I wanted the same sort of freedom you have in experimental music," he says. "Just mixing everything in, and being really free." 
What's at the heart of his work – as with Peruvian costumes – is the idea of 'soul', imbuing non-living things with that intangible energy. "I really believe design contains energy and soul and spirit, almost like witchcraft," he says. "The main idea for my practise is to transmit feeling and emotions, just like the way music does."
James Gilchrist, co-founder of Warriors Studio and Graphic Design Festival Scotland, describes Castro as "one of the the most imitated people in the contemporary graphic design scene".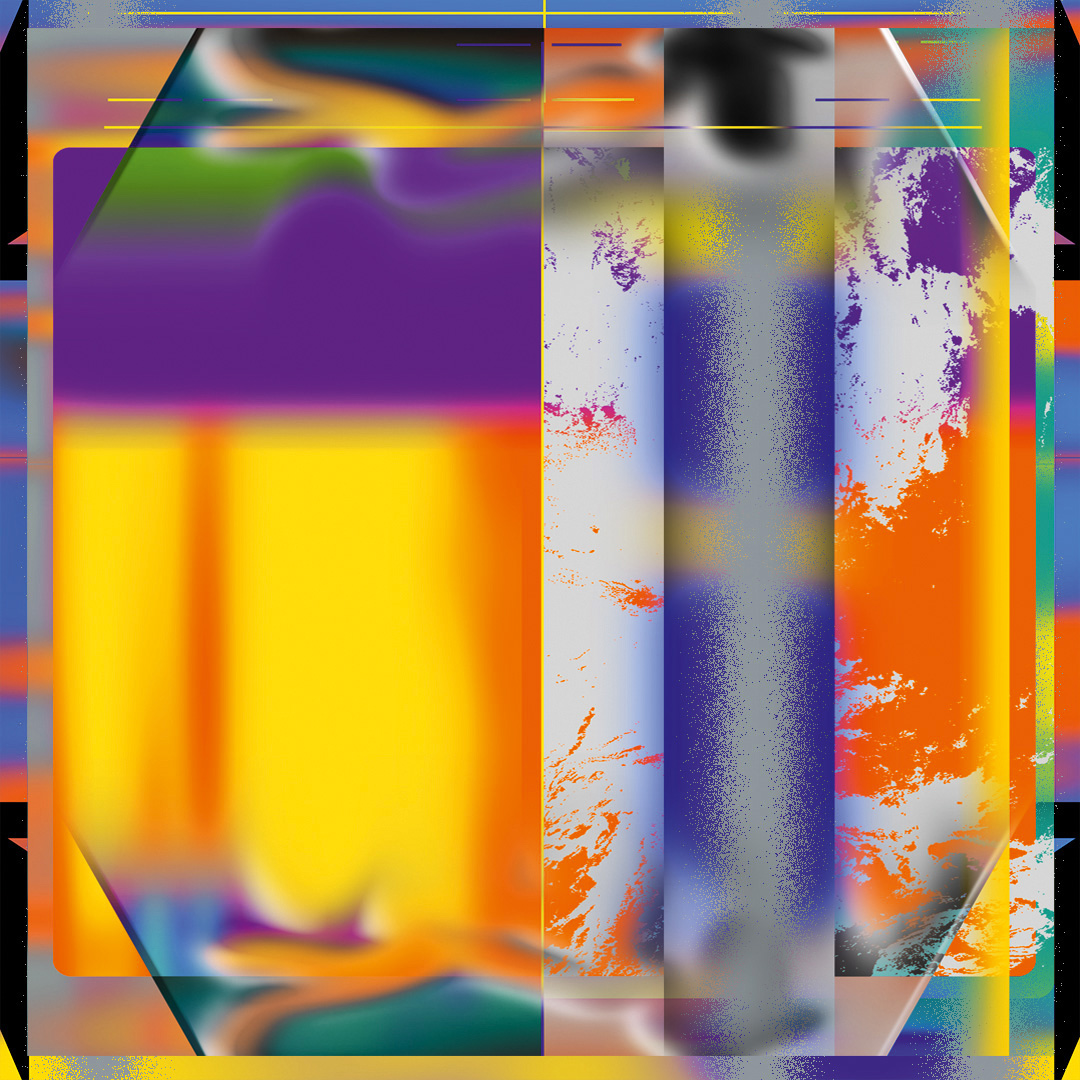 He adds: "There's an authenticity and originality to his work which makes it magnetic. His work feels like a personal development of an aesthetic that has been around for so long but he has taken it in a new, distinctive and personal direction. It's the perfect formula for a hit – familiar and new elements combined. We're getting to a point in time where so many designers grew up absorbed by video games, outlandish cartoons, maximalist communication… and in a world saturated by media, his style just hits the spot. While everyone copies, references and steals, Jonathan powers on doing his thing, untouchable and unfuckwithable".
Gilchrist is also blown away by the sheer volume of his output. "He demonstrates the importance of consistently producing new work… New personal work, new collaborations, new commissions, new visual experiments and pieces of research firing out at all angles constantly and all consistently great," Gilchrist surmises. "Thanks for doing what you're doing and please keep it up."
Next page: Wang & Söderström and Pontus Törnqvist
Wang & Söderström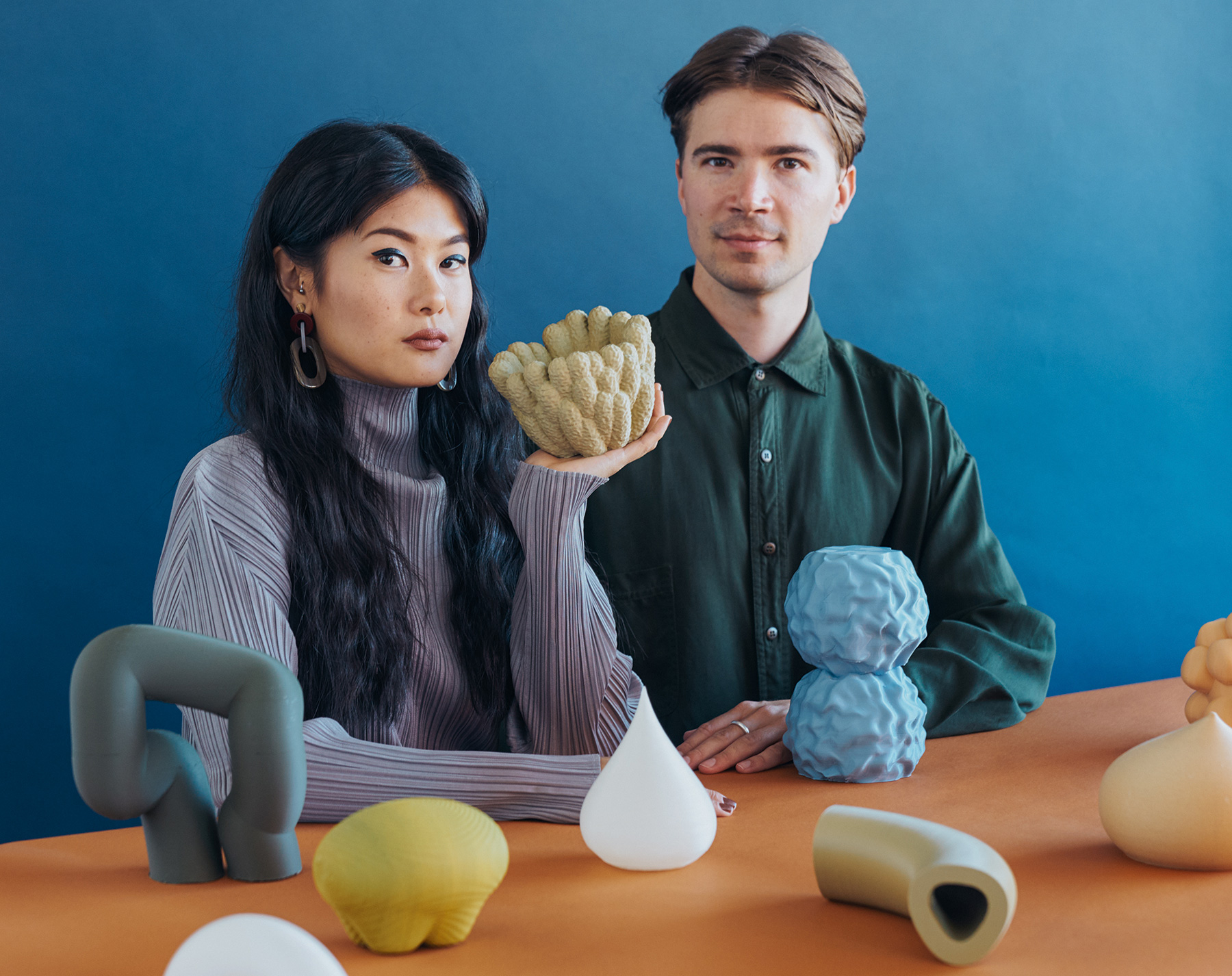 Wang & Söderström is a Copenhagen and Malmo-based art and design practice formed by spatial and furniture designer Anny Wang and architect Tim Söderström. The studio merges 3D software and animation, with a focus on materiality to explore the potential of mixing the digital and physical to create – as they put it – "mind tickling and unexpected experiences". 
A recent project saw the duo create an animation for streetwear blog Highsnobiety, one that reinterpreted Peter Saville and Riccardo Tisci's new pattern for Burberry into a gorgeous piece of moving image (below). 
"When working with a brand, we already get an existing history and context that help us take creative decisions," they tell us. "We are by no means technical professionals in the software we use, instead we try to see the learning curve in itself as a creative tool. The challenge in learning something new for us also pushes our work to unexplored places and doesn't let it stagnate."
Away from their commissioned client work, the duo also create a stunning range of 3D printed sculptures – strange little amorphous forms that seem at once like visions of a sci-fi future and relics of the past. Their shapes are organic, their colours wild and their overall aesthetic somehow surreal and magical.
 "Materiality is such a physical thing that activates all senses. However in digital 3D and animation we are limited to our sight and hearing," they explain. "The brain is so great at translating stuff into something it has experienced before, it wants things to make sense and put it into a space it recognises (the physical world), so it adds fake sensations of touch, smell and taste if it gets invited to do so."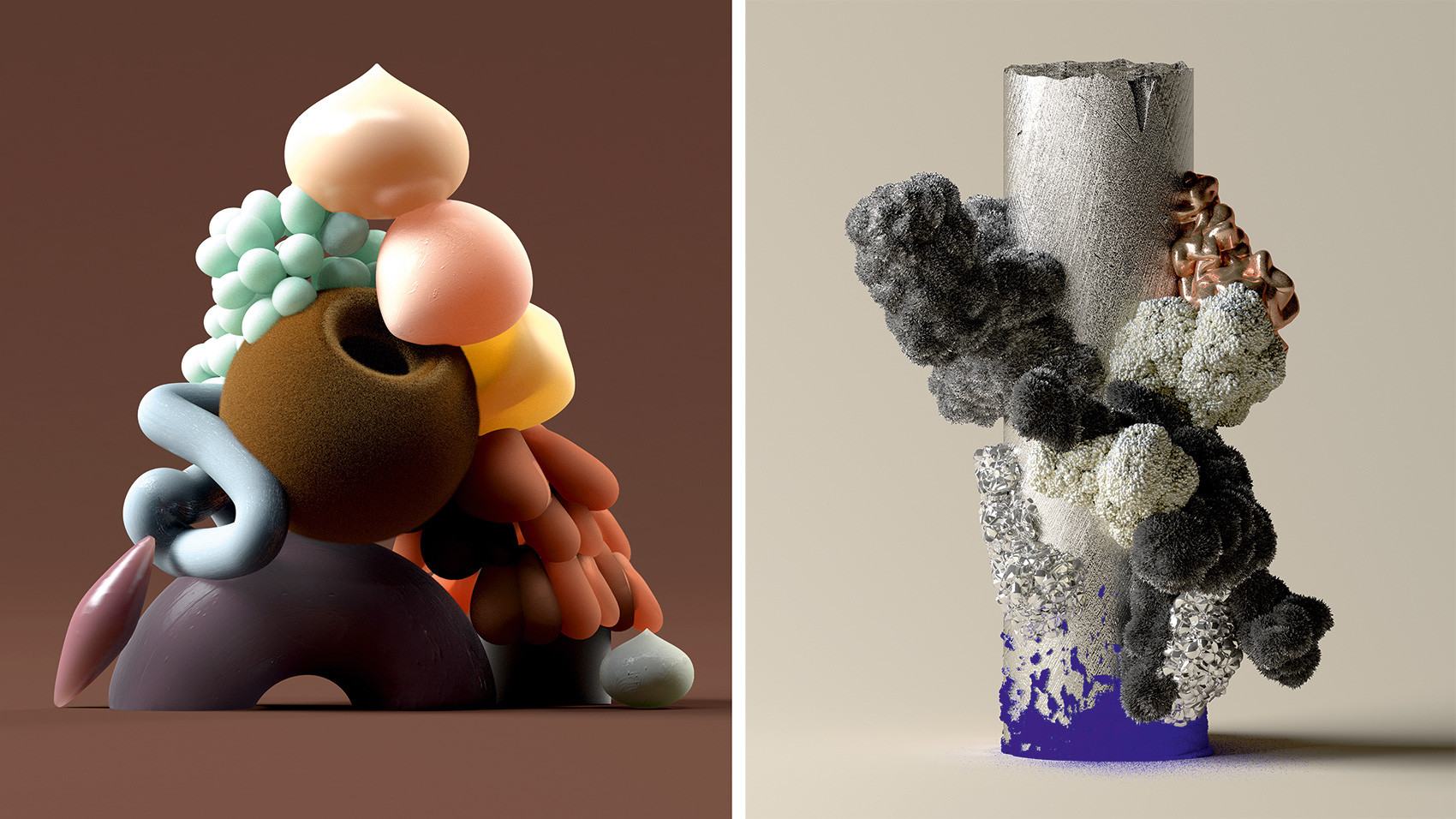 Polly Glass, co-founder of creative platform Wrap, finds the studio's work endlessly "eye-catching and fascinating… It's often hard to work out exactly what's going on, and whether the images are photographs or digital artworks. The studio has a real talent for visualising and bringing concepts to life in a fresh, unique way. Whether it's magazine cover designs, campaigns for Adidas sneakers or window installations for Selfridges in London, Wang & Söderström's ability to apply its ideas and skills within 3D rendering to such varied projects, with brilliant results, is continuously exciting."
Pontus Törnqvist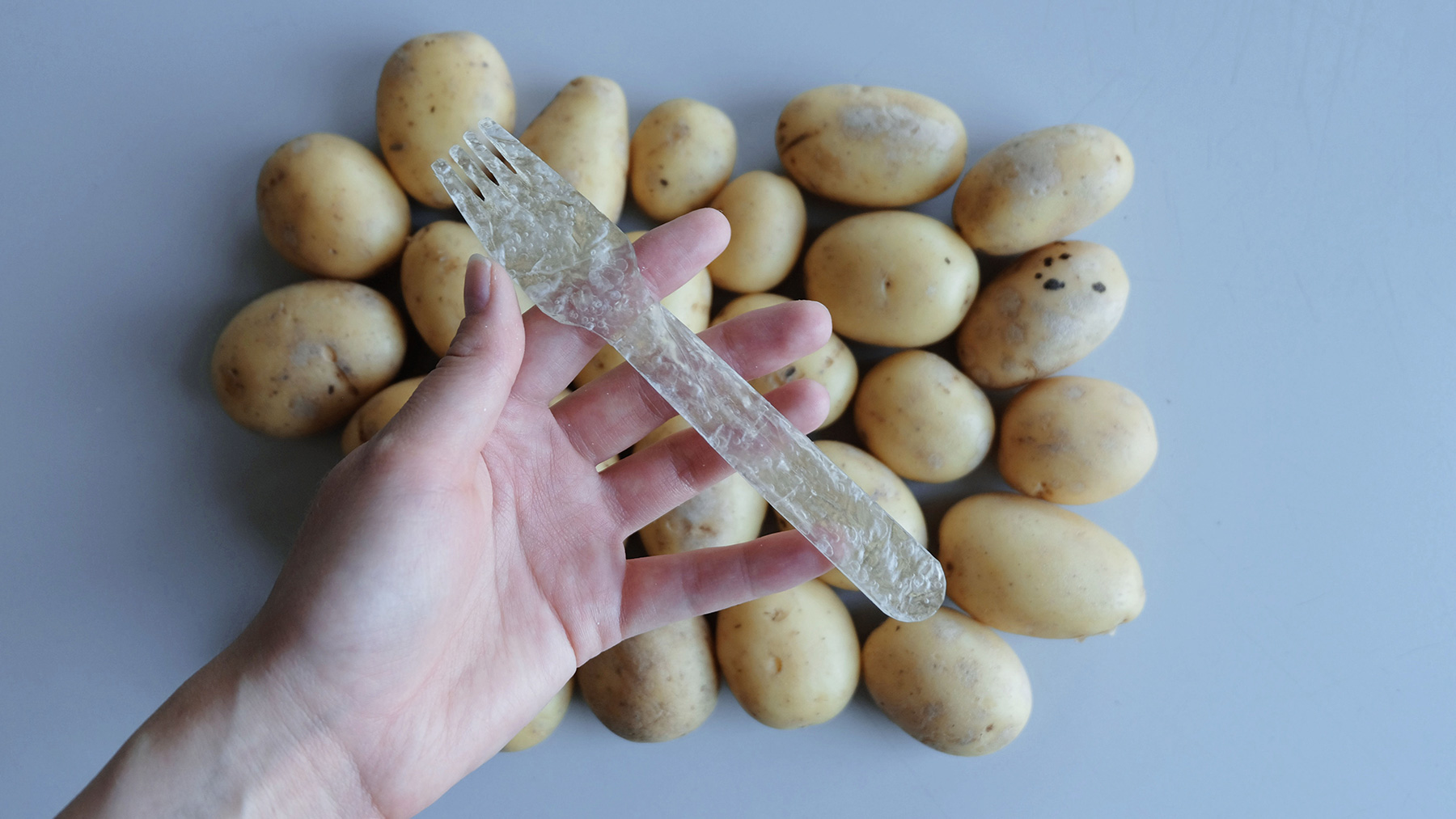 "There's a growing market for and recognition of design for good," says Design Week editor Tom Banks. "It will only get bigger exponentially as we hurtle towards our own destruction." He might sound gloomy, but he's not. This is partly thanks to the continued work of young designer Pontus Törnqvist, winner of the Swedish leg of 2018's James Dyson Award and student of industrial design at Lund University.
Törnqvist's potato plastic is a material made from potato starch fabricated into single-use items such as cutlery. Unlike normal plastic, it breaks down completely in under two months. "While these projects are sometimes seen to lack the glamour, which might warrant them more attention, this will surely change as social designers command a more equitable part of the design landscape," says Banks.
Törnqvist began the project as part of his university course's brief to look at the impact of the fast food industry on the environment. "Plastic is a great material in many ways," he says, "but there is an ambiguity in using it for disposable products since it gives them the capacity to last for 450 years, whereas the period of use is most commonly around 20 minutes".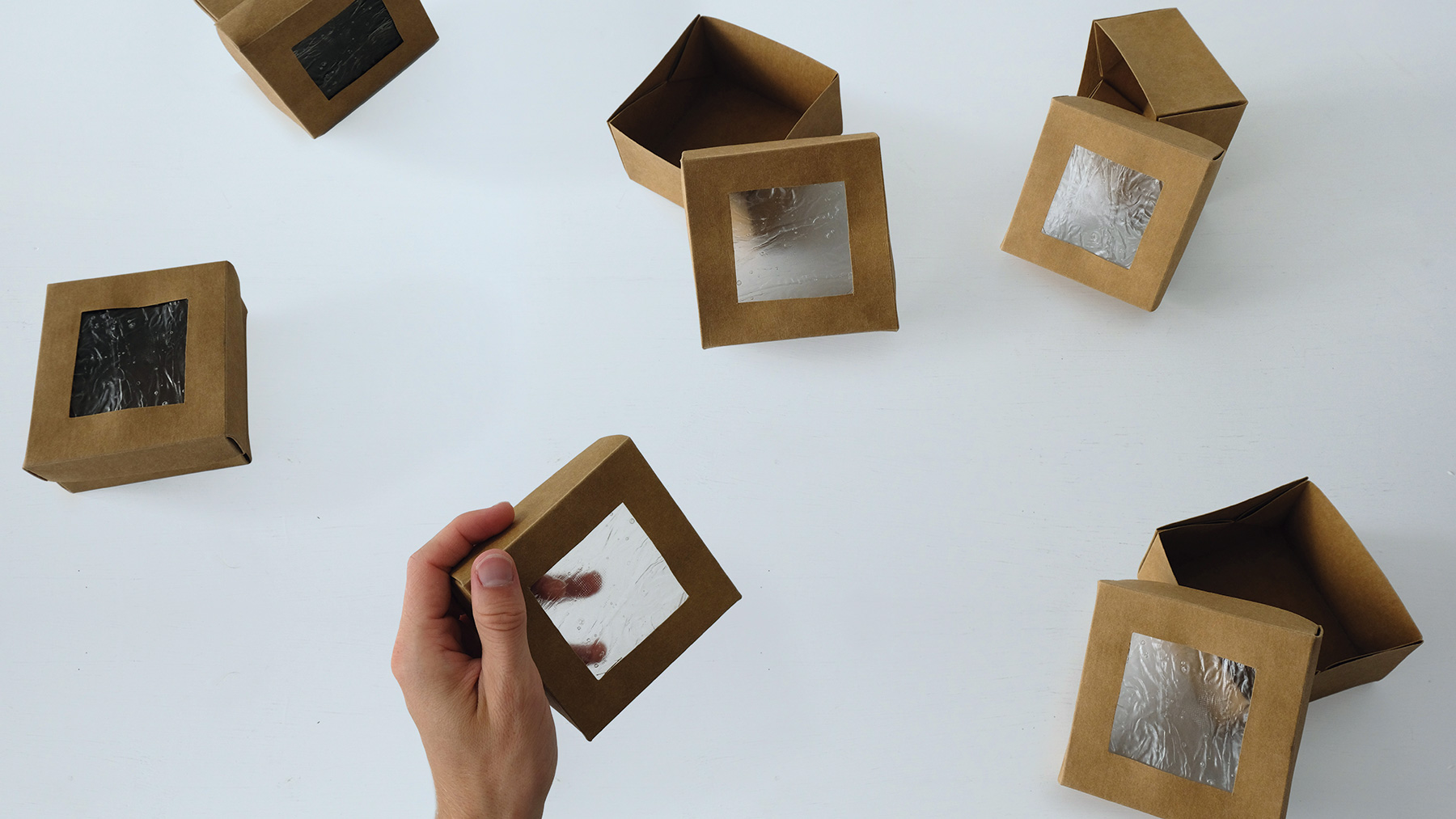 The potato aspect started as a mistake. "I experimented a lot with seaweed and tried to find possible binders for it, and one of them was potato starch and water," he explains. "I accidentally spilled some of the fluid, and later on I found that it had dried to a plastic-like film." 
Potatoes weren't just perfect properties-wise, but also because so many of them are grown in his native Sweden. His focus is on local production and circular – rather than linear – production.
The product had to look good, too. Its "bubbly" appearance is, again, accidental, but "I think that'll enhance the character of it," he says, adding, "this is a low quality product simply because I have adapted the material's quality to its purpose. They shouldn't be used more than once: today's disposable products are much too good for their purpose".
Next page: Kristel Brinshot and Laura Coombs
Kristel Brinshot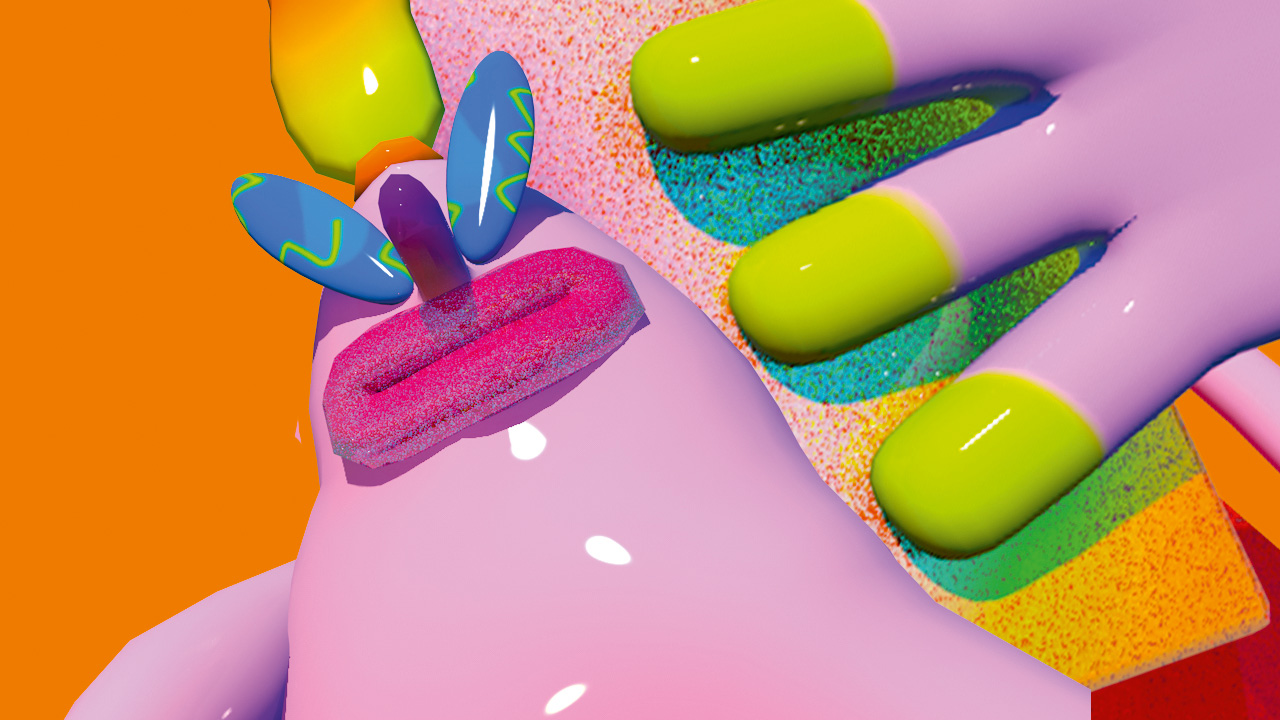 We can't get enough of the weird, wacky and glitchy worlds of Kristel Brinshot, also known online as Kriz Tonian – an elementary school nickname that stuck. Based in Los Angeles, her work is a crazy futuristic yet retro-leaning mix of acid brights, textures, nods to net art, digital and analogue image disintegration, alongside weird but cute character design. Straddling the worlds of fine art, design and animation, Brinshot is entirely self-taught in animation and moving image, and started out making small-budget music videos for friends and friends of friends before landing commissions for MTV and Adult Swim. 
She works largely across moving image, and that side of her practice is again a process of making a narrative environment look "very clean and perfect" before "tearing things apart and purposefully using programs in ways I shouldn't be". 
She often uses analogue equipment like VHS cameras and distorts the footage physically, as well as through Photoshop and Illustrator to create her unusual textures. Basically, "a lot of breaking stuff," she says, "a lot of happy accidents, and just accepting whatever happens – a tape might get jammed, and that can create a certain effect, or you're working on a certain program and it fails. Sometimes that can be a good thing." Such glitches and mishaps have a "humanising" effect, she says.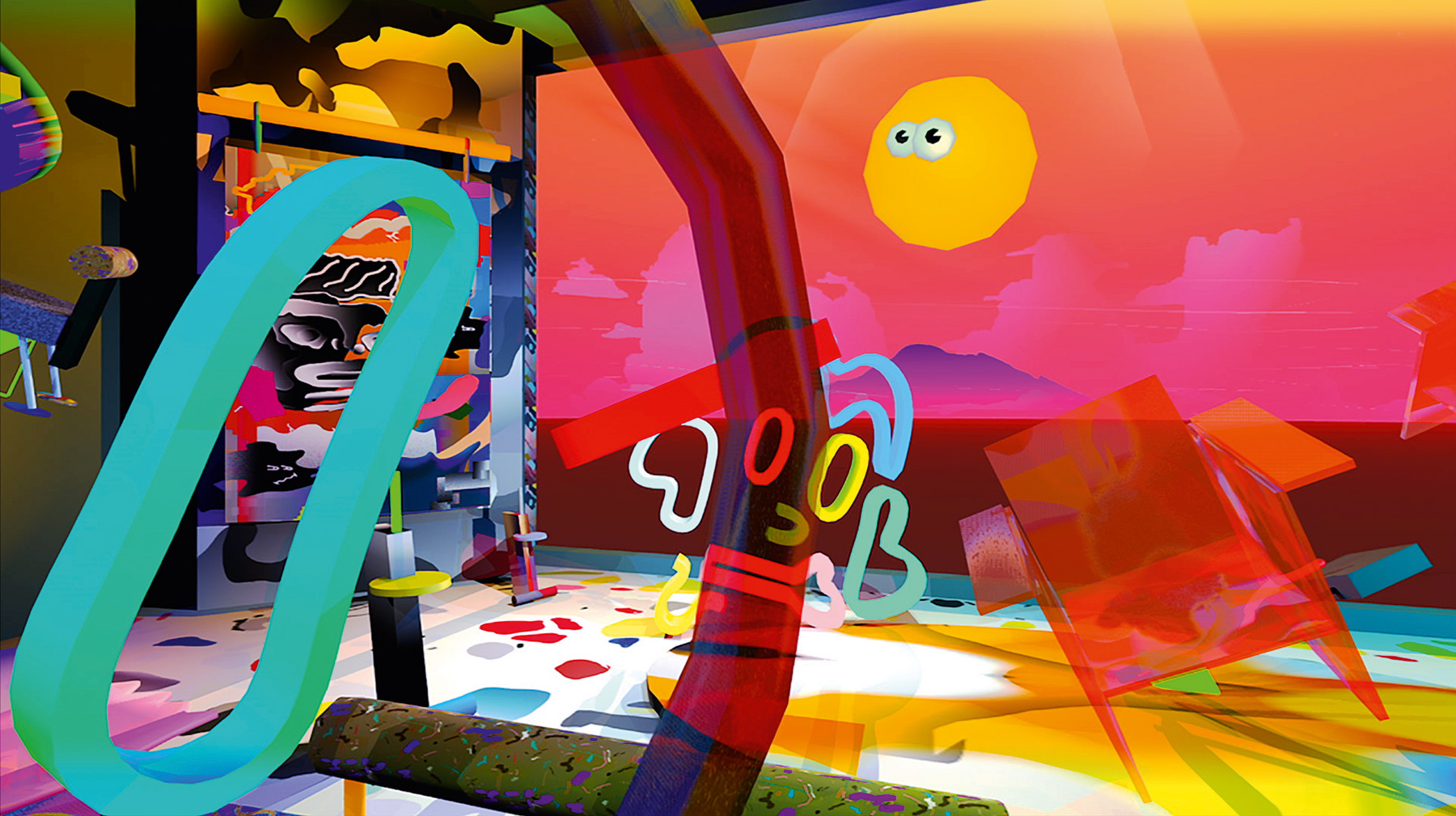 Alongside her own work, Brinshot has partnered with Ricky Jonsson Jr to form The Great Nordic Swordfight, an agency working on consultation and direction across AR, VR, animation, installation, games and other emerging technologies. The pair also founded Ghosting TV in 2013, a "hangout for experimental animators, video artists, and everyone else looking to interact with art and tech in unconventional ways" that started as a meetup in Brinshot's garden and is now an online (and occasionally real-life) platform that acts as an agency and incubator for artists. 
"One of the most inspirational times of my career is being able to connect artists to each other in a very unique and personal and genuine way, and watching their careers blossom," says Brinshot. "If you don't help out your community, you're not helping yourself."
Laura Coombs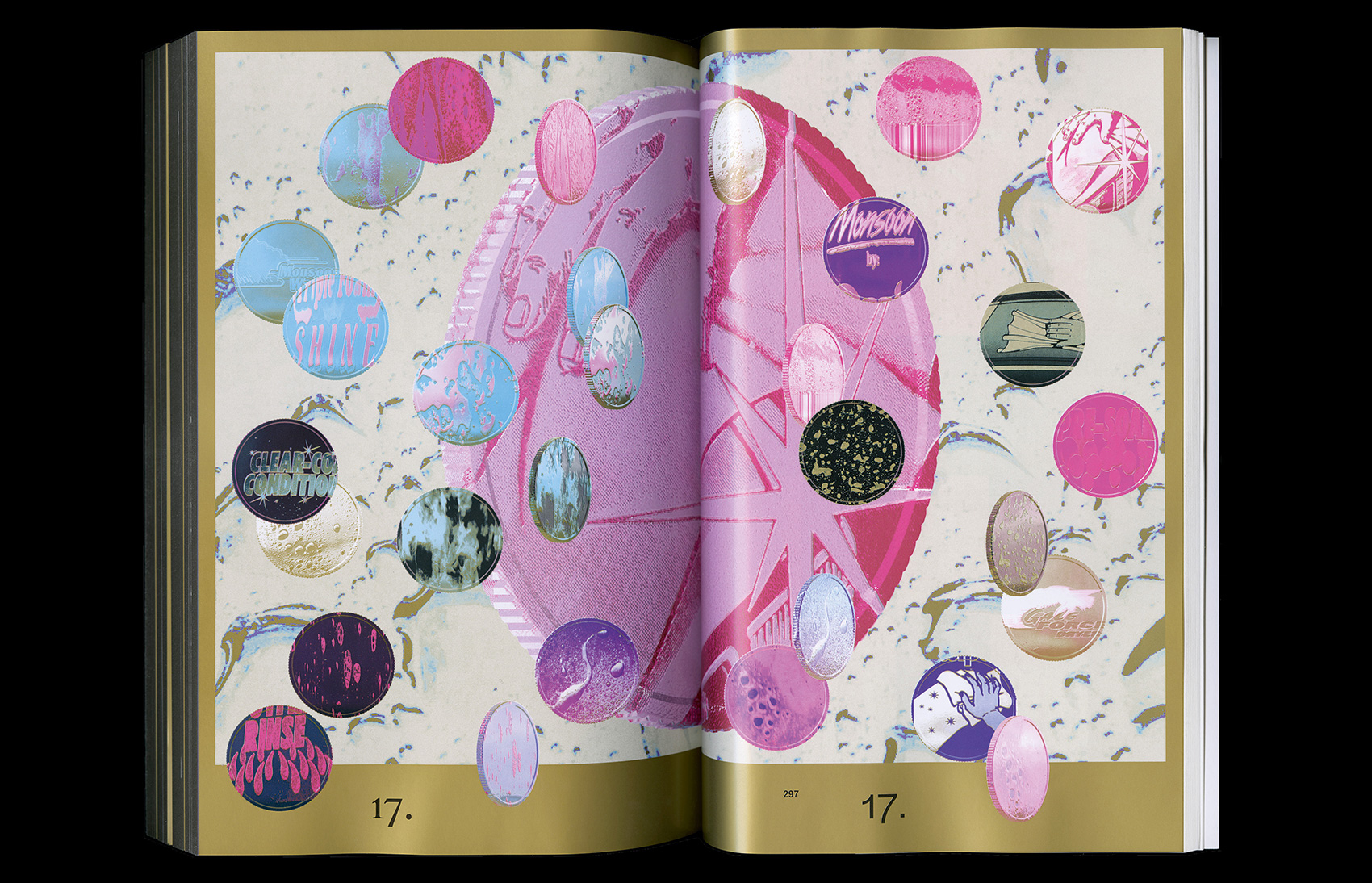 Based in New York, Laura Coombs is a graphic designer and art director currently working as senior graphic designer at the New Museum of Contemporary Art and a visiting professor at Pratt Institute. "Her work is identifiable for its impeccable visual structure – her complex grids and effortless typographic nuance," says Forest Young, fellow game changer. "The undercurrent of her visual expression is one of conceptual concision and unexpected formal play."
Coombs, who graduated from her MFA in 2017, didn't take a straightforward path to the world of graphic design. "I can see now I was always interested in design – I edited and designed a newspaper as a kid, endearingly called the Laura Report," she says. However, before studying graphic design at Yale, she first took a five-year undergraduate degree in architecture, and spent three years working in a fabrication shop in Brooklyn. This means – as is clear in her work – she considers the physicality of her grids, colours and typefaces, as well as their 2D applications.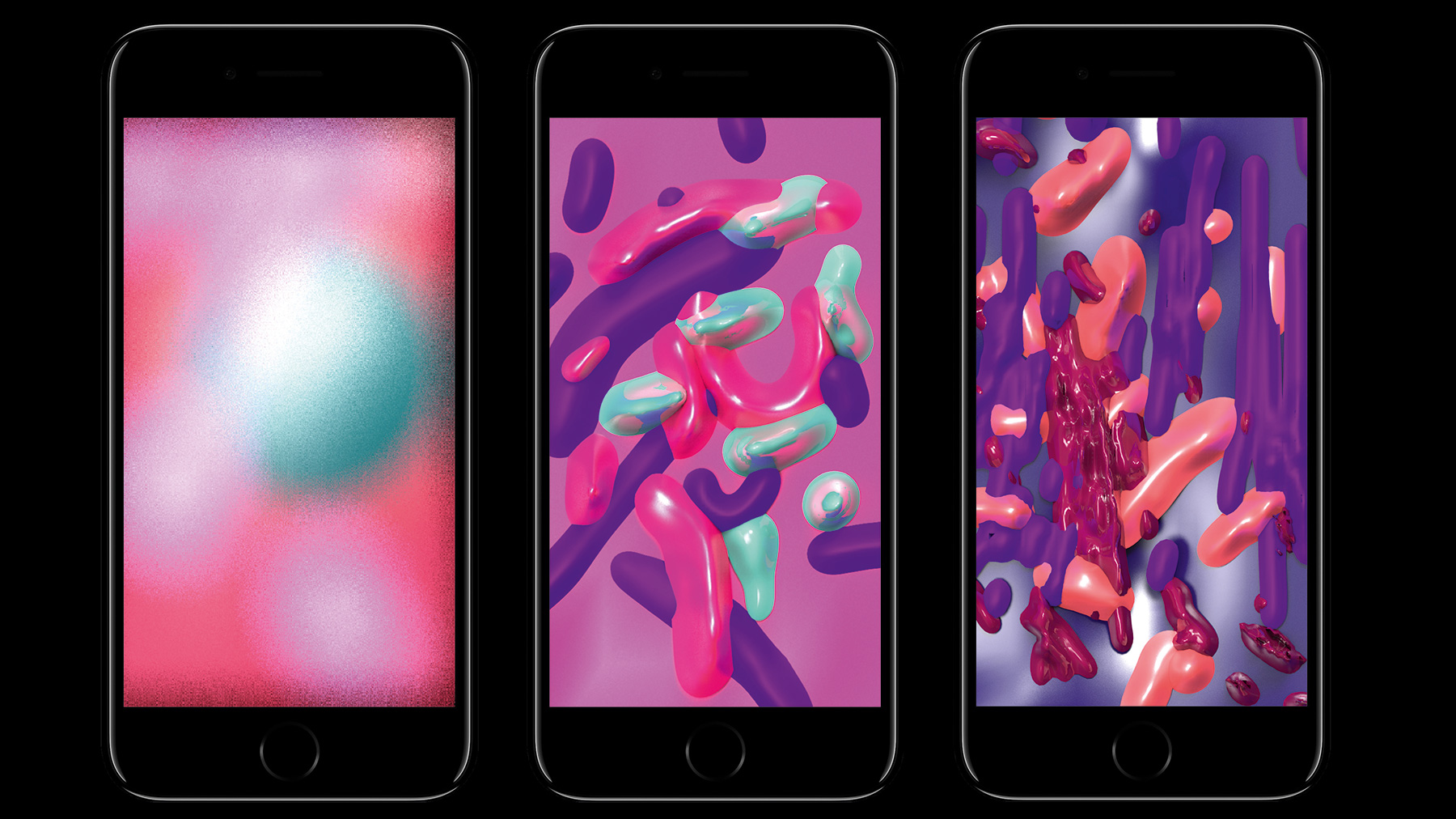 Alongside her role at the New Museum of Contemporary Art and her teaching, Coombs freelances for a number of publications and cultural clients – her work united by a conceptual underpinning and strong engagement with the possibilities of type. She uses only the typefaces she's drawn herself or modified, or those created by friends; often using several versions of Times, Arial or other system fonts that she's added glyphs to. 
"Type is about voice," says Coombs. "My voice is fairly mysterious and subtle, but by drawing the typefaces I use, or parts of typefaces I use, I am using my voice in my work holistically. I create conceptual typographic systems that emanate from an idea, not just an aesthetic."
She sees "creating structures and systems that play themselves out over time" as the heart of editorial design. "Publications are worlds unto themselves, with their own reality and logic," she says. "I love that a publication is also an object with its own material potential and reality; there's so much beauty possible. A publication is crafting language into form – an intellectual idea becomes tangible."
Next page: Forest Young and Zach Lieberman
Forest Young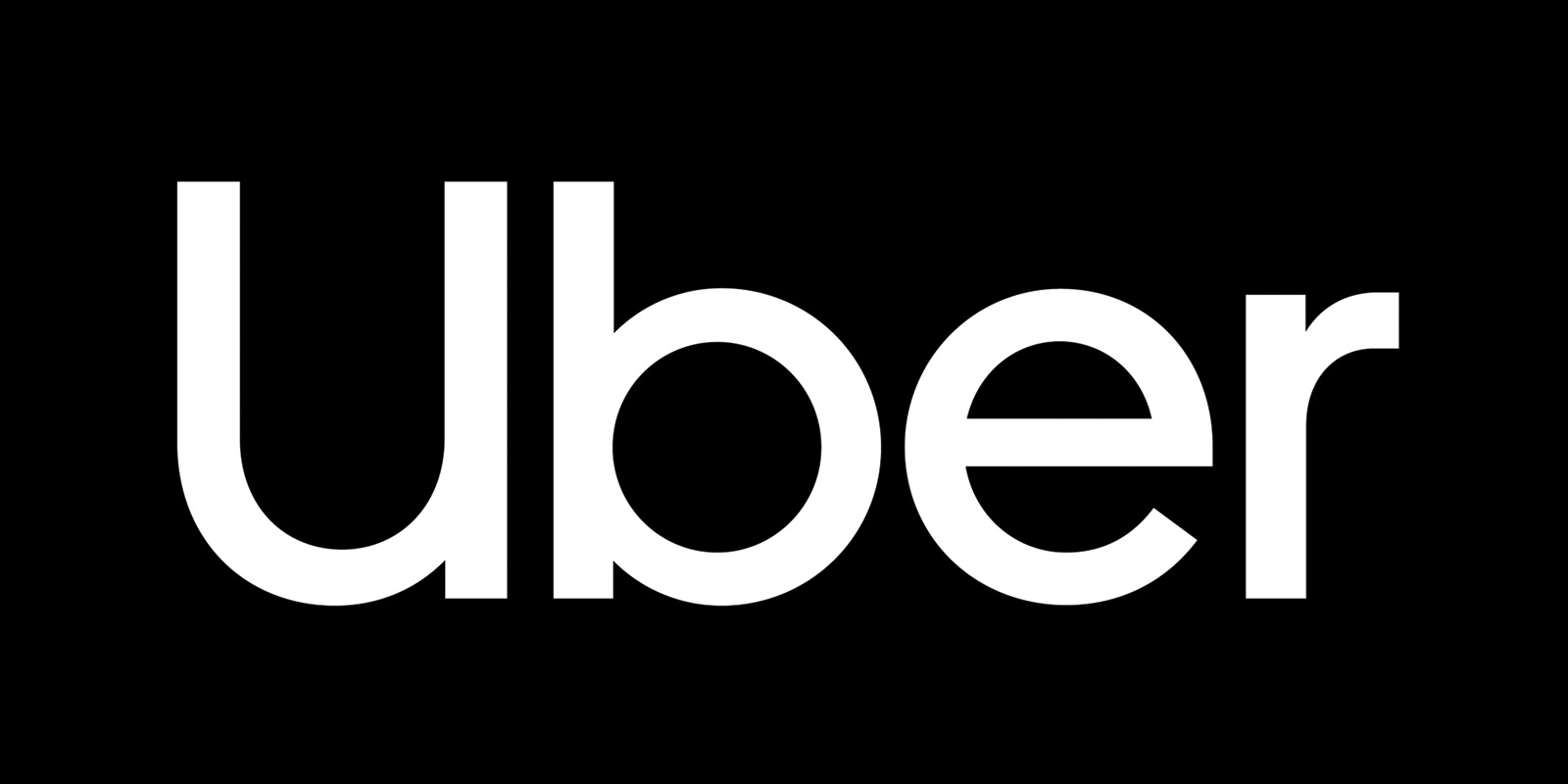 San Francisco-based Forest Young is head of design and global principal for Wolff Olins and has some of the most recognisable recent branding projects under his belt, including the 2018 Uber redesign. At the heart of Young's work is considerations around accessibility and design, and how today's brands must engage with tech while remaining relevant and smart across cultural divides, like language barriers. Alongside his design work, Young has also had his art displayed at MoMA and other museums worldwide, having also written about design, tech and culture for several platforms. Is there nothing the man can't do?
Some of the biggest names in US design are certainly quick to sing his praises. "In the bleak and enervated world of corporate brand identity, Forest Young brings two things that are desperately needed: joy and common sense," says Michael Bierut, Pentagram New York partner. "Forest never forgets that design, at its best, is something that human beings do for the benefit of other human beings."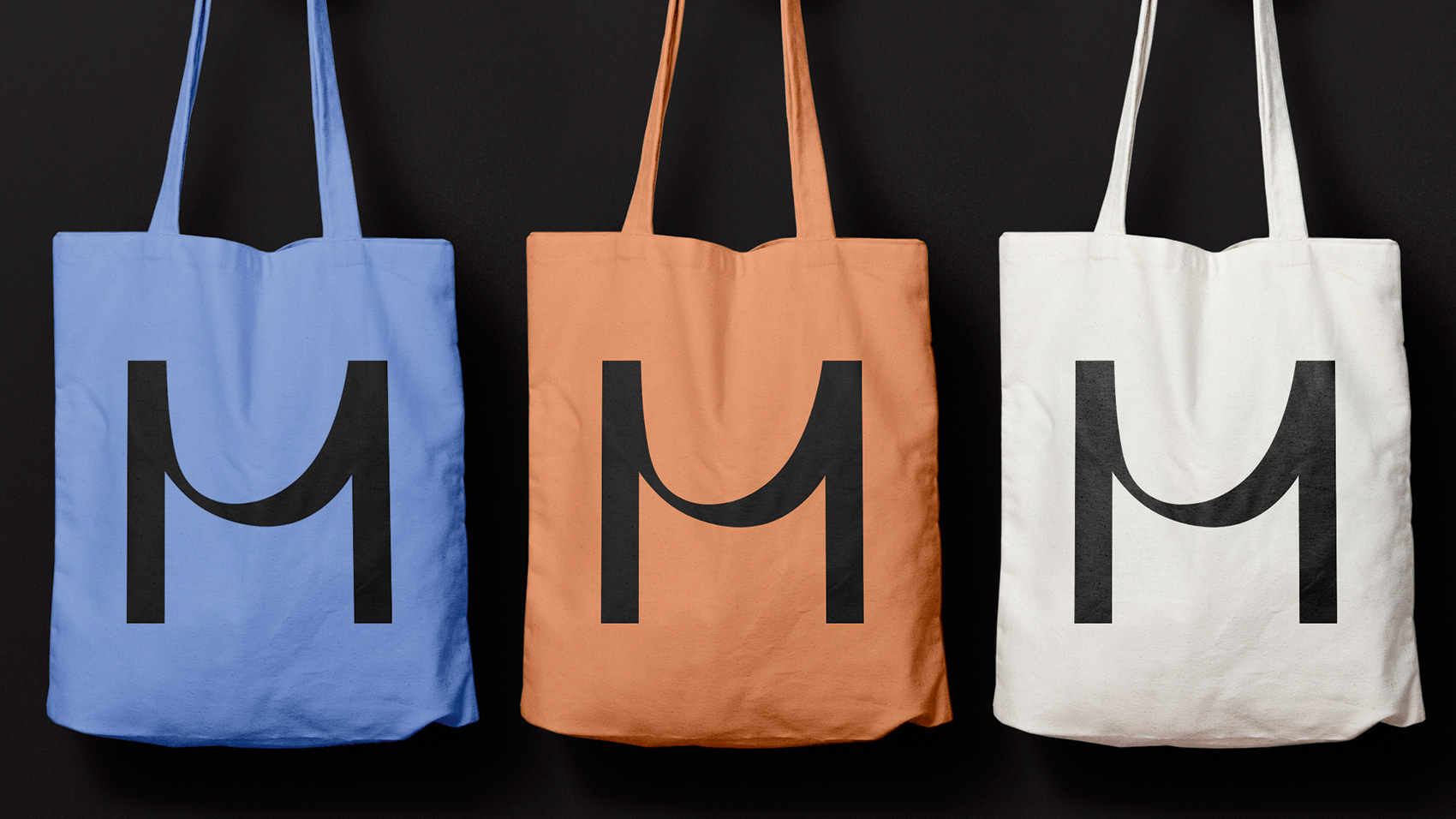 Dana Arnett, founding partner and vice chairman at VSA Partners and current president of AIGA's national board of directors adds: "In today's information rich world, rarely do you find a designer who creatively dances across multiple mediums with such masterful fidelity. Forest not only cuts through the clutter, he  always finds a way to illuminate the beauty and truth of an idea".
With much of Young's design work focusing on tech brands, the designer says that the most important considerations are to "be reassured that all brands are simply human relationships, or the attempt to build one, and that technology alone can never fully satisfy a human need." He adds: "It is also important for designers not to succumb to the monotonous aesthetic that has become normalized in the world of tech, rife with geometric sans typography flanked by flat illustrations".
As such, it's little surprise that he cites his Uber rebrand as one of the projects he's most proud of in his career. "It was a turning point for their company and the world-at-large who was growing sceptical about the merits of tech unicorns," says Young. "The design team worked tirelessly to make an outcome that felt elegantly simple."
Zach Lieberman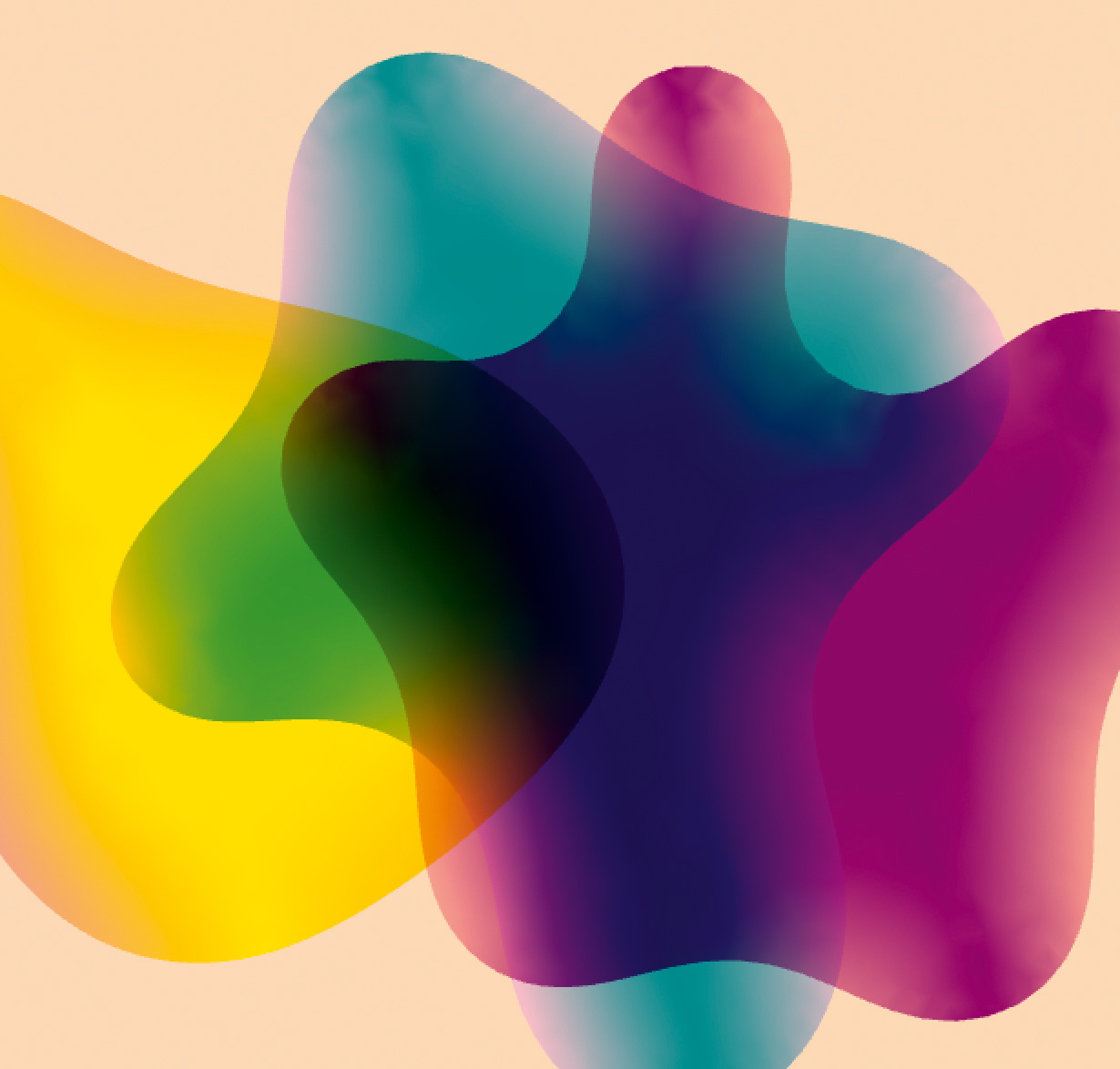 Even a cursory glance at Zach Lieberman's most recent projects is very much a 'woah, really?' sort of experience. New York City-based artist, educator and coder Lieberman is the guy making the sort of projects we thought only possible in action thrillers, or in our wildest imaginations. 
Take the eyewriter project, for instance: a low-cost, open source hardware and software toolkit that helps people draw with their eyes. Or the IQ font, a project where a stunt driver drives a typeface. Yes, really.
"I want to make visual forms that are playful, whimsical and absurd and that engage and extend the body and space," says Lieberman. "I think the round trip from body to brain to body is interesting. I also am interested in creating visual forms that are ambiguous, where your brain has to work a little harder – 3D that feels like 2D, and 2D that feels like 3D."
One of Lieberman's most admirable achievements was his role in helping create the School for Poetic Computation in 2013, having been teaching for a decade at Parsons School of Design. This idea was to create a "low-cost, alternative school" where students study for short 10-week sessions – a "mixture of an artist residency and an intensive seminar" exploring how electricity, code and theory can come together to make poetry.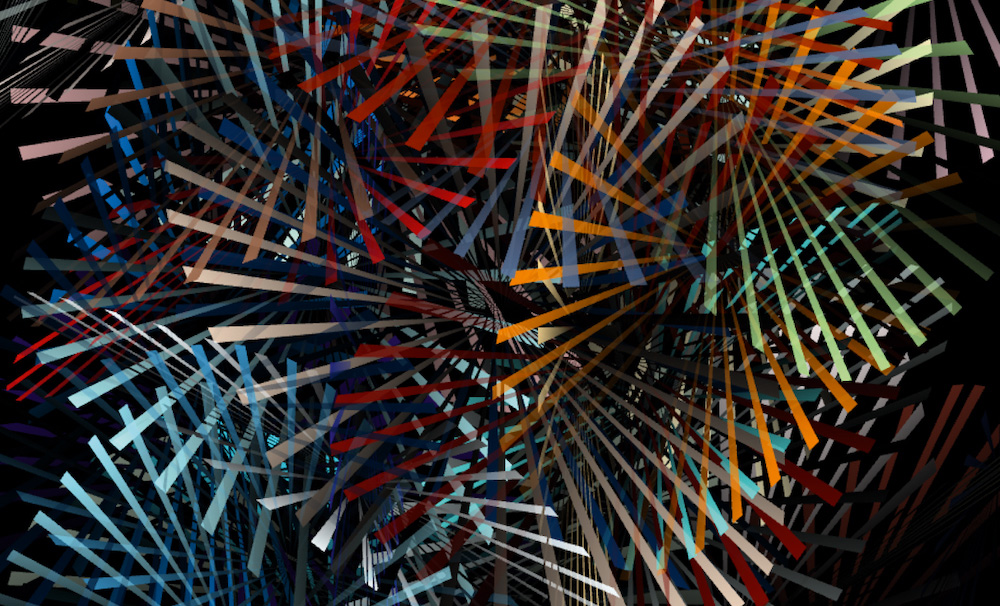 At the heart of Lieberman's practise is interactivity: making the viewer an active participant. "Interactive work is about asking questions of the audience, about inviting the audience to become performers, and I find often they bring their creativity and visions to the work I do," he tells us. "I build systems, not objects, and when you invite people to play and engage with these systems you can see the boundaries more clearly. I learn so much about my work seeing other people engage with it."
Wolff Olins New York design director Jan Eumann can't get enough of Lieberman's "amazing experiments" with tracking and generative design. "He keeps it rather loose but with an obsession to explore and iterate around a single approach," says Eumann. "That's something we, and branding overall, should and could aspire to: thinking about visual identity as a living and breathing organism – something never implemented by anyone, but super exciting as future opportunity."
This article was originally published in Computer Arts, the world's best-selling design magazine. Buy issue 288 or subscribe.
Read more:
from Creative Bloq http://www.creativebloq.com/inspiration/8-inspiring-graphic-design-game-changers
8 inspiring graphic design game-changers