If you're a social media manager or a small business owner looking to supercharge your Facebook content strategy, then you've come to the right place.
Developing high-quality content for Facebook can be tough when you're managing everything by yourself. It's easy for big corporations with big budgets to design unique and beautiful content to grow their Facebook pages, but how can you afford the time to craft each post?
You don't need to spend hours creating awesome content for your Facebook page. Try these Facebook mockup templates and you'll be able to easily create a proper content strategy for your Facebook promotions without even having to hire a graphic designer.
What is a Facebook Cover or Post Mockup?
Professional graphic designers who work with social media designs, such as Facebook covers and post designs for businesses often use mockup templates when presenting their designs to clients.
Mockup templates let you show your Facebook covers and post designs in an environment that looks just like Facebook. This allows your clients to see how the covers and posts will look like when it's uploaded to their business page.
Facebook cover and mockup templates are quite easy to work with. All you have to do is open the file in Photoshop and you'll be able to place your own designs in the mockup with just a few clicks using the smart object layers in Photoshop.
Our Favorite Facebook Cover & Post Mockups
These are our favorite free and premium picks of all the Facebook cover and post mockups in this list.
Top Premium Pick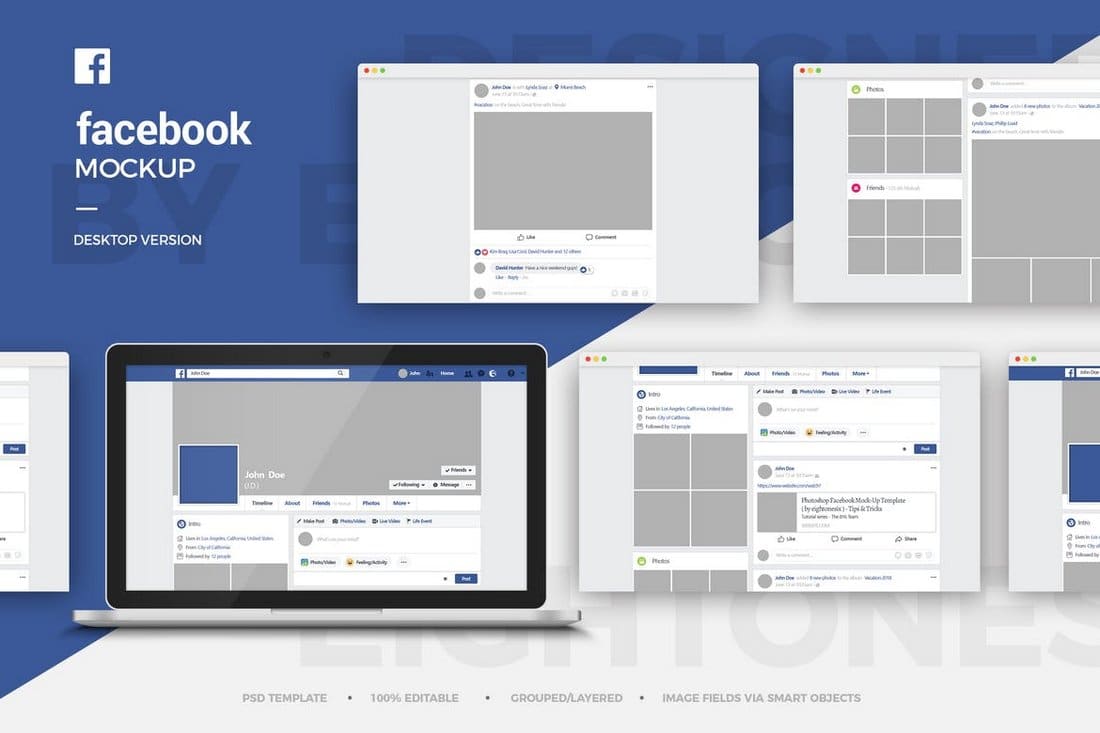 This is a complete mockup of the desktop version of Facebook featuring all elements of a Facebook page in one bundle.
The template features mockups for the cover image, profile image, a post mockup, and more. It's available in PSD format and in 1920 x 3128 resolution.
Why This Is A Top Pick
Why download multiple templates when you can get them all in one bundle. This pack includes all the mockups you'll need to
…